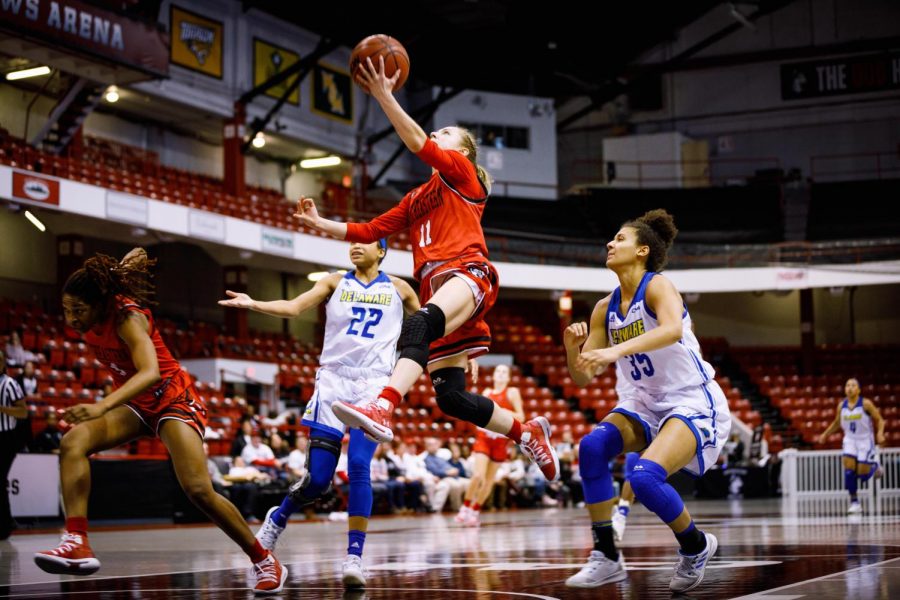 Muhammad Elarbi
The Northeastern women's basketball team split its away games this past weekend, losing to Drexel University 41-50 on Friday and winning against the University of Delaware 72-62 on Sunday. 
Northeastern vs. Drexel University
Sophomore forward Alexis Hill's first career double-double (15 points and 10 rebounds) and the interior game for the Huskies (6-8, 2-1 CAA) couldn't handle the heat that the Dragons (10-6, 3-1 CAA) blew against them as CAA-leading Drexel managed to score 11 of its final 15 points at the charity stripe. 
Although the Huskies were superior in rebounds, points in the paint and shooting percentage, keeping the Dragons to just 29 percent, a low scoring second quarter for the Huskies, where Hill scored the only NU bucket of the frame, was tough to get past. 
The Huskies kept the leading scorer in the CAA, Drexel senior forward Bailey Greenberg, who averages 20.8 points per game, to just 6 points. Regardless of this effort, they still couldn't pick up the win, losing 41-50. 
Northeastern vs University of Delaware
In their second game, NU faced the Fightin' Blue Hens (5-10, 1-3 CAA). Senior guard Shannon Todd's season-high 20-point performance, Hill's oh-so-close triple-double and Rookie of the Week freshman forward Mide Oriyomi's season-high 11 points proved to be what the Huskies needed to pull off the win.
Todd drained four out of the seven triples that the Huskies converted, becoming the sixth Husky of all time to surpass 150 career triples in the process, now with 153). 
Hill came out with 10 points, 11 rebounds, and 7 assists. Junior guard Stella Clark added 13 points, 7 rebounds, and 5 assists, while freshman sensation Oriyomi sank 11 points and had 4 boards in a stellar team win for the Huskies. 
Northeastern entered the contest as the CAA's second-best rebounding team and it showed as they were one board shy of their season-high, grabbing 44 rebounds throughout the game. 
Despite being down 20-14 early and starting the second half tied 30-30, the Huskies ran with the lead and had an impeccable shooting game where they shot 62 percent in the third quarter and 75 percent in the fourth.
Even with the early loss of the weekend, the Huskies (6-8, 2-1 CAA) rebounded, quite literally, by winning the second game, 72-62. Now fourth in the CAA standings, NU faces second-place Elon (8-7, 3-1 CAA) back at Cabot on Friday, Jan. 17 at 7 p.m.