Lean on Me provides a new platform for anonymous peer-to-peer support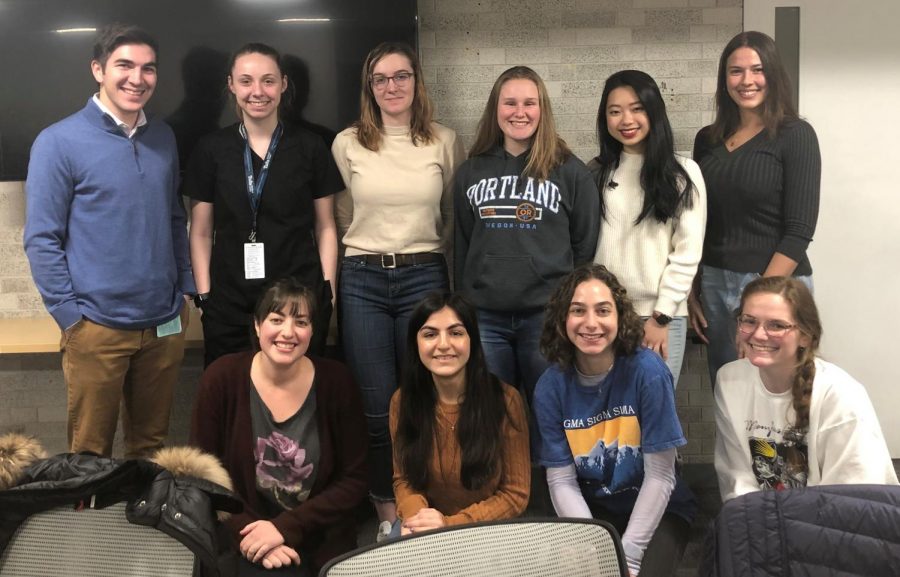 In today's day and age, almost everything can be done online. This could be anything from food service, navigation, shopping and now, anonymous peer-to-peer guidance counseling.
Lean on Me, a texting service that provides non-crisis support to students, from students, is a Massachusetts Institute of Technology brainchild that is slowly but surely finding its place at Northeastern. 
By texting the hotline, students are matched with other students who are given the tools and resources to listen emphatically, respond thoughtfully and help however they can within the limits of a non-licensed support system.
While a Northeastern chapter of Lean on Me briefly existed a few years ago, the club soon dissipated. However, students this semester are dedicated to reengaging the Northeastern community with this texting hotline and are currently in the process of becoming an official Northeastern student organization.
Students like Lean on Me Recruitment Coordinator Brigitte Cronin, a second-year chemistry and environmental geology major, and Chapter Coordinator Grace Rootness, a second-year psychology and criminal justice major, are responsible for leading the team as a whole. Meanwhile, club members, known as Supporters, undergo training that allows them to be a resource to Northeastern students in need of emotional support. Supporter initiation includes an interview with the leadership team, an hour-long online training session and a three hour in-person training session, ending with an hour-long timed online assessment.
"They're very motivated to stay in it and to be able to reach out and help these people," Rootness said. "We also have a very diverse set of majors. It's really based on their personal interest in the issue, and not just their major."
Kelly Gim, a second-year psychology major and Lean on Me training coordinator, also found comfort in receiving applications from students of a variety of backgrounds.
"We know that the people texting in are going to be from different backgrounds with different majors and hometowns — who knows? Our Supporters can relate to a variety of people," Gim said.
The Supporters, who range from first-years to fifth-years, all have individual reasons for being involved with Lean on Me.
"It seemed like a really cool program," said Rebecca Scheldrup, a first-year criminal justice and psychology major. "Especially with colleges, I know a lot of people are stressed out and a lot of people are feeling lonely. It's cool to be involved with helping that. I love helping people, so this was a really great option for that."
Mirah Gordon, a second-year bioengineering major, emphasized how mental health is just a part of life, and it's a huge part of college. 
"Being able to provide this resource for people is incredibly important, and I'm just really excited that this chapter has started at Northeastern because I think it'll be a really helpful tool and resource for all the students on campus," Gordon said.
Jasmine Ho, a second-year psychology major, said she used a hotline during her first year that really helped her. 
"I want to be a person who can help somebody else in the same way too," Ho said.
While the members are adamant in expressing that the hotline is solely for non-crisis support, there is a general consensus that an informal, easily accessible tool as such holds importance.
"I think Lean on Me is the right place between professional help and when you don't want to talk to a friend," said Katie Kuhn, a fourth-year business administration major. "It's anonymous, but it's still a good emotional support system without having to go to professionals because you don't feel like it's important enough or urgent enough."
The leadership and Supporters of Lean on Me strive to be a presence that gives Northeastern students a platform to rely on.
"We are a listening ear that is there no matter what," Rootness said. "We're there to support them, no matter who they are — we don't know who they are, they don't know who we are. It's just kind of an unconditional empathy, I guess."
Northeastern students can access the confidential texting hotline at (617) 202-2948.