Katy Knoll brings auto racing drive from family to the ice
January 29, 2020
Northeastern University women's hockey player Katy Knoll has made incredible strides for a player her age. But for the promising athlete, it's the passing down of traditions and passions through her family that has made her who she is today.
Knoll, 19, grew up in Amherst, New York, like her father. Following the footsteps of a businessman who owns a gas station, towing company and an auto-repair shop all-in-one, Knoll is pursuing a degree in business management at Northeastern.
"My dad owns his own business, and he got that from his father — it's kind of a generational thing," the freshman said. Like her older brother and sister, the forward has often worked for the business. "I've learned so much, just from my grandfather passing things down to my father, and my dad passing things down to us."
And since the business has "kept the family tight," why would hockey be any different? Though her father never played competitively, he grew up loving the game, and was a fan of the Buffalo Sabres for most of his early life.
"As soon as he could get my older siblings on the ice, he did," Knoll said.
Her siblings competed from young ages and throughout high school, which left Knoll hanging around the rink more often than not.
"I was the little kid that, at home, would always put on one of my sibling's still gross equipment and just walk around the house in it," Knoll recalled, smiling in reminisce. She even recalls putting on skates for the first time at two years old, and that no matter the age, claims that it gives her the same feeling, every time.
"It got to the point where they got me my own skates, but I was so small that I couldn't skate yet, so they put those rubber skate guards on them. And once I started walking up the stairs with skates on, they were just like, 'okay, we've got to put her on the ice. It doesn't matter that she's only 2," she said, laughing.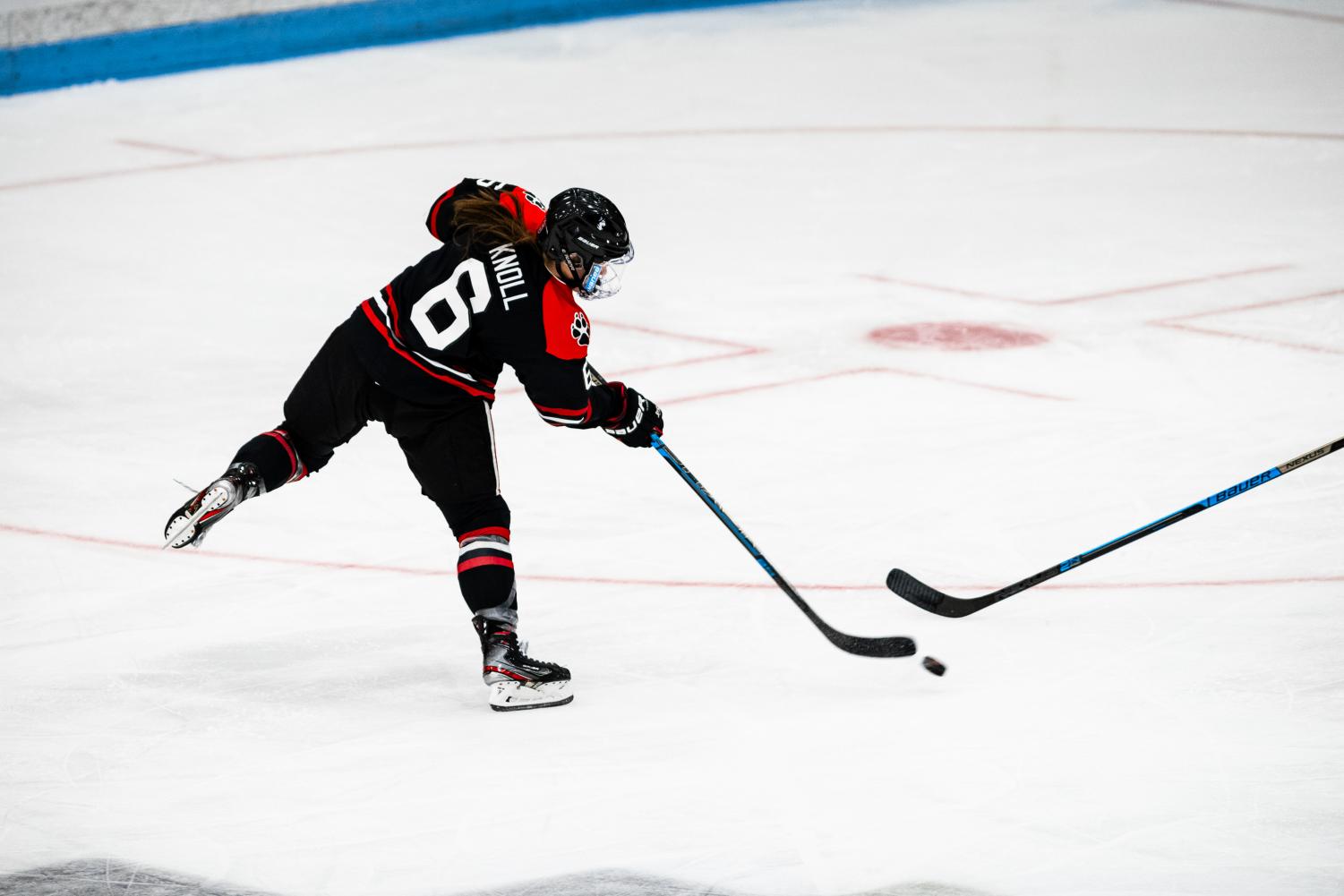 While this may sound typical of most athletic families, how The Knolls spend their time in the off-season is rather unique.
"My family also has a really heavy background in auto racing," Knoll revealed. "My grandfather and my dad both raced asphalt, my dad still races asphalt to this day. All of my siblings and I raced our cars."
Like her siblings, Knoll started with go-carts around the age of 6, and eventually graduated to micro-sprinters, which she described as a car with a big wing on top.
"The way we were brought up was if you want to race the car, you have to work on it," Knoll explained. Her family would often compete against one another, and if not working on their own, they would work on each other's crews during a race. But race tracks and ice rinks alike, Knoll always depended on her family's guidance. And when it came down to it, she knew hockey was the path for her.
"I believe that once you pick the sport you want to specialize in, it should be your focus. And I picked hockey a long time ago."
Having stepped onto the ice at a young age, it always seemed like Knoll was always one step ahead —at least age wise. Whether she was playing on an under 8 (U-8) years old team at the age of 3, 14 years old on a U-16 team, or 15 years old on a U-19 team, she never let age stand as a barrier.
In her freshman year, Knoll enrolled at The Nichols School in Buffalo, New York, and followed the footsteps of her older sister, who played hockey at the college-preparatory school for three years, a program the school is renowned for. During the off-seasons, Knoll even dipped her toes into golf and tennis. She still enjoys golfing with her grandma when home.
But it was also at Nichols where her former coach, Scott Welsh, assisted in Knoll's recruitment process with Northeastern women's hockey associate coach Nick Carpenito.
After working with Knoll for four years through the recruitment process, Carpenito seems to be only more impressed by her everyday.
"As far as a hockey player goes, she's the total package," Carpenito said. The coach had also known The Knolls when recruiting Knoll's older sister at his previous job, an offer she had to turn down due to a knee injury. "Katy had a pretty significant role for us right away, which we expected with her abilities."
Those abilities were developed further by Welsh's successor. Former NU women's hockey player and alumni Shelley Looney took Welsh's place at Nichols during Knoll's sophomore year. But going into her junior year, she found herself being offered a spot on a Provincial Women's Hockey League Team in Canada, the Toronto Aeros, where her coach Dave Gwyn served as a final touch.
"Between Scott Welsh, Shelley and my coach from Toronto Dave Gwyn, all three of them had a significant impact in the way that I play my game on the ice, the way I look at a game off the ice, and how I work everyday to try and better myself. Not only as a player, but as a person because in the long run, [I] can't play hockey forever, as sad as that is," Knoll said.
However, after getting recruited right before her sophomore year of high school, and knowing the risk of getting injured in an auto-race, Knoll made the decision to take a step back from the race tracks. She had previously broken her hand in eighth grade in the midst of a race, and felt she couldn't put her future on the line.
"We used to joke that if she started racing once she accepted our offer to come to the school, we'd have to put her in bubble wrap," Carpenito joked.
But when she has the chance, Knoll still loves to support her father by giving him an extra hand on his crew during the racing season.
"I think I'm so passionate about it because of how passionate my brother and father are. And I know how passionate my grandfather was," Knoll said. "I didn't know my grandfather for very long, but I still hear stories to this day from my father, and I see pictures, and it's just been a part of my family's life for so long."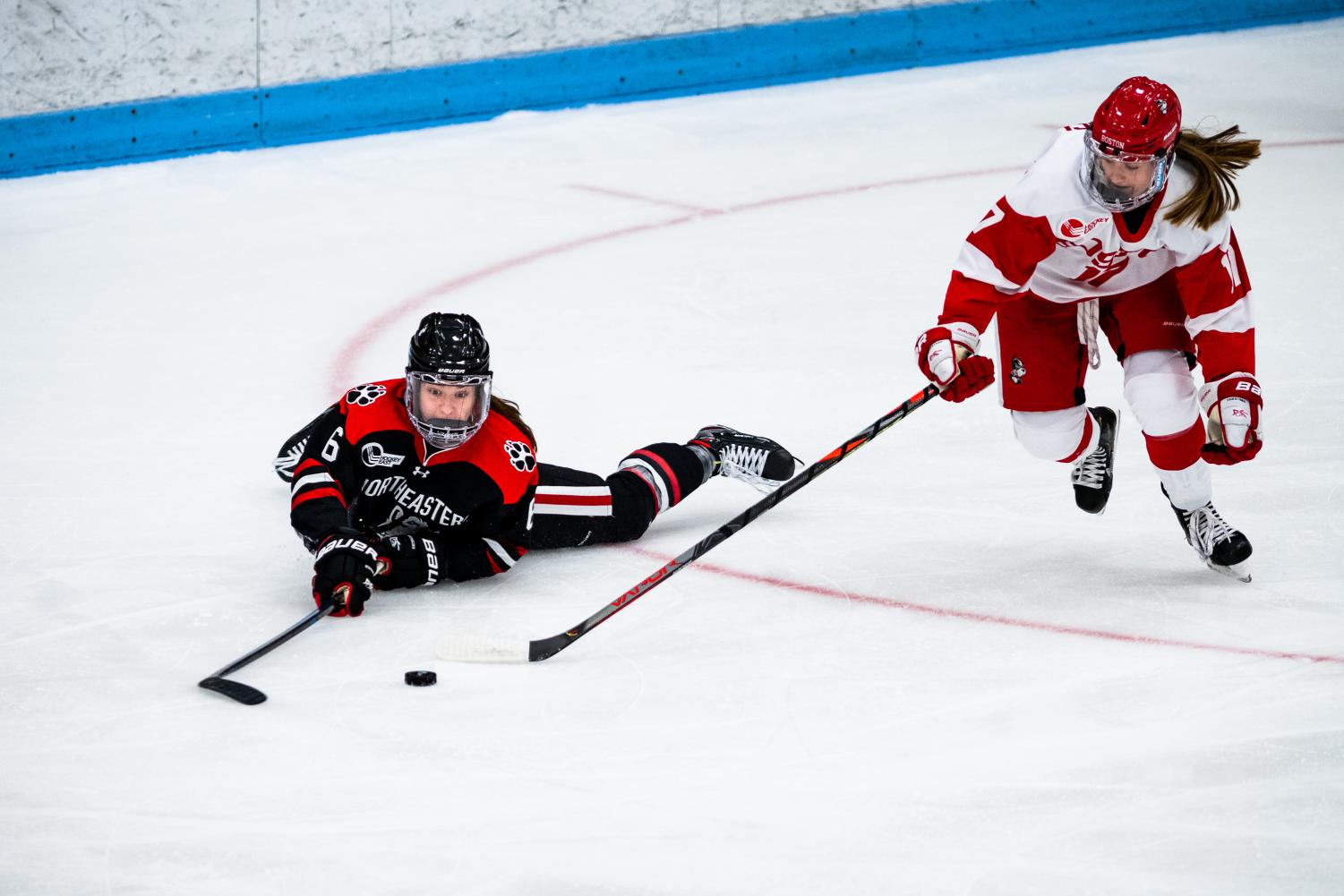 Initially, Knoll attempted to balance playing for her high school team as well as the Toronto Aeros, but having to commute four hours to-and-from Toronto four or five days a week proved to be too hard on the student athlete. With that commute throughout her junior year, Knoll would have to miss several practices for her high school team, and didn't want to lead her younger peers with poor commitment.
"My senior year I knew I was going to be someone kids looked up to, and I didn't want to set that example, where when I came, I was just getting played, while all of these kids are going to practices and they can make everything, and I would be played over them," Knoll said. "I decided not to play, and it allowed me to focus on my Toronto team and my studies for my senior year before I came to the university."
Knoll credits her experience and success on the Toronto team for how she skates today.
"It was one of the biggest steps I've ever taken in my life, but it was so worth it in the end, and it helped me just get that much better."
Even when Knoll doesn't think anyone is watching, according to Carpenito, her devotion to the game shows. One of her greatest attributes, as the coach claimed, is her consistency. After every practice, he'll catch Knoll out on the ice long after their session has ended.
"It shows that she is in a higher class of athletes among the team," Carpenito stated. "It shows not only in the way she carries herself during practice or when everybody else is around, but also in the little things she does when she doesn't think people are watching."
Knoll has achieved some of the greatest honors an American hockey player can. In her first year of playing in Toronto, her team won the Triple Crown —a provincial championship, a league championship and the Final Four League championship.
In the same year, she was selected for the U-18 U.S. National team, where she flew to Russia to beat Canada and Sweden, as well as win gold. In the following year, she was re-selected to join the team in Japan, where, even though the U.S. lost against Canada, all of her successes further affirmed "that what [she] was doing in Toronto was really paying off," especially since she got to share the success with her family as they got to fly to Russia to see her win gold.
But what is most demonstrative of Knoll's character is that even with several national recognitions and titles, she first-and-foremost considers her achievements to include racing with her family, in which she's competed in, and won, several go-cart and micro-speeding races.
"If you talk to her outside of the rink, you probably wouldn't necessarily know she was a hockey player. You probably wouldn't necessarily know the success she had at the national level," Carpenito said. He compared her to former NU hockey player Kendall Coyne, who he described as an incredibly humble, highly-achieved player with starpower.
Carpenito's comparison speaks volumes, as Coyne's hockey resume is remarkable, including an Olympic gold medal, an NWHL championship and a seventh place finish in the 2020 NHL All-Star Fastest Skater competition. Knoll is building a resume of her own, picking up two Pro Ambitions Rookie of the Month award, one WCHA National Rookie of the Month and and 20 points (including an impressive five point outing against Holy Cross this season).
"Katy has got incredible humility. She's just a great person," Carpenito said. "She would do anything for her teammates if they asked her to. She'd probably do anything for anyone if they asked her."
However, don't be fooled by the wholesome, warm traits that make Knoll who she is. She likes to think she's "a lot nicer off the ice than on the ice." Another aspect of the game passed down to her from her sister.
"She was a defenseman, and I don't think I've ever seen her, to this day, go into a corner and not come out with the puck," Knoll recalled. "Once you put the equipment on, you have to be in a zone where you don't have friends on the other end of the ice. You can be friends after the game, but you're out there with a purpose, and it's to win the game."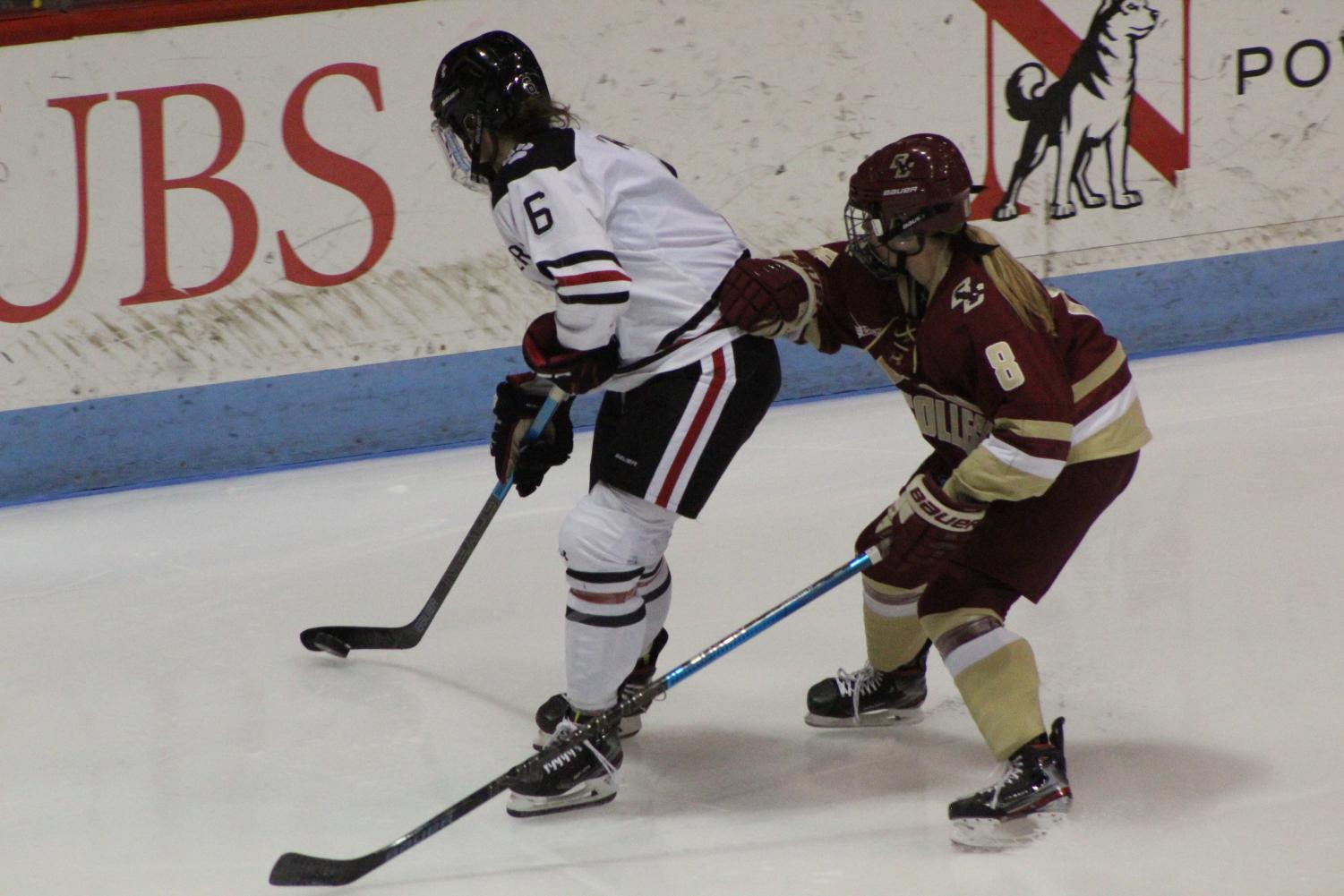 Even Carpenito spoke of the forward with a little fear in his eyes as he described her opposition style.
"Everything she does is violent. She goes into corners violently, she goes to the net violently, she shoots violently. She plays with an extra edge. I think that's just her competitive nature. She competes so hard all of the time, that it just looks violent."
But while the equipment and uniform may set a mental and physical precedent for Knoll's merciless edge, underneath it all is a hard working, dedicated and excited 2-year-old, putting on her skates for the very first time.
"She is someone that's going to be a leader in our locker room, if she's not already. Just with her work ethic, and how she does those little things that a lot of people don't necessarily see. The way she carries herself, she's someone I can definitely see being one of our leadership group down the road," Carpenito raved.
Knoll's love for the game has only grown since she was first brought to the rink because of what her siblings showed her: the harder she works, the greater potential she has to achieve the unimaginable.
"I've been playing for so long that it's pretty much my life, but I think I've made it really worth it," Knoll said. "I'm enjoying the journey and doing what I love. It won't last forever, so enjoy it while it's here."