Faculty senate recommends increasing faculty wages by 4% to improve U.S. News and World Report Ranking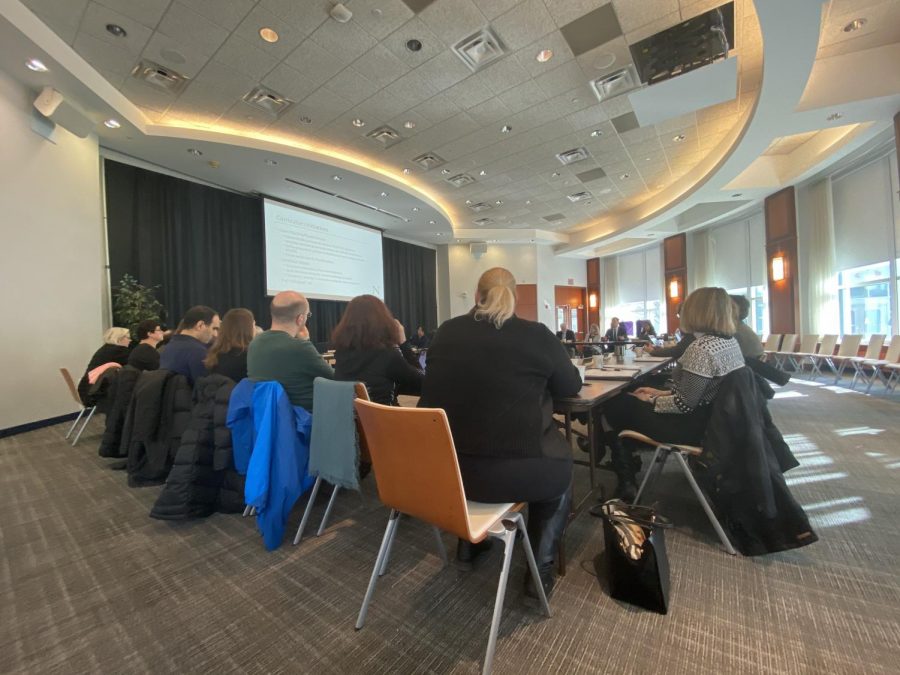 In a bi-monthly meeting Jan. 15, members of Northeastern's faculty senate approved a resolution that would raise faculty salaries by 4 percent, a move intended to improve Northeastern's U.S. News and World Report ranking, which could also raise tuition for students.
The resolution was proposed by the faculty senate's financial affairs committee, or FAC, in its annual report, explaining that in order to move Northeastern up in the U.S. News and World Report rankings, the university should increase faculty salaries. Professor and committee chair Edward Wertheim compared Northeastern's overall ranking with its compensation component ranking.
"Our [faculty salary] ranking for the current year is 51, which is a dramatic improvement from the previous year, which is 61," Wertheim said at the faculty senate meeting. "Our U.S. News ranking overall is 40, our ranking on compensation is 51, which is obviously lower, which suggests to us that compensation, which is about 7 percent of the US News ranking … is bringing us down a bit … It is still a bit of a drag on our overall rankings."
Based on the findings, Wertheim and his committee recommended that faculty salaries be raised. Despite the gap in the FAC's data, Wertheim explained that any salary increase would likely apply to all faculty across the board. The senate passed the resolution by an almost unanimous vote, with two members abstaining. 
The data presented, however, did not include full-time non-tenure track faculty due to the lack of standardization among universities. 
"With full-time non-tenured faculty, there's no standardized titles. We call them academic specialists, they might call them clinical faculty or they might call them something else," Wertheim said in a later interview with The News. "We have no way of comparing apples to apples, oranges to oranges. What Northeastern administration has done, which we appreciate, is they finally got six or seven other universities to sit down, try to standardize these titles so we can compare. Until we have a standardized way of labeling, we can't compare."
Changes in Boston Universities' USNWR Faculty Compensation Rankings
Graphic by: Jayden Khatib
The committee also stressed that a wage increase could help Northeastern retain faculty, as this is an issue for the university due to the high cost of living in Boston.
"This we think will be a help, in a number of ways, particularly in dealing with the challenges that we have in attracting and retaining faculty," Wertheim said.
Before the vote, Provost and Senior Vice President for Academic Affairs James Bean said that making a change in faculty salaries would likely have an impact on student tuition. 
"Salary is a vast majority of our expenses, and so if those two numbers get out of whack … over a very small number of years you converge," Bean said. "So any time we are talking about this number, we are talking about tuition rate … not that that's a rule, but the budget's got to balance out."
If tuition were to increase by 4 percent, it would be on par with past tuition increases. Tuition increased 3.9 percent from 2018-2019 to 2019-2020. According to Student Financial Services, "need-based grant funds will be increased annually at the same percentage rate as the increase in tuition." 
The university has been accused of attempting to specifically target the algorithm of the U.S. News Rankings to improve its overall rank in the past. Additionally, critics point to the N.U.in program as being a way for the university to raise its overall rank. U.S. News takes admissions information such as GPA and standardized test scores for freshman entering in the fall semester. Because N.U.in students are considered spring admits, their information is not considered in the calculation of Northeastern's ranking. 
Wertheim stressed how important these rankings are to Northeastern.
"The university takes these rankings very seriously. And they use them in their research," Wertheim said. 
A Northeastern University spokesperson declined to provide a statement for this article.
The resolution will be proposed to the Board of Trustees and the provost will ultimately make a recommendation. The faculty senate has no legislative power after passing the resolution.
"Whether they ever share our faculty opinion on this, frankly, I don't know. We were planning to meet with Vice President [Thomas] Nedell and that's something I plan to ask him," Wertheim said. "Our hope is that of the five or six things [our committee] recommends they take one of them seriously."