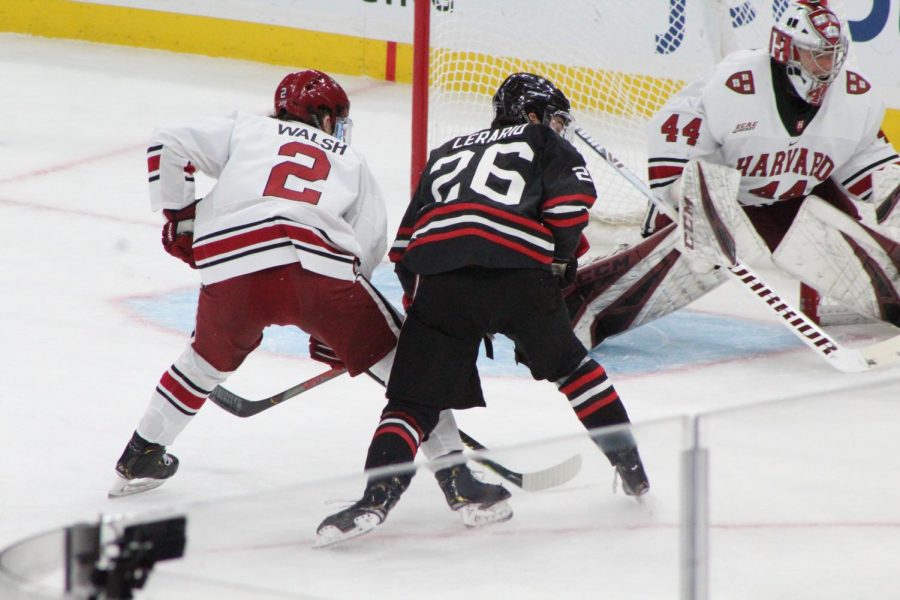 Sarah Olender
As they prepare to compete in the Beanpot Championship game this Monday, No. 12 men's hockey took on the Maine Black Bears in Orono, Maine. NU's 4-2 loss came at a decisive time, as both teams are fighting to remain in the top eight Hockey East teams to continue to the playoffs. However, the Black Bears were able to break their eight game losing streak against the Huskies. 
NU lost the joust for playoff position while being brutally outshot 36-22, with fifth-year senior Craig Pantano having a .889 save percentage. The Huskies were bit by the penalty bug too, catching 33 penalty minutes in the contest with 15 coming from a cross-checking major and game misconduct assessed to senior forward Biagio Lerario. 
Just two minutes into the game, Maine (15-9-4, 9-7-2 HEA) sophomore forward Adam Dawe demonstrated the power of the Black Bears' hard-checking offense as Northeastern (15-8-2, 8-7-1 HEA) freshman defender Jayden Struble buckled from a hit. 
Yet, Maine's strong offensive tactics proved not always beneficial. At 12:38 in the first period, a penalty on Maine allowed the Huskies to score during their first power play of the game. Junior forward Zach Solow scored the first goal by tipping the puck into the net, with assists from senior defenseman Ryan Shea and sophomore center Tyler Madden.
With 2:17 left in the first period, a penalty against Maine senior forward Tim Doherty led to the Husky's second power play of the game. However, at 18:52, both Madden and Maine junior forward Jack Quinlivan drew off-setting penalties, giving the Black Bears an advantage with Hobey Baker candidate Madden off the ice. 
Early into the second period, two penalties against Maine and Northeastern led to a 4 on 4. Soon after, another penalty against senior forward John Picking led to a 4 on 3, and eventually a 5 on 4 power play for Maine. With their advantage, Maine senior forward Patrick Shea was able to score, tying up the game at one goal apiece. 
Madden reentered the rink with 7:51 left in the second period. Despite the added Husky strength, Dawe was able to score, giving Maine a 2-1 lead as the second period came to an end. 
While the first half of the third period was slow, Maine senior forward Ryan Smith scored a goal at 11:27, with a key assist by junior forward Eduards Tralmaks, pushing the score to 3-1. After this goal, the rest of the period moved quickly. 
A 13:32 goal by freshman forward Matt Demelis was quickly followed by a goal for Maine scored by Tralmaks, maintaining Maine's two point lead with a score of 4-2. 
As the third period was coming to a close, it was clear that the Huskies were putting forth everything they could to force overtime. At 18:26, they brought on an extra skater and emptied the net, attempting to push as much offense as possible.
However, a Northeastern penalty with 7.3 seconds left in the game allowed for a Maine power play to finish off the game. 
While Northeastern suffered a hard loss against the Black Bears, they still have a chance to compete in the Hockey East playoffs, so long as they capitalize on upcoming must-win games against UMass Lowell and Boston College. Additionally, they can look forward to their Beanpot championship game this Monday, Feb 10 at 7:30 p.m. where they will search for their third consecutive Beanpot win. 
George Barker contributed to this story.