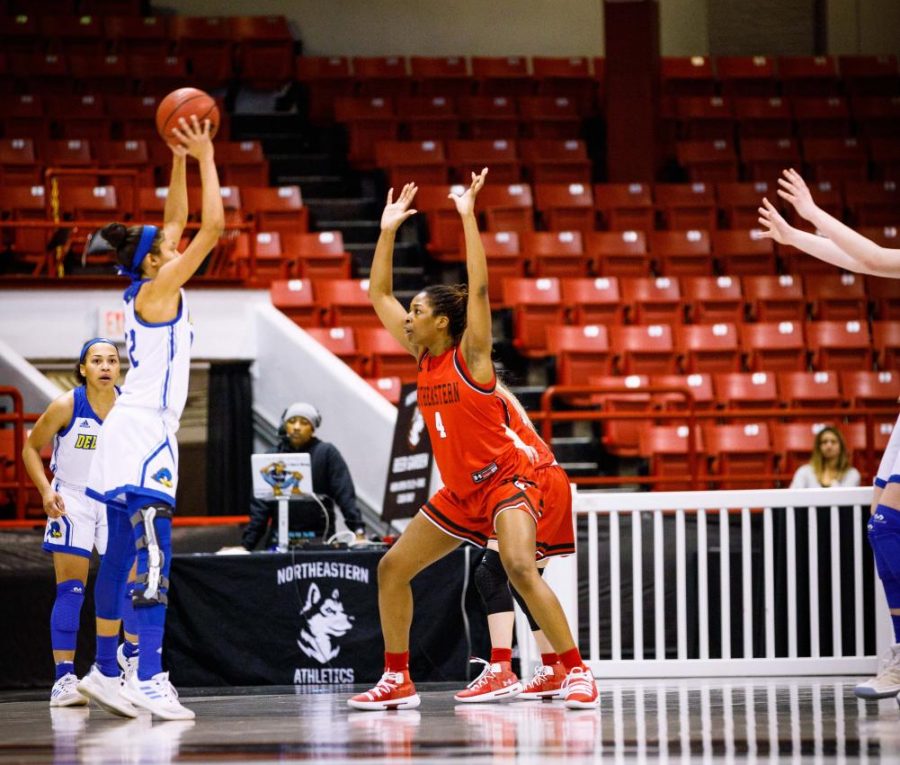 Muhammad Elarbi
With the Northeastern women's basketball team having lost to the Drexel Dragons earlier in the season, they were on the prowl for revenge. However, despite having the support of the crowd, in attendance for National Girls & Women in Sports Day, the Huskies lost again to the CAA leaders, 51-67. 
The Dragons (17-6, 10-1 CAA) were aggressive out of the gates as they scored the opening basket of the game and immediately converted a turnover by keeping the Huskies (10-12, 6-5 CAA) in the back-court for more than 10 seconds. Shortly after, senior forward Ayanna Dublin scored the first basket for NU. Next, junior guard Stella Clark sank a triple and cut the early Drexel lead to 5-12. The Huskies ended the first quarter down by ten, 19-9. 
With the Huskies shooting 42.9 percent in the second frame, it was yet another rough quarter as they were pressed early and hard. Sophomore guard Kendall Currence hit a spin move basket to cut the lead to 11 points. With the Huskies down by 17 with 2 minutes left to play in the quarter, the Dragons hit back-to-back 3-pointers. The half ended with the Huskies down by 20, 41-22. 
The Huskies came strong out of the half as sophomore guard Katie May faked out a defender and made the basket, cutting the lead to 17 points. With Drexel's height advantage, the Huskies had a hard time making passes or shooting over them as Drexel's senior forward Niki Metzel got a block to her name. With the ever-increasing lead for the Drexel Dragons, the third quarter ended with the Huskies down by their greatest margin, 31-54. 
Even with the large lead, the Huskies still looked to get some points back and cut the deficit as Currence hit the three. However, she was also in foul trouble as she picked up two fouls in 10 seconds, trying to contain the Dragons in their half. Clark hit a triple to cut the lead to 17 points, 56-39. Senior guard Shannon Todd sank another 3-pointer off a great assist from sophomore forward Alexis Hill. 
The Huskies couldn't come away with the game as Drexel ran the clock out on their final possession, as NU lost, 51-67.
Double-digit scorers for NU were Currence (10) and Hill (10), Hill also had 5 rebounds and 3 steals to her name. Clark (5) led the way with assists. 
The Huskies face another away weekend playing teams they have already beaten earlier in the season with William & Mary (16-6, 7-4 CAA) on Friday and Elon (11-11, 6-5 CAA) on Sunday. The Huskies are now tied for fourth place with Elon in the CAA standings and a win against both teams can put them into third place.