Work and Family Mobility Act approved by Transportation Committee
The Massachusetts Transportation Committee favorably reported the Work and Family Mobility Act, which would allow undocumented immigrants to receive driver's licenses, to the state Senate after a vote Feb. 5.
The bill was voted on during a hunger strike organized in support of it by immigrant rights organization Movimiento Cosecha. The strike started on Feb. 3 and lasted until the vote.
"There's a lot of energy and a lot of emotion," said Amelia Gonzalez Pinal, an organizer of the strike with Movimiento Cosecha, after news broke that the bill had passed. "I think a lot of the leaders feel really empowered. We've had a lot of folks who are really interested and learn how to get involved in the campaign."
During the hunger strike at the State House, speakers highlighted the importance of the bill to undocumented families in the community as a reason for the hunger strike.
"I've been one of those people that has been arrested [for not having a license]," said Darwin, a speaker at the hunger strike whose last name was not given. "I'm in front of you here today to say that I am tired of it — of driving in fear."
Movimiento Cosecha has been advocating for allowing undocumented immigrants to receive licences for 15 years, according to an email statement from Pinal sent Sunday Feb. 2.
"We overcame hunger, we overcame a lot of walking, we overcame marches, the sun, the rain, all of the elements," said Douglas, another organizer with Movimiento Cosecha whose last name was not given. "Now, we just need to keep fighting so that we can eventually meet our goal."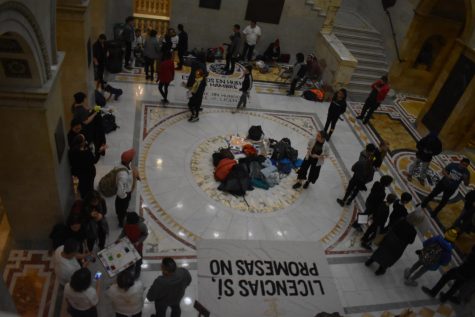 Protesters at the hunger strike said that they were frustrated over the time it had taken to get the bill passed.
"They promised for 15 years to pass this bill," said Irma Lemuz, an immigrant from Honduras who attended the protest. "That's the reason we're on hunger strike."
Sen. Brendan Crighton, who sponsored the bill, said that he was happy that the bill moved out of the committee, according to an article from CommonWealth Magazine.
"We've been building momentum for quite some time," Crighton  said. "We recognize there's still a lot of work to be done to make membership of both bodies comfortable with facts and merits of the bill."
Currently, 15 states and the District of Columbia have enacted legislation that allows undocumented immigrants to receive state licenses, according to the National Conference of State Legislatures.
The bill will need to be approved by the state Senate, the state House and Gov. Charlie Baker before being enacted into Massachusetts law. Both Baker and the Massachusetts Republican Party oppose the bill, according to CommonWealth.
"A driver's license is a privilege, not a right," said party chair Jim Lyons to CommonWealth. "The radical Democrats on Beacon Hill are out of control."
Movimiento Cosecha leaders said Feb. 6 that the organization was celebrating their success and would discuss future plans to push for the bill at a later date.
"We have a plan to meet with all of the coordinators from across the state to make a plan about how we want to move forward, especially finding an opportunity to really unite more of the community together after such a big win," said Douglas.