Markey, Kennedy mostly in step at first Senate primary debate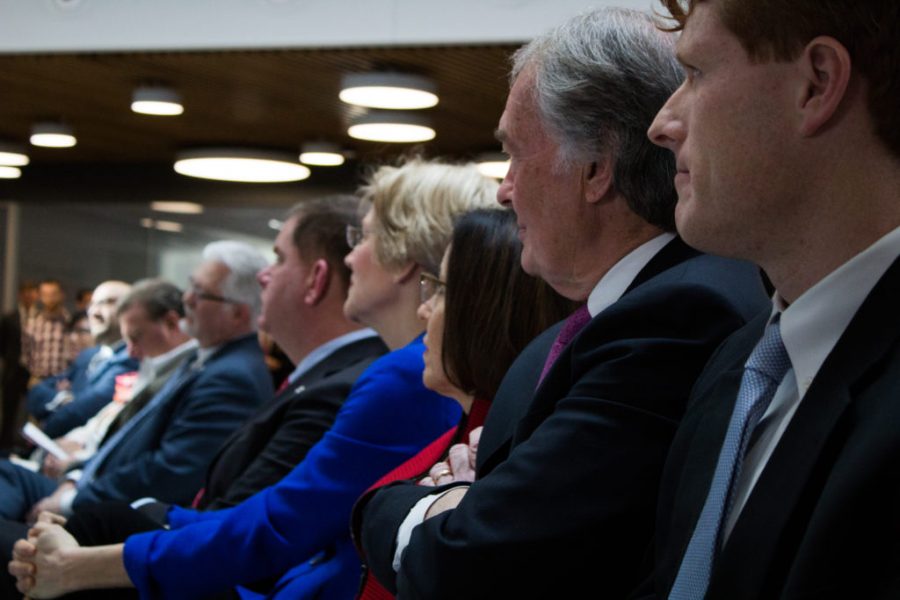 There was little disagreement between Sen. Ed Markey and challenger Rep. Joe Kennedy III during Massachusetts' first 2020 U.S. Senate primary debate, held Tuesday night at WGBH Studios in Brighton. 
In the hour-long debate, moderated by Boston Public Radio hosts Jim Braude and Margery Eagan, the two Democrats agreed on issues regarding the environment, college costs and inequality among racial groups. 
One moment of tension came when Kennedy pointed fingers at Markey for voting for the Iraq War in 2002, when Markey was serving in the U.S. House of Representatives for Massachusetts' 7th Congressional District. 
"He voted for the Iraq War without a sunset provision saying you've got to come back and justify it, without a definition of success and without a question as to the burden on the men and women in uniform," Kennedy said. 
Markey said he regrets his vote on the issue and said President George W. Bush and former Secretary of Defense Donald Rumsfeld lied about evidence of the presence of nuclear weapons in Iraq. 
In light of recent peace talks between the United States and the Taliban, Braude asked the candidates how many troops should be brought home. 
"To completely remove the United States immediately, it could jeopardize 50 percent of the population. Women in that country were living in terror when the Taliban had total control," Markey said. "We should draw down as many troops as we can, testing the agreement to make sure the protections that are put in place are working." 
Kennedy agreed that the government should pull out as many soldiers as possible. When pressed further by the moderators, he said the government should "bring them all home as fast as we possibly can." 
Turning to campaign finance, Braude asked Markey why he chose not to take the People's Pledge as he did in the 2013 and 2014 elections — an agreement first developed by Sen. Elizabeth Warren and Sen. Scott Brown during the 2012 Senate election that aims to reduce undisclosed "dark money" contributions and increase small donor contributions. 
"I've introduced a progressive People's Pledge for 2020 so that we deal with the era of Donald Trump," Markey said. "We should have a pledge that keeps out dark money, that keeps out negative voices. But we should welcome positive voices. We should welcome disclosed contributions so that environmentalists, women's groups, labor groups, LGBTQ groups can speak." 
Braude brought up both candidates' oppositions to the installation of a natural gas compressor station in Weymouth — where construction began in December — and questioned their financial ties to the fossil fuel industry. Markey has accepted money from BlackRock, one of the major investors in the compressor, Braude said. 
"I've taken on that company," Markey said. "I've told them right from the beginning that [the project] should not happen." Notably, Markey is also a key sponsor of the Green New Deal.
Braude referenced a report in The Nation magazine that said almost $2 million of Kennedy's stock portfolio is invested in fossil fuels. 
"There is not a single vote that anybody can point to that shows an investment of holdings that  have long been held have influenced my vote once," Kennedy said. 
The candidates continued to agree on many issues, including forgiving student loan debt for the majority of those who have it, moving away from private health insurance companies and possibly instituting reforms of the Supreme Court such as term limits for justices or increasing the number of justices that sit on the court. 
Eagan cited a 2017 report by The Boston Globe's Spotlight team that found the average wealth of white Bostonians is $250,000, while the average wealth of black Bostonians is only $8, and asked the candidates what could be done about the discrepancy. 
Both candidates said institutional changes to housing and transportation systems are necessary in order to narrow the wealth gap. 
"The statistics that you say indicate a terrible legacy from our Commonwealth and federal government in racial discrimination that persists to this day," Kennedy said. 
To close the debate, Braude asked the candidates to briefly explain their differences. 
Markey has occupied the Senate seat since a special election was held in 2013 to fill John Kerry's spot after Barack Obama nominated him to be the U.S. Secretary of State. Previously, he served as a U.S. representative from 1976 to 2013 and as a member of the Massachusetts House of Representatives from 1973 to 1976. 
Kennedy has served as the U.S. representative for Massachusetts' 4th Congressional District, which includes cities and towns such as Brookline, Foxborough, Mansfield and Attleborough. Before being elected to Congress at the age of 32, he served in the Dominican Republic as part of the Peace Corps for two years, graduated from Harvard Law School and served as an assistant district attorney at the Cape and Islands District Attorney's Office. 
Markey touted his long record in Congress, including his co-sponsoring of gun legislation and funding to find a cure for Alzheimer's disease. 
Kennedy said structural change in government was necessary, including the end of the filibuster and the electoral college, along with campaign finance reform. 
The only Republican candidate for the Senate seat is Shiva Ayyadurai, a scientist, engineer and entrepreneur who last ran for office during the 2018 Senate election that reelected Elizabeth Warren. 
The Massachusetts primary election will take place Sept. 1.