Best Places to Thrift Around NU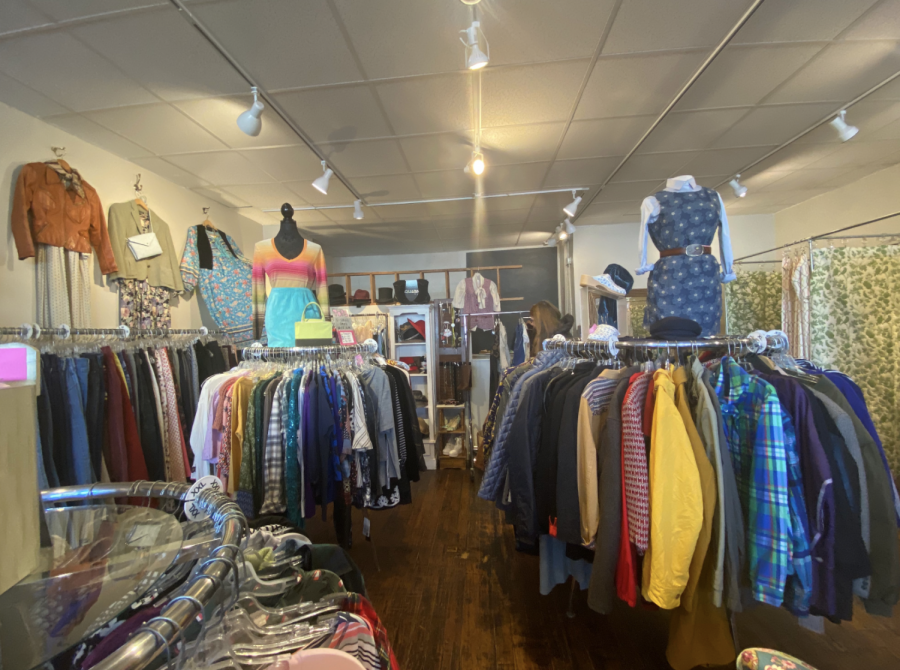 As Boston begins to warm up, consider visiting secondhand stores to spruce up your spring wardrobe. 
There are a variety of benefits from secondhand shopping. Whether you choose to visit an affordable thrift store or a higher-end consignment boutique, you will most likely pay less to buy secondhand than you would to buy a new item. Also, shopping secondhand helps to reduce the demand for fast fashion, which wastes an immense amount of textiles and relies on cheap fabrics that shed microplastics.
Boston is home to a variety of secondhand clothing stores, ranging from very affordable to higher-end. 
Goodwill – $
Goodwill Industries was established in Boston in 1895, but today, its stores can be found on multiple continents. The 965 Commonwealth Ave. location boasts an incredible selection with brands J. Crew, Madewell and ASOS hiding among the store's massive assortment of clothing. If you're willing to dedicate a few hours to dive deep into the racks, Goodwill offers a cheap and sustainable alternative to shopping retail. 
Clothes are organized by type and color, so locating something specific is easy, and the fact that almost all items fall under the set price, regardless of brand, is great for your wallet. 
While the store puts a few of the more expensive items from high-end brands behind the counter, the rest of the store is about $4.99 for blouses, $5.49 for sweaters, $6.49 for pants and $14.99 for suits, which is helpful if you're preparing forco-op. 
Beyond clothes, the Goodwill has a section labeled "frying pans" with a random selection of other items, from ironic mugs to lamps and speakers.  If you're okay with finding your new favorite pair of jeans next to a large assortment of religious and Santa figurines, Goodwill is the place for you. 
If you choose to make the trip, it's easiest to take the 47 bus towards Central Square from the stop on Ruggles and Parker. Try to go on a Thursday if you can, as students are offered a 15% discount, and ask a sales representative what color tag represents 50% off for that week.
Buffalo Exchange – $$
Buffalo Exchange, located at 180 Harvard Ave. in Allston, feels more like a consignment shop than a thrift store. The blasting music and the large crowd of young people set the tone for a very specific type of shopping experience. If you like high energy and you don't have the patience to hunt through clothing racks for hours, Buffalo Exchange is perfect for you. 
Every item is tagged with a price and its size, which makes the search easy, although you pay for that convenience in moderately high prices for a thrift store. Most racks are organized by size, and on average the pieces range from $15 to $60 depending on what you're buying. A relatively unknown brand would be on the lower end, but even a simple H&M shirt can cost as much as $20. The racks are filled with trendy items from Champion hoodies ($35) to chunky white Filas ($28) and even a faux Celine bag, which is kept on a high shelf. 
One thing that sets Buffalo Exchange apart is that you can sell clothes rather than donate them — just don't forget to bring your ID as it's necessary to make any sales. You can earn 30% of the sale if you opt for cash or 50% if you choose to trade it for clothes in the store. 
If the trip to Buffalo Exchange seems worth it, don't forget to bring a reusable bag. Buffalo Exchange gives shoppers the option to donate five cents to a local charity instead of taking a bag. 
Also, if you can, try and go on Earth Day, when the store will host its annual $1 Sale, where you can find most of the items for just $1. If Buffalo Exchange seems like the right fit for you, take the 66 bus from the Tremont Stop toward Harvard, but be aware that there are usually long lines for the changing rooms.
Boomerangs – $
Boomerangs' Cambridge store is identified by loud music constantly playing and young patrons browsing the racks of clothes and seasonal tchotchkes. If you are looking for a cute thrift store find at an incredibly low price without too much digging, Boomerangs is for you. 
While the selection is quirky, everything is organized by size and type of clothing. In terms of price, the Boomerangs in Cambridge boasts a massive $1 section with great pieces, but sweaters, shorts, skirts and dresses are all in the $4 to $6 range. If you are in search of the trendiest brands, Boomerangs might not be for you. While there are some pieces from H&M, Primark and Uniqlo, the majority of the brands aren't recognizable. 
However, the book section of Boomerangs, which is 50% off every Thursday, does shine. If you're looking for bestsellers from the last two years, recognizable titles included "The Girls" by Emma Cline and "Eleanor Oliphant Is Completely Fine" by Gail Honeyman. 
Ultimately, what really sets Boomerangs apart is a combination of low prices and knowing that all the proceeds go to the AIDS Action Committee. Before going to check it out in person, don't forget to look at the website, which provides a calendar every month with the deal of the day, ranging from 50% off shoes or pants to 20% off with a student ID. Also, green tags = $1, and the staff picks section behind the counter can't be missed.
Buzzy's Bazaar – $$
Buzzy's Bazaar, located at 25B Massachusetts Ave. in Arlington, is well worth the trek —getting there from campus via public transportation takes around 45 minutes. The consignment store carries mostly vintage items, including flapper dresses and fur shawls. The Arlington establishment is the place to go for a vintage statement piece. You won't find contemporary styles or brands here, but you will be in the perfect place to find that Great Gatsby-inspired New Year's party fit. 
While the dresses and overwear hanging above customers as they walk in are particularly eye-catching, you should be sure to check out the jewelry and other trinkets on tables around the store. Items like pearl necklaces and Art Deco style earrings retail for $20-85. 
For those who prefer a more modern look, the store's relatively reasonable price point (most clothing items sell for $20-40) makes modifying or upcycling older-looking items doable. 
Also, many of the store's items, like vintage kimono-style coats or long tulle or silk skirts, could easily be either styled to stand out less or dressed up to enhance the vintage aspect. 
However, you will have to dig to find pieces that you like. The store's selection is highly curated, but it is also packed full of merchandise that you will not want to miss, so consider setting aside a large chunk of time to explore the entire store.
Raspberry Beret – $$$
Raspberry Beret is another great choice for statement pieces. The women's consignment boutique has two outposts: one in Cambridge, a short ride from the Davis Square T station, and one in Maynard. The boutique carries mostly contemporary pieces from mid-range brands like Anthropologie and designer brands like Prada. 
On any given day, you may find anything from a funky long vintage floral skirt ($75) to a denim jumpsuit ($100) to a 1980s Paloma Picasso silk scarf ($49). 
Raspberry Beret is an especially good choice to beef up your co-op wardrobe with office-ready items like a Ralph Lauren silk frilly blouse ($319), a Loft satiny blazer ($35) or a Kate Spade purse ($75). 
However, Raspberry Beret may not be the best place to shop for people who are not looking for particularly feminine clothing. The store prides itself on being a woman-focused boutique, and while it does carry some fairly androgynous items, such as a vintage Rolling Stones bomber jacket ($450) and a cheetah-print button-up ($14), the store's vibe is overtly feminine.
Even if you're in the market for feminine clothing, you may be uncomfortable with the store's prices. Raspberry Beret is not the place to go for a cheap wardrobe staple, but it is possible to find items on a college budget. Even the more expensive items are good deals when you consider their original prices (that Ralph Lauren blouse originally retailed for $655).