NU School of Journalism denounces police violence against journalists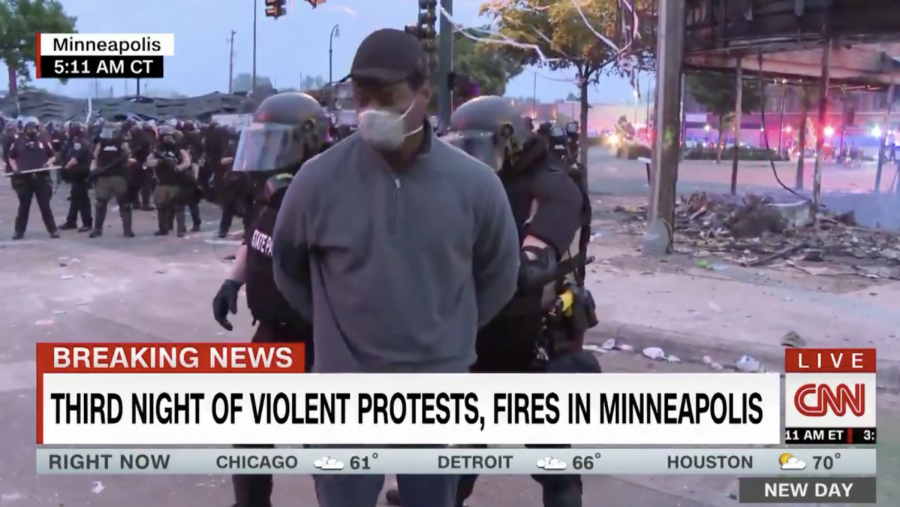 The faculty of the Northeastern School of Journalism co-signed a statement Tuesday denouncing a nationwide series of physical attacks on reporters by police officers during protests in response to the police killing of George Floyd.
"The recent attacks on journalists by police in American cities, including on Northeastern University alumni, are unacceptable and do great damage to our democracy," wrote the group of 20 faculty, including the school's director, Jonathan Kaufman. "They also jeopardize the ability of citizens to inform themselves about not just the current wave of protests but also our nation's history of racism, bigotry and police brutality."
Activists have filled city streets across the country to stand against racism and police violence since Floyd was killed by Minneapolis police officer Derek Chauvin on May 25. Numerous videos have surfaced on social media and on cable news of journalists being arrested, berated and physically assaulted by police officers in riot gear while trying to cover the protests.
"Monday morning, we woke up to tweets [showing] people being attacked, our own alumni being attacked, and people were outraged," Kaufman said in an interview with The News. "Whether it's Tiananmen Square, or New York, or Boston, journalists are there to record the truth."
CNN reporter Omar Jimenez was arrested while giving an on-camera report, along with his producer and videographer. Linda Tirado, a freelance photographer, was shot with rubber bullets in Minneapolis and lost the use of one eye. In Louisville, local TV news reporter Kaitlin Rust was shot with pepper bullets while talking live on the air.
A recent graduate of the Northeastern School of Journalism, Tyler Blint-Welsh, was assaulted by police while reporting for the Wall Street Journal in New York. Each of these journalists displayed a press badge and verbally identified themselves as reporters.
"We made a statement not just to protect journalists but to protect the protesters," Kaufman said. 
Journalism professor Dan Kennedy said in an interview that the assaults underscore the importance of the profession.
"I hope there's a certain type of young journalist who looks at this and sees the importance of what we're doing," Kennedy said. "Although what's going on is extreme … there are many times [journalists were] not loved, and we have to go get the story anyway. 
"This is much worse than anything we've seen before."
The statement called for government officials to take immediate action, specifically allowing journalists to work without the threat of physical harm or arrest and protecting the First Amendment rights of protesters. 
"We see a lot of young alumni are doing courageous work," Kaufman said. "These protests are showing that a lot of the concepts we talk about abstractly in class are real."