Nine things to do at home based on what you miss most from Boston
Since the spring semester's abrupt ending in March, you may be stuck at home missing Boston. Nothing compares to being in the city, but there are still some ways to recapture the spirit of the places you miss most. Here's a list of the top nine places missed most by Northeastern students (according to a Facebook poll of approximately 330 current and former students) and what you can do to keep their essences alive, no matter where you are.
9: Kung Fu Tea
If you can't access your beloved Kung Fu Tea right now, you can still enjoy bubble tea. Here's a quick recipe to make tapioca pearls at home. If DIY isn't your style, you can also buy pre-made dehydrated tapioca pearls at your local H-Mart, Nam Dae Mun or other Asian grocery store. For the tea portion, you can brew your favorite tea and combine it with a milk of your choice or use a specific milk tea recipe.
8: Curry Student Center
You may be hundreds (or even thousands) of miles from Curry Student Center, but there are still ways to bond with friends and fellow students from a distance. You can have a PowerPoint party on Zoom and make fun presentations for each other, or make each other Pinterest boards of photos that remind you of each other. Utilize social media to join or start a Zoom book club or join the myriad of Northeastern Facebook groups (like NEU Meme Collective, NEU polls, etc.) to keep interacting with your peers. If you're exhausted by the internet, there's always personalized snail mail. 
7: The North End and Haymarket Square
You can't recreate its rich architecture, but if you miss the iconic North End Italian food, you can make everything from carbonara to cannolis to Neapolitan pizza at home.
6: The Fens
If you miss the park itself, see number two. If you miss hearing the geese on your way to Boylston Street, try listening to this video. If what you miss is walking through The Fens on your way to Machine or back from a party, there's nothing stopping you from partying alone. Here are a few playlists to get you started.
5:  J.P. Licks
Let's be real here — nothing really compares to JP Licks. But now may be the time to try a new ice cream parlor near you, or buy a unique flavor — such as the increasingly popular boba ice cream — from your local grocery store. Many Southern or Midwestern grocery stores even carry Jeni's Splendid Ice Cream now, which is also highly ranked with J.P. Licks among other ice cream shops. You can also make your own ice cream.
4: Pavement
This is as good a time as any to learn how to make your favorite cafe items whether that's a classic lox sandwich, homemade bagel, matcha latte or cappuccino. 
3: Prudential Center
With lockdown restrictions being lifted, you might be able to visit your local mall, but if you live somewhere with tight restrictions or are uncomfortable going to the mall, you can always shop online. Some big brands are even having special sales for the summer holidays, and many of your favorite smaller shops could use the revenue.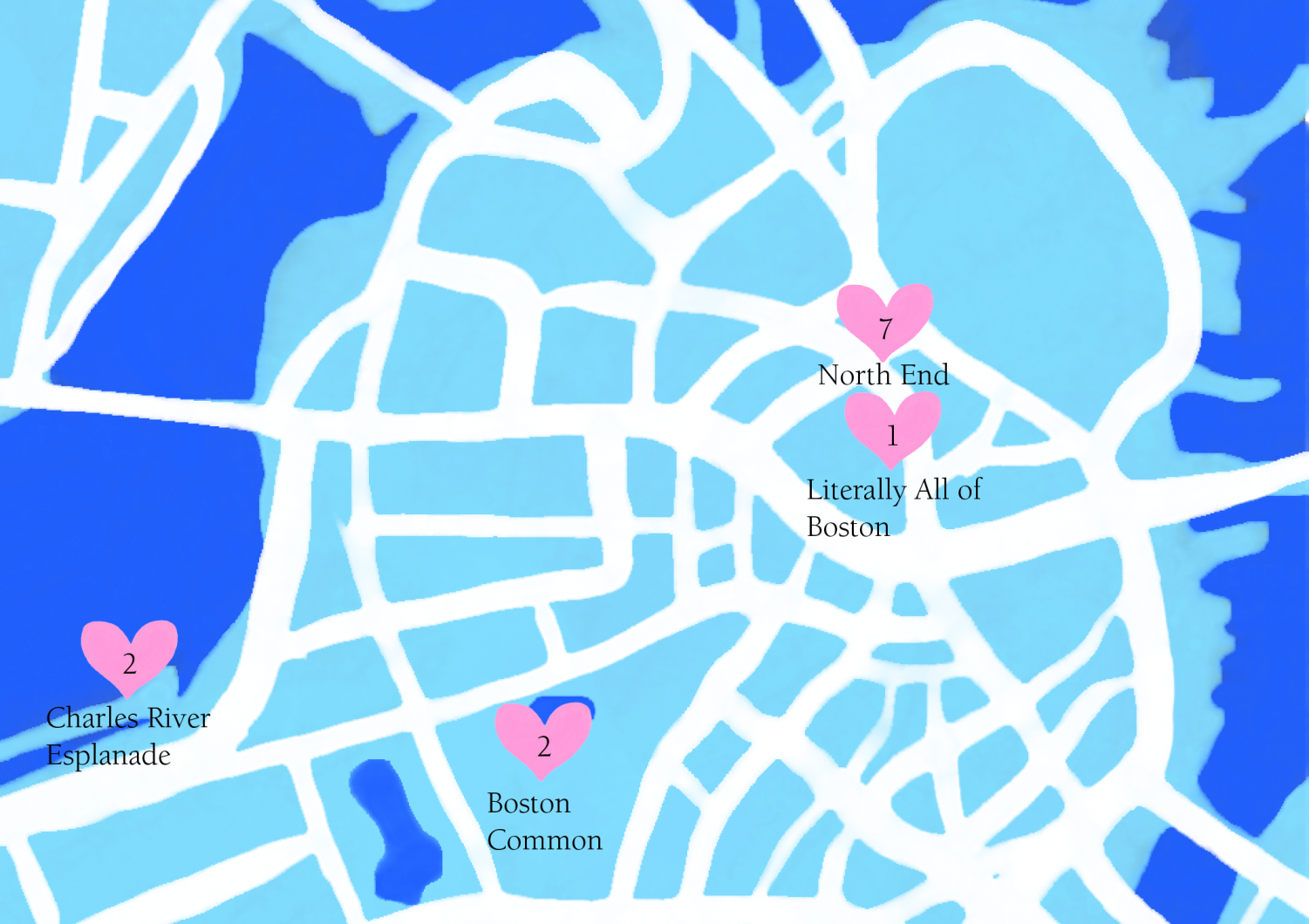 2: The Charles River Esplanade and The Boston Common
Boston Common and Charles River Esplanade are historic urban parks that serve as meeting grounds for millions of people every year. You can try to recreate the experience by going to your local park, or perhaps even venture out to a state park near you (while still physically distancing). You can even do a physically distant hike or walk with some friends and family. Here's a tool to find a park near you. You may even be able to have a picnic in your local park with the people you're quarantined with.
1: The City of Boston Itself
Reflect on your time there, and remember that you will be able to return to Boston sometime. It's important to remind yourself to look forward to the months ahead, especially for your return to your beloved college home.
* Sadly, Rebecca's Cafe, the T, Newbury Street, Amelia's Taqueria, Cambridge and the West Village Wollaston's Market are all too hard to recreate at home.
The data on the maps and from article is taken from a poll in a private Facebook group of Northeastern students.