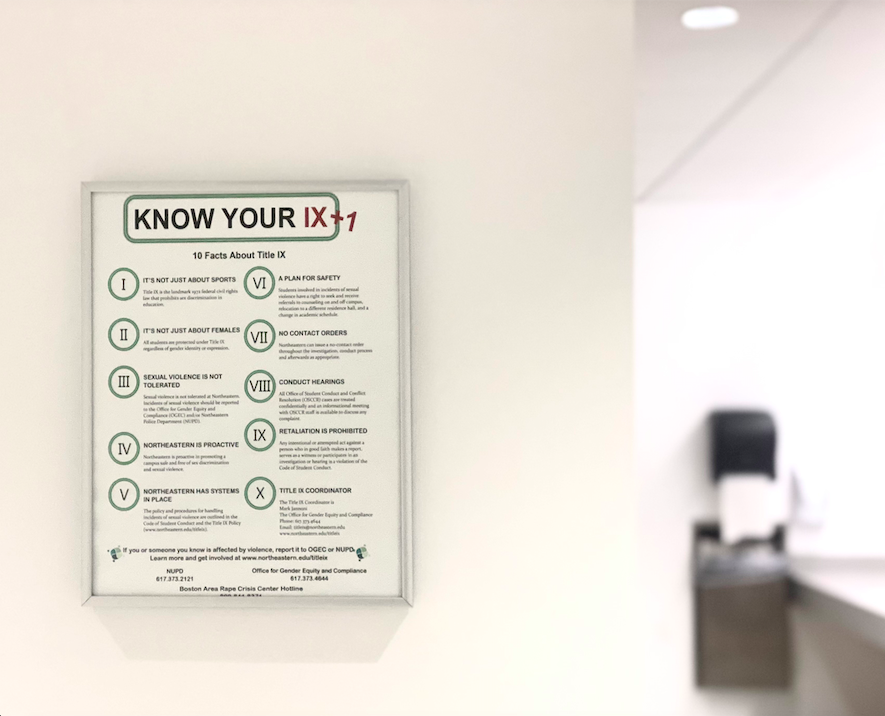 Madison Xagoraris
Last weekend, students at Northeastern University and many others were left shocked and devastated by the death of Justice Ruth Bader Ginsburg. Monday around noon, students were left with another shock: changes to the federal Title IX policy. Northeastern adopted new government mandates, while also implementing the Sexual and Gender-Based Harassment, or SGBH, policy on Aug. 28. Unfortunately, the new federal policy still has many shortcomings in practice, the most prevalent being the effectiveness to reduce the effects of sexual assault. The SGBH policy provides more coverage than the federal mandates alone, but it is still not enough.  
Northeastern sent an email to the student body detailing the updates to the federal Title IX policy, which greatly impacts students who choose to report cases of sexual misconduct. First of all, schools must dismiss complaints of sexual misconduct that did not occur at the university. However, under Northeastern's SGBH policy, the university takes responsibility for actions "on or off property owned or controlled by the university," covering incidents that may occur abroad, off campus and more. However, if the victim's university does not have a policy like Northeastern's SGBH in place, they must either report the accused to the perpetrator's university or pursue a legal case. 
For incidents that do not fall under the federal Title IX or SGBH policy, students can report them through the Office for University Equity and Compliance, or OUEC, by completing a form. Northeastern's OUEC and SGBH policy provide significantly more coverage than the federal mandate alone, even though it still lacks some protections and even dissuades students from coming sexual assault victims from reporting incidents.  
Under new federal regulations, if one wishes to pursue a formal resolution process, each party must appoint an advisor for a live cross-examination — the most disturbing addition to Northeastern's Title IX policy. This action is allowed under both federal regulation and Northeastern's extended coverage, and previously they were discouraged. Without it, any statement reported during an investigation may be ruled out when considering punishment. So if that party or witness does not agree to the cross examination, their testimony prior to the formal hearing is no longer valid to the investigation. 
This also raises an arguably more pressing concern: What if there are no witnesses?
Many young women, like myself, are familiar with horror stories of college girls who went to a party, and after a few moments away from friends or misplacing a drink, end the night in a stranger's bed with no memory of where they are or how they got there. As a young woman who enjoys going out occasionally with my friends, I constantly fear the possibility of someone slipping a drug into my drink and putting me in a potentially dangerous situation. 
After reading the Title IX policy I asked myself: What if something happened to me and nobody saw? Would the cross-examination end in my favor if I'm left with nothing but the memory of waking up somewhere new and the feeling of violation?
Although some commentary praised the focus on live hearings and cross examinations, this new process will further burden the victims and will likely deepen their trauma through exposure to the accused and the questioning to disprove their story. These new regulations by Secretary of Education Betsy DeVos ultimately discourage survivors from coming forward and favors the perpetrators by challenging the victim's credibility. 
In 2020, why are Title IX policy makers complicating the process for students to speak up about sexual assault? 
Title IX should be a clear and accessible system to offer comfort and reassurance to victims instead of protecting perpetrators' ability to continue their education. The policies are incredibly complicated, and I cannot imagine navigating through this process after experiencing sexual assault. Now, victims are forced back into the shadows of shame, pain and fear of the consequences they could face if they find the courage to speak up.
Madison Xagoraris is a second year communication studies and media and screen studies combined major. She can be reached at [email protected]