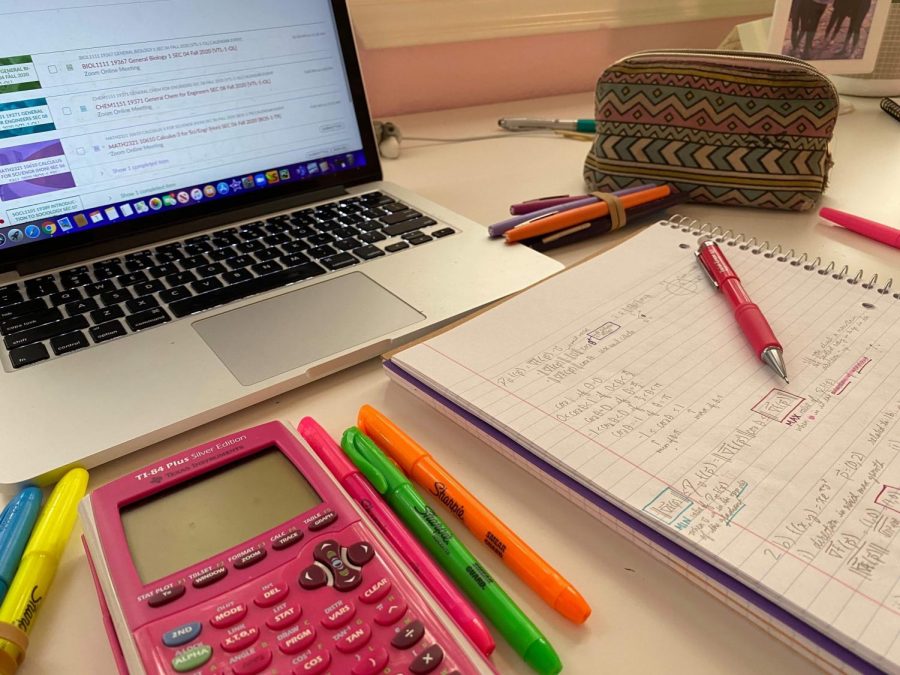 Sachi Kulkarni
While students on campus began the fall semester Sept. 9, hundreds more started their classes online, some from thousands of miles away, through Northeastern's new learning model NU Start.
Created for first-years unable to travel to the Boston campus and attend in-person classes, NU Start allows students to take all of their fall courses online. NU Start courses are asynchronous to accomodate students from around the world. This means they do not require real-time interaction, which is a key difference from the NUflex model of both synchronous and asynchronous classes.
Alexis Tang, a first-year communications and sociology major from Singapore, decided to enroll in NU Start after running into difficulties trying to get a U.S. student visa. She said she especially appreciates the asynchronous nature of NU Start.
"Because of the 12-hour time difference, NU Start was a better option, rather than NUflex where most of the classes would have been in the middle of the night for me," Tang said. 
Maaya Shah, a first-year business administration major from Texas, said she made the switch to NU Start after watching other U.S. colleges open unsuccessfully.
"After some schools started seeing cases rise and began closing down, like UNC did only a few weeks after reopening, I decided to enroll in NU Start," said Shah, who initially planned to come to campus through the N.U.in Boston program.
Incorporating Northeastern's core tenet of experiential learning, NU Start presents research opportunities for students by placing them in one of four interdisciplinary learning communities: Global Health, Global Social Justice, Global Collaboration and Conflict or Global Sustainability. 
Each learning community has a one-credit, synchronous seminar course that meets weekly, where students can connect with upperclassmen peer mentors and research faculty. Within each community, students are grouped into smaller cohorts that will conduct project-based research. Shah is in the Global Health learning community.
"What we're trying to do in Global Health is connect the subject in an interdisciplinary way and see how it relates to what's going on in the world right now," Shah said.
In addition to the seminar course, NU Start students' fall semester course load consists of four classes per usual. First-years in the program can take one to two NUflex classes, some of which are synchronous, so course schedules vary for each NU Start student.
Tang said her asynchronous coursework consists of watching pre-recorded lectures and completing assignments as her professors upload them to Canvas, Northeastern's learning management system. 
"Because technology has advanced so much, it's actually pretty convenient to have everything uploaded onto one platform and just take your classes whenever you want," she said. 
Sachi Kulkarni, a first-year biology and mathematics major from Texas, said the asynchronicity of NU Start is both a perk and a flaw. 
"You can go at your own pace, but it's definitely sometimes overwhelming because you have to figure out a schedule for yourself, which I'm still trying to adjust to," Kulkarni said. "I think it really helps you become more independent so when you get on campus you know what's expected of you and how to plan better."
Learning a subject entirely online can also hinder full comprehension of the material, Tang said.
"I've had exposure to my other courses, but my accounting class is a completely new subject to me," Tang said. "It's hard to look at a textbook and fully understand what's going on."
Despite the asynchronous nature of NU Start, Shah said her professors and TAs have remained "pretty accessible" by holding office hours and various meetings to check in on students and review the coursework for each week. 
Brendan Pearson, a first-year chemical engineering major from New Jersey, said his experience in NU Start so far has been positive.
"All the teachers I have are very organized and good at continuing to keep up student engagement even remotely," he said. "I feel like I wasn't just thrown into my first semester. It's all very planned out, and as long as I stay focused, it's easy to follow."
An online freshman year experience poses unique challenges to making friends, which students have tried to overcome by creating various group chats. This online dynamic has created a strong and diverse NU Start community, Kulkarni said.
"We created a GroupMe with almost all of the NU Start students from all over the globe," she said. "There's probably 280 members in that chat, and every day we host a Zoom call that people can hop on and discuss their days or how their classes went."
Tang said making friends online is dependent on how willing a student is to reach out to others.
"It's been pretty easy to make friends, but only if you put yourself out there or you're willing to send out a message," she said. "Most of us are pretty into social media, which has made it a lot less difficult."
Azara Mahtani, a first-year communications and sociology major from Hong Kong, said making friends remotely with other first-years on campus has also been easy thanks to the shared experiences of online learning.
"Everyone can kind of relate to each other whether you're on campus or not, because on campus they still have some online learning," she said.
Kulkarni said she feels very connected to Northeastern as a whole due to the university's efforts to connect NU Start students to the Boston campus. She has attended several virtual club meetings, which has helped her feel more connected to the Northeastern community.
"I think Northeastern has been doing a great job in making clubs available to us," she said. "I attended the virtual Fall Fest, and it allowed me to see how many opportunities there are for Northeastern students to connect with one another."
Pearson shares a similar sense of belonging due to Northeastern's myriad of virtual events and webinars for first-year students on subjects like academic advisors and signing up for classes. 
"They've been doing a good job making sure all of those aspects of college have been streamlined well remotely," he said.
Despite the success of these NU Start students thus far, many are anxiously waiting to arrive on campus in the spring.
"I'm really excited to meet the people that I've made friends with over Zoom," Shah said. "Also having live classes where I can interact with my professors and other classmates will be great."
Pearson said he is especially looking forward to attending in-person club meetings.
"I joined the ultimate frisbee club virtually, so being able to actually play the sport instead of just talk about it will be nice," he said.
Despite how different his first semester at Northeastern turned out to be, Pearson said the university has made it "as tolerable as possible."
"All we have to do is keep pushing through and looking forward to when we are able to arrive on campus in the spring," he said.