Live Like a Local Tours helps to familiarize Bostonians with the city
Colin Knight doesn't want Bostonians to be tourists in their own city. The Boston native launched Live Like a Local Tours in 2019 as a way for residents to get involved in the community around them.
Knight aims to tell the story of historic neighborhoods, such as Roxbury, Jamaica Plain and Dorchester, through socially distanced walking tours. The tours stop at local restaurants and breweries along the way.
"Taking a tour would really show how much you care about the community you actually live in and how much you want to support that community," Knight said.
Knight said that he's worked in the community since he was about 20 years old. He taught as an actor and instructor for years, working with a non-profit to educate at-risk youth. There, he encouraged students to "use their voices about subjects that matter to them."
Now, Knight is continuing to give back to his community in a different way.
On his website, he mentions that tourists in Boston usually explore the city by going to places downtown, like Faneuil Hall. However, Live Like a Local Tours take people "off the beaten path to see a different side of Boston." This side of Boston includes neighborhoods that "don't often get the exposure they deserve."
The walking tours stop at several historic restaurants and microbreweries. This includes a stop at P&R, which stands for Pride and Respect and is a Jamaican restaurant that has served both Roxbury and Mattapan for 30 years.
Non-alcoholic tours are also offered for students and can be scheduled on the website.
Knight said that the company is relatively new, and that the pandemic has taken a toll on it since its launch.
"Businesses are really struggling right now when it comes to getting customers," he said. "It's a tour business, and that requires people to be together that may not know each other. You can imagine how it can affect a business of that nature."
Many locally-owned businesses have shut down since the outbreak of COVID-19. Black-owned businesses nationwide have especially suffered. An August report by the New York Federal Reserve Bank found that 41% of Black business owners have been forced to close their doors. Black-owned businesses were also twice as likely to shut down than white-owned businesses.
In fact, the pandemic has disproportionately affected Black communities across the nation. In Boston alone, Black residents make up 35% of COVID-19-related deaths, but only 25% of the city's population.
"Boston is definitely a notoriously segregated city," said Jae'da Turner, a Northeastern alum and founder of Black Owned Bos.
Turner launched the social media hub in March 2019 as a platform for Black-owned businesses to interact with customers and find resources. In recent months, it has rapidly gained traction — in May, she had about 3,000 followers. Now, that number is at nearly 18,000.
"Social media is free," she said, and added that college students can support Black-owned businesses by just liking, sharing and commenting on Instagram posts.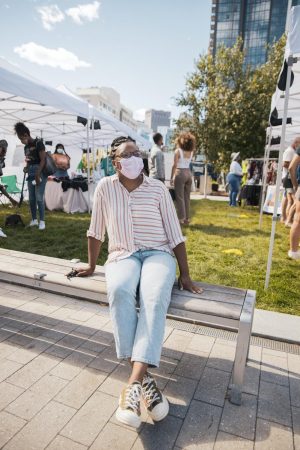 Movements in support of Black-owned businesses have gained momentum in recent months. Turner said that learning about Boston's cultural history is part of sustaining this movement.
"It's [about] understanding your surroundings and not being like, 'Oh, well, that place is sketchy, I'm not sure we should go there,'" she said. She noted that many International Village residents live off of Melnea Cass Boulevard, but don't understand the significance behind the name.
Turner encouraged students to explore the shops and restaurants in their surrounding communities and specifically recommended Knight's Live Like a Local Tours.
Live Like a Local Tours give people a chance to experience the history, the food and the culture of Roxbury, Dorchester and Jamaica Plains, Knight said.
"I would tell [students] to take a tour if they're really interested in being a real part of the community," he said. "I think the issue with Northeastern University is that there's a bubble that's created around the campus, and it's been an issue for many years. The kids haven't been able to experience the community at all."
This story is a part of a series within the city section, which explores the stories of Black-owned small businesses surrounding Northeastern and throughout the Boston area.