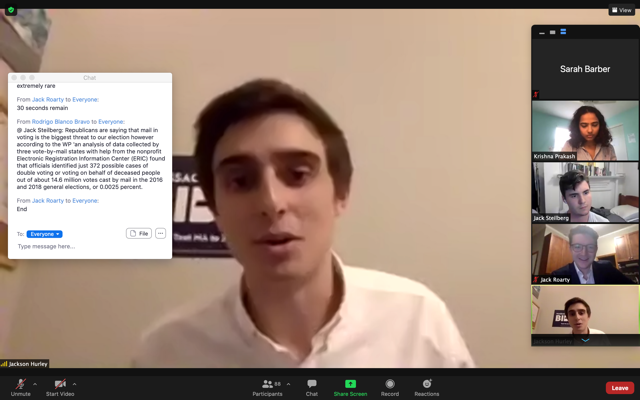 Two of Northeastern's main political organizations hosted an informal debate via Zoom Oct. 6, where they covered a list of core issues they believe should be at the forefront of American voters' minds. 
The joint event, hosted by the Northeastern University College Democrats, or NUCD, and College Republicans, or NUCR, occurred just one week after the 2020 presidential debate, but has been in the works for months — with the original date in March having been cancelled due to COVID-19. 
NUCD vice president Natalie Hill is a third-year politics, philosophy and economics major and was the primary organizer of the event.
"I wanted students to be able to hear arguments from the opposing political side, from members of our own Northeastern community," Hill said. 
The five topics – COVID-19 and economic recovery, elections and democracy, climate change, criminal justice and immigration — were chosen by representatives of each club approximately two weeks prior to the debate.   
Jack Steilberg is a fifth-year computer science and mathematics major who participated in the debate on the side of the NUCR. Steilberg, who practiced debating the opposing party on a Discord server and viewed relevant debates in the days prior to the panel, was one of the most vocal participants. 
"I felt that I had adequately prepared to give facts and data that supported my points," Steilberg said. "I wanted to get better at debating and am open to having my mind changed on a host of issues." 
Freshman outreach director of NU for Biden and first-year political science and international affairs major Krishna Prakash discussed NUCD's preparation process, as well as how the presidential debate influenced their plans. 
"Our side of the panel prepared using a multitude of different sources, including looking into Supreme Court precedent, research models, legislation, as well as current events," Prakash said. "We were influenced also by what we saw going on during the first presidential debate, and we wanted to change our arguments to accommodate current proceedings."
The debate format was informal, with one-minute opening statements from each side, four minutes of open rebuttals among the panelists, followed by six minutes of response to any audience questions. The panels featured one moderator and three debaters that volunteered from each club. 
On the NUCD side, debaters were Prakash, third-year political science major Jackson Hurley and first-year human services major Alexa Grayson. Steilberg, graduate student computer science major Tanay Joshi and first-year criminal justice and political science major Grant Gordon comprised the panel for NUCR. The debate was co-moderated by NUCD president Jack Roarty and NUCR vice president Chris Beck. 
Hurley, who is also the president of NU for Biden and has worked on the Biden campaign, spoke on the quality of the debate itself.
"I think tonight's debate was not as successful as it could have been, given that it often divulged into arguments, rather than a debate," Hurley said. "I think the Democrats did a good job of staying on our message and keeping our goal in mind, showing NU students why they should feel excited and proud to vote for Democrats this year. I'm unsurprised the Republican side was so unruly when you see who is at the top of their ticket, but it was still disappointing." 
Hill echoed Hurley's feelings.
"The debate got closest to [our] goal when facts and good arguments came through instead of inflammatory language and toxic generalizations," Hill said. 
While Hurley's motives for participation were rooted in advocacy, other panelists were in it for the experience, such as Joshi.
"This was my first debate that I participated in this country," Joshi said. "My goal was to simply earn a unique and rewarding experience, which I feel was achieved thanks to the members of my Republican Club and also the members of Democratic club."
There was no declaration of either side having won the event, Hill said, because having a winner wasn't the purpose of holding the panel.
"The goal was never to change people's minds, but to at least put them in a room together," Hill said.