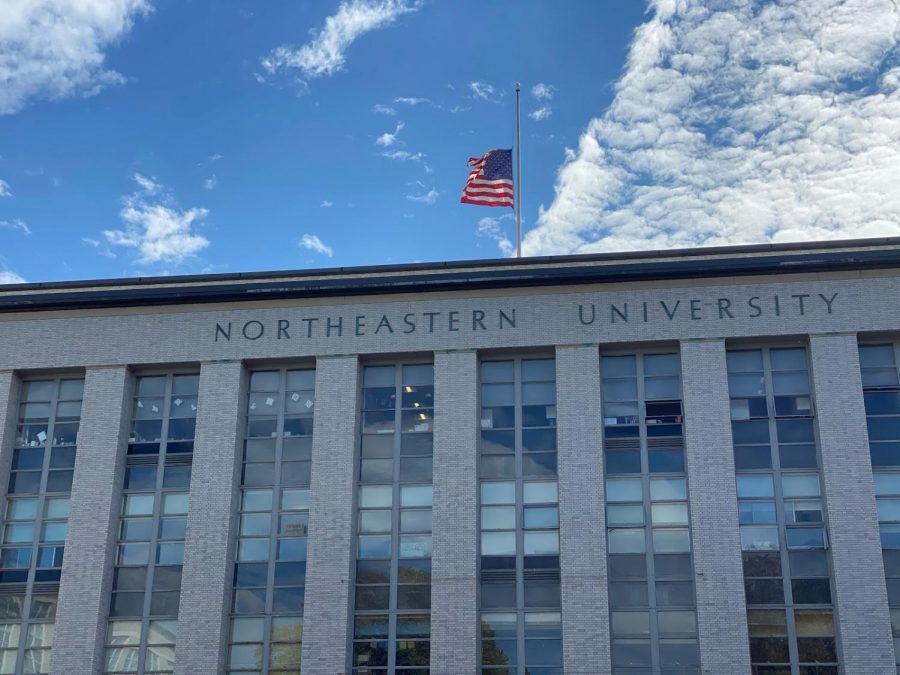 Rose Pecci
Flags at Northeastern were flying at half-mast in honor of Supreme Court Justice Ruth Bader Ginsburg, who passed away Friday, Sept. 18. Ginsburg, commonly referred to as RBG, was a dedicated justice; she worked up until her last days, all the while battling pancreatic cancer, which was the cause of her death.  
As the first Jewish woman on the Supreme Court, the second female Justice and an icon of the Women's Rights Movement, Justice Ginsburg stood for equal rights for all, and the decisions she made reflected that. She was a strong ally in the Supreme Court, giving power to the feminist movement and progressing women's rights. 
Disbelief, confusion and fear were all common reactions students reported to the news of Justice Ginsburg's death. Ginsburg's passing, like her work, impacted the entire country. Many Northeastern students found out through news notifications or texts from their female friends and family members. One student was surprised to receive the grim news from her 14-year-old cousin, who was absolutely horrified. 
"It's amazing how she affected girls just starting to learn about women's rights and politics,"  said Delaney Murray, first-year journalism and political science major.
Some students expressed frustration at not having time to grieve Ginsburg's death because of its political implications. Prior to Amy Coney Barrett's nomination, Emerson Johnston, second-year politics, philosophy and economics major and co-founder of the Northeastern Interdisciplinary Women's Council, was concerned with President Trump's next Supreme Court nomination. 
"My fear [is] now Roe v. Wade can be overturned and that's really scary," Johnston said. She is not alone in worrying about women's rights without Ginsburg's protection. 
Alexa Grayson, a first-year political science and sociology major, emphasized that the current administration should not nominate another justice until after the presidential election.
"We have to honor her dying wish and continue fighting for what she fought for," she said.
As students reflect on Justice Ginsburg's legacy, they are examining all her decisions, both the positive and the negative. This year, she voted in favor of allowing the Atlantic Coast Pipeline to cross under the Appalachian Trail, a decision which negatively impacted landowners in the region, specifically those living in low-income areas, communities of color and Native American reservations. 
Addison Pedro, a fourth-year political science major with minors in international affairs and computer science and co-president of the Northeastern Feminist Student Organization made the point that while Justice Ginsburg is a role model to many, she is not without flaws. "We should avoid idolizing her, we have to examine all aspects of her legacy." She said that refusing to acknowledge her errors can hurt the communities that she has wronged.  
The Northeastern community honored Justice Ginsburg in a variety of ways. The Interdisciplinary Women's Council held a virtual viewing of Justice Ginsburg's biography film, "On the Basis of Sex." 
Northeastern's  Feminist Student Organization's general meeting following her death was dedicated to Justice Ginsburg. They featured a slideshow that listed some of her greatest achievements and held a discussion about what an open seat in the Supreme Court means for the country. 
While the nation lost an icon and advocate for justice, Pedro urged students to continue speaking out on important issues.  
"Keep fighting for people who need to be fought for, constantly be vocal about the things that matter," she said. "A better future is available to us, and we just have to forcibly take it."