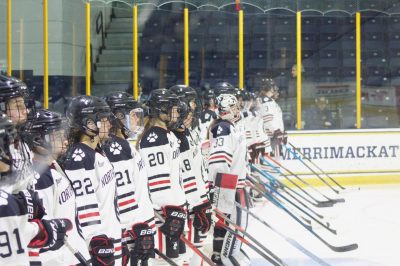 Sarah Olender
Husky fans can expect the hockey and basketball seasons to come back around Nov. 25, Athletic Director Jeff Konya said.
"For the hockey and basketball fans, I think I have a little silver lining here. Our intention, as well as the intention of our respective conferences, is to play the winter sports," Konya said. "There's nothing definitive, but I imagine that the hockey conference and hockey teams in the area will look to start hockey in and around that same timeframe as men's basketball."
However, those games will be played without fans in the stands.
"We're being very vigilant to make sure that our games and our content is going to be available via broadcast and through social media channels, for all of our fans, including our students," Konya said. "Hopefully with our wonderful relationship with NESN we can be able to reach our students and our fans in the area."
The athletic department made the decision in July to postpone the university's fall sports to the spring.
"As we tried to look at regional scheduling, those opportunities started to dry up through the course of the summer, especially when the Ivy League, the Patriot League and then America East made the decision to postpone or suspend fall play," Konya said. "Therefore, we thought, from a practical standpoint, as well as from a health and safety standpoint, that we would make the prudent decision to also postpone fall sports to the spring when we'd have a better chance of having competition to play and we'd have time to make sure that it'd be a safer environment."
With recreation facilities opening Sept. 11, the teams have started individual workouts as part of phase one of the athletic department's tentative timeline for the fall semester. The goal is to have full team practices back by the end of the semester. 
"We wanted to begin with individual skill instruction, which basically means that the student athletes will basically practice their sport individually, maintaining proper social distancing between their teammates and wearing a mask at all times of the activities," Konya said. "We've allowed the teams to use their primary athletic facilities in Dedham, in Parsons, in Cabot and in Matthews. That's basically where we are in this phase one."
Athletes are expected to complete the Daily Wellness Check and check in to gain entry, in accordance with a master schedule to keep track of who is in what building and for how long. 
With these policies in place and if COVID-19 cases on campus remain low, fans just may have hockey and basketball back — but they'll just have to sing "Stacy's Mom" from home.