Review: Wesley Lowery's 'They Can't Kill Us All' continues to inform the fight for Black lives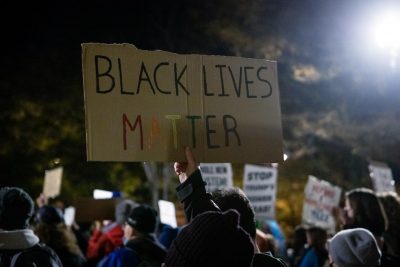 The killing of Michael Brown changed the narrative of racial justice in the United States forever.
In his 2016 memoir "They Can't Kill Us All: The Story of Black Lives Matter," Wesley Lowery illustrates that in the detailed chronicling of the modern-day fight for Black lives — a continuation of the civil rights movement that was just getting started in 2014.
He tells the stories of the lives lost, from 17-year-old Trayvon Martin to the countless names of Black Americans who would come after, and of the people dedicated to fighting for justice. The stories are also placed in the broader context of a technological revolution that changed the way Americans interact with and address the realities of systemic racism and police brutality forever.
Now, it's been six years since the killing of Michael Brown and nothing has changed.
When George Floyd was murdered on May 25, the lack of progress toward racial equality and police accountability was made undoubtedly clear as the death of another Black American was played on an endless loop that defined the 24-hour news cycle for weeks as protests erupted across the nation. It's a story that's all too familiar. Lowery couldn't have predicted the murder of Floyd and the parallels that Minneapolis would soon come to draw to the small town outside of St. Louis, but he illustrates how in a nation slow to change, this parallel would be inevitable.
A now-former Washington Post journalist, Lowery has dedicated his career to covering the Movement for Black Lives and chronicling the manifestations of systemic racism in the United States. Covering fatal police shootings and pursuing evidence of the disproportional killing of Black citizens by law enforcement officials, Lowery led the Post's Pulitzer Prize winning "Fatal Force" project, a searchable database that visualizes the number of people killed by police since Jan. 1, 2015. Within the memoir, Lowery tells the story of pursuing truth while being a Black journalist in 2014 — a year defined in many ways by the loss of Black life.
His story is one of perseverance. On Aug. 9, 2014, 18-year-old Michael Brown Jr. was gunned down in Ferguson, Missouri by a white police officer, Darren Wilson. Lowery describes the scenes he witnessed and the people he met during his three-month stint in the small town covering the protests that followed.
"Ferguson is not some faraway story. In a country where police kill more than a thousand people each year, Ferguson is in all places a local story," he writes. "We live in a country where police violence is a pervasive fixture of daily life, not a problem plaguing some distant locale."
The narrative is sprinkled with historical facts that are essential to understanding the context of this ongoing fight, including the murder of 14-year-old Emmett Till in 1955 and the Harlem Riots of 1964. 
Lowery details the events that led to his own arrest in Ferguson while covering the protests, clearly identifying himself as press in an incident caught on video for all to see the abuse of power. While Brown opens the story, it certainly doesn't end with him. Lowery tells of how Eric Garner's last words, "I can't breathe," would become a rallying cry. He also tells of 12-year-old Tamir Rice in Cleveland, of 25-year-old Freddie Gray in Baltimore and of countless more Black Americans who were killed at the hands of the state.  
Lowery follows incident after incident, delving into the history informing and aftermath stemming from each death chronicled. He tells of all the players — friends, organizers, police chiefs — that were involved. He follows incidents of racial discrimination at the University of Missouri and the tenacious Black students who came together to demand change. Jumping from 2014 to 2015 and later to 2016, Lowery paints a comprehensive picture of all of the steps taken to demand change while illustrating the painful truth that still, nothing changes. Law enforcement officials were on track to take more lives in 2015 than 2014, despite the widespread Black Lives Matter protests.
Lowery situates himself within the broader context of the stories and movement he was covering. At times the piece felt too introspective, too autobiographical. Detailing everything from his childhood to his daily life covering beats, tangents into personal stories at times derailed the core narrative of community efforts and what was happening around him. 
A complete dedication to the people who informed and dressed his work as a journalist would have at times been a more effective account of perspective from the outside looking in as a reporter. Even so, Lowery exhibits a level of critical self-awareness weaved throughout the text that seemed to quell my dislike of analysis-turned-autobiography.
Lowery hits so many concepts on the head with striking precision. He presents difficult subjects and asks hard questions, weaving analysis and inquiry into a narrative of thoughtful criticism and proportional celebration of the people who made the movement possible.
"Ferguson would birth a movement and set the nation on a course for a still-ongoing public hearing on race that stretched far past the killing of unarmed residents — from daily policing to confederate imagery to respectability politics to cultural appropriation," Lowery writes. "The social justice movement spawned from Mike Brown's blood would force city after city to grapple with its own fraught histories of race and policing."