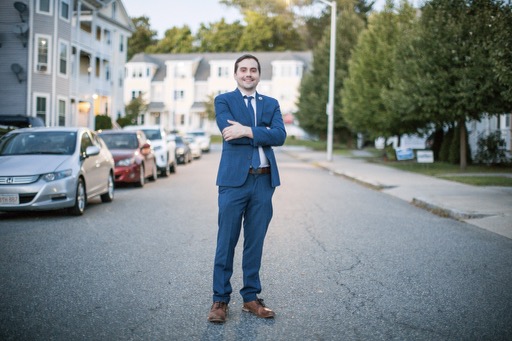 Photo courtesy Rep. David LeBoeuf
Born and raised in Worcester, Rep. David LeBoeuf serves as the state representative for the 17th Worcester District. After taking office in 2018, the 31-year-old –– a Democrat and one of the youngest in the state Legislature –– seeks to bring the different interests of his constituents together. 
"I have always said to myself, 'This is such a great community, and there's so many wonderful people,'" LeBoeuf said. "We need to have not only our voices heard in the Legislature, but we need to now raise the profile of our particular neighborhoods." 
While preparing for the 2018 primary election, LeBoeuf noted that it was difficult because for around six months, he was the only Democratic candidate, until two others joined. However, despite the three-way primary, he said connecting with his neighbors and hearing people's concerns made the challenging process rewarding. 
"It was just a great experience to really engage with neighbors and to hear their direct concerns," he said. "I built my platform around what I was hearing on the initial front of people's concerns about childcare [or] regional inequity. It was very humbling when I saw the final results of both my primary and my general election." 
LeBoeuf is among the youngest members in the Legislature. In the 2018 primary, there was a 20-year gap between each of the candidates. 
The age difference, though, has played to his advantage, especially in the primary, because some are excited to see a younger perspective, he said. The running joke is that he is everyone's "grandson," especially when he goes to senior housing developments. 
Jokes aside, he finds that his younger perspective allows him to present on things that perhaps his older counterparts cannot relate to. 
"Being younger, I think I'm one of the few renters in the Legislature, so that's something when that perspective comes about, I can present," LeBoeuf said. "Even though I am young, when I'm looking at my district, age doesn't come up as much when I'm looking at different things."
Now elected for his second term, LeBoeuf continues to prioritize his constituents. 
LeBoeuf focuses on issues surrounding education, climate change, food insecurity and equitable economic development with regional priorities. He said another issue of focus is quality of life, especially around utilities like water, sewer and access to the internet, emphasizing an inherent "digital divide" and inequity among resources.  
"It's about bringing [and] understanding the very different interests that are going on," LeBoeuf said, "but also recognizing that there are significant systemic challenges that all my constituents are facing and finding a way to prioritize and really build the coalitions that we need." 
Throughout 2020, both COVID-19 and the Black Lives Matter movement brought calls for systemic change –– issues which LeBoeuf's office continues to address. 
As LeBoeuf prioritized Worcester's COVID-19 response, he also focused on efforts to reform police. LeBoeuf vocally supported Bill H.4794, titled "An Act to improve police officer standards and accountability and to improve training," according to the Massachusetts Legislature website. 
"It wasn't a tough vote in that I had qualms about it; I was very strong in my convictions about voting in favor of the reform," he said. "But there were certain influences that were trying to basically dissuade me from voting my convictions."
LeBoeuf explained that this debate was the toughest due to the large amount of "inaccuracy" and "aggressive nature." Although he noted that he took some political hits for his position, he said he ultimately knows that he took the right position. 
"At the end of the day, I know I voted the right way. I know that I can go before my constituents and defend how I voted, even though the loudest voices did not want [me to]," he said. "I know this is the right thing to do, and that's why people get into public services. You have to take those votes that you know were difficult, and you have to support things that benefit both your district and community at large."
He noted that most of the pushback came from organized efforts from the police union and from a massive misinformation campaign about the contents of the bill. After the House released their version of the bill, LeBoeuf attended a meeting organized by police unions, where he was the only Democrat in attendance –– an experience, he said, that was tense because as he read from the legislation and defended the bill, police union advocates told him he was lying.
"It was an odd meeting, and I was kind of the odd man out," LeBoeuf said. "I did learn something, and I actually filed some amendments that were successful to the current police reform that reflected some of the officers' concerns that almost met some of the concerns of the community."
In situations like these and just in general, LeBoeuf believes that transparency is key. 
"I will always engage in any dialogue, no matter how difficult it is because one, it's my responsibility, but also I'm not afraid to broadcast my positions," he said. "I wish that's something more people would do." 
Ultimately, as a younger member of the Legislature and someone who is deeply committed to his community, LeBoeuf values collaboration in his work. Although he has progressive views, he said every voice will be heard. 
"I get every single email; I get every single concern," he said. "You're going to get the best customer service from my office –– I don't care who you are. You're going to get very honest and open dialogue from me."