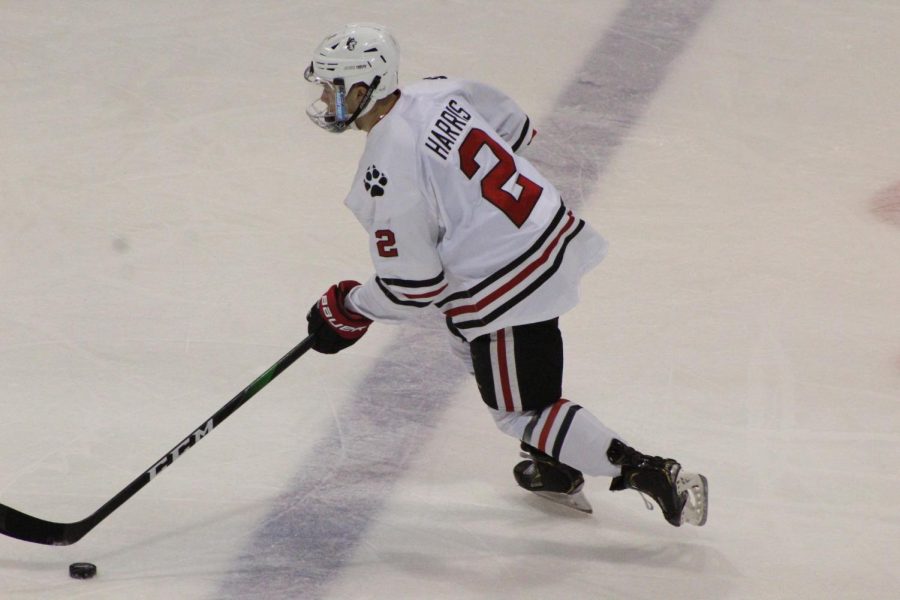 Sarah Olender
No. 10 men's hockey took two tough losses against No. 9 UMass Friday at Matthews Arena and Saturday at Mullins Center. While the Huskies fought hard, they couldn't quite match the Minutemen's precision. NU (3-3-2, 3-3-2 HEA) played this series without freshman forward Steven Agriogianis, who sustained an upper-body injury. In his first few games as a Husky, he had added two goals and two assists. 
"We've got to bare down a little bit more at the net area. We have to have some patience but then we have to be heavier on pucks at the net front," said head coach Jim Madigan. "For us, it's just playing smarter."
Despite their losses, the Huskies had individual successes. In the first game, junior defenseman Jordan Harris scored a pair of goals, making it his second double-scoring game of the season. In the second game, freshman forward Dylan Jackson scored his first career goal to give him six points total on the season. 
Huskies' first home rink loss, 4-3
While the Huskies had originally planned to compete against BU, a last-minute schedule change allowed them to take on UMass (8-3-1, 8-3-1 HEA) instead. 
NU handled the puck well in an early power play, allowing them to set up the shot that would give them their first goal of the night. It was scored at 7:07, 13 seconds after the power play ended, by junior defenseman Jordan Harris with assists from senior forward Zach Solow and sophomore forward Aidan McDonough. 
However, a power play for the Minutemen allowed them to tie the game at one with a 13:38 goal from redshirt senior forward Carson Gicewicz. 
UMass remained strong on their power-play opportunities, with another goal coming almost halfway into the second period by junior forward Garrett Wait. 
A tripping penalty allowed the Huskies to end the second and start the third period on a power play, but UMass played well defensively and killed the penalty. 
Still, at 6:38 a goal by freshman forward Ty Jackson tied the game at two, scoring his team-leading fifth goal of the season. He had assists from Dylan Jackson and freshman forward Gunnarwolfe Fontaine. 
At 9:17, Harris scored another goal — his second of the night and fourth of the season — with assists from the Jackson twins. But the Minutemen kept the game tied at three with another goal scored just over thirty seconds later by freshman forward Josh Lopina. 
The game's tie-breaking goal came a few minutes later from a rebound by senior forward Oliver Chau, giving UMass a one-goal lead and ultimately the win.
"We just got beat at our own net. And they're a heavy team at the opposition's net and they cashed in at the net," Madigan said. "We created momentum for ourselves and we had some good looks."
While the Minutemen finished 2-for-5 on the power play, the Huskies were 0-for-5. They have been struggling throughout their season to keep players out of the penalty box.
"Our team has to be smarter, five penalties is way too much," Solow said after the second period. "We've been saying that for a few weeks now."
NU is currently the second most penalized team in Hockey East with 18.4 penalty infraction minutes per game, falling just behind Maine's 18.5. 
Minutemen sweep Huskies with 5-3 win
Motivated by their win the night before, UMass came in strong with three goals in the first period. 
The first came at 2:33 by sophomore forward Jerry Harding and was his first career goal. The second goal came on a penalty shot about halfway through the period by sophomore defenseman Matthew Kessel. The penalty shot was awarded to Kessel after he got behind the defense on a breakaway and was tripped by junior defenseman Julian Kislin in desperation. It was the first penalty shot on NU since February 2017.
It was the first penalty shot on NU since February 2017. 
Finally, the Minutemen rounded out their dominating first period with a 17:26 goal by sophomore defenseman Zac Jones. 
Gicewicz scored quickly into the second period, giving UMass an impressive four-goal lead. He leads Hockey East in goals scored after adding one each in both games against the Huskies. So far this season, he has eight goals and four assists to his name. 
The Huskies were not giving up just yet. A 3:32 power-play goal from Solow with assists from McDonough and Fontaine was the first in NU's attempt to make a comeback. 
While neither team was able to score for the remainder of the second period, things continued looking up for NU as McDonough secured another Husky goal on an early third period power play. He had assists from redshirt senior forward Grant Jozefek and sophomore defenseman Jayden Struble. 
The Huskies scored again at 14:19, cutting the Minutemen's lead to only one goal with a score of 4-3. The goal was a career first for Dylan Jackon who saw assists from Jozefek and sophomore defenseman Michael Kesselring. 
However, NU wasn't able to nix UMass' lead as the Minutemen managed another goal with just 36 seconds left in the period. It was scored by Wait — his second in the series — on an empty net, bringing the final score to 5-3. 
"We didn't respond early in that first, we didn't get the start we wanted," Madigan said. "What I thought happened in the second and the third period was that we got better and responded better. We started to play a little heavier."
The Huskies now look to make any necessary improvements before their upcoming games against Boston College Jan. 8 and 9.