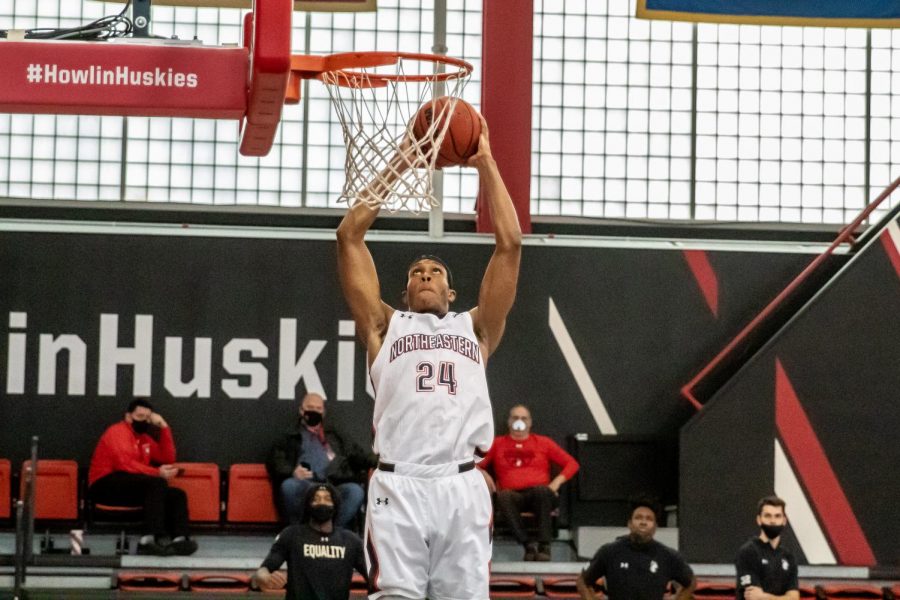 Sarah Olender
Sophomore guard Tyson Walker scored 20 points and redshirt sophomore guard Shaquille Walters had a 13-point, 11-rebound double-double as the Northeastern Huskies (6-5, 5-0 CAA) increased their winning streak to five straight games with a 67-62 win Saturday afternoon in Charleston, S.C.
The College of Charleston Cougars (5-7, 3-2 CAA) had opportunities to tie the game late, but turned the ball over twice and did not make a field goal during the final 3:36 as the Huskies finished on a 10-2 run. 
"We said, this is our type of game, we just gotta just sit down and get stops and get rebounds," head coach Bill Coen said. "The guys stepped up and really did a nice job. We turned defense into offense and ultimately, that was where we won the game."
The first half was marked by strong shooting from the Huskies, scoring 37 points while knocking down over 50% of their shots. Redshirt junior forward Jason Strong had 13 first-half points and went 3-of-4 from deep, but the biggest spark for NU was sophomore forward Quirin Emanga, who scored seven points and added four rebounds as well as three assists in the first period. 
"[Emanga's] just a positive energy guy," Coen said. "He's constantly talking to his teammates, he's constantly giving encouragement to everybody. He plays very very hard, he gives up his  body and he's got a good basketball IQ. He gets himself in the right position, he reads plays, he's an excellent cutter.."
The Huskies had built a ten-point lead with just under two minutes to play in the first half, but Charleston was able to respond and cut it to four points at halftime. 
As the game continued, both teams went back and forth, trading buckets. With 1:48 to play, Walters stole a Charleston pass and broke free, finishing at the hoop and taking a foul along the way. He converted the and-1 opportunity, and on the next possession Walker hit a clutch three to put the Huskies up by five with just over a minute left.
"As always, Tyson Walker set the table," Coen said. "A lot of guys can borrow his confidence, because when he's out there, he's able to make big, big plays, he made a huge three coming down the stretch."
After Charleston sophomore guard Brendan Tucker made two free throws, the Huskies led 65-62. Charleston had an opportunity to tie the game with 10 seconds to play, but freshman forward Keegan Harvey travelled and turned the ball over to NU. Two free throws from Walters sealed the deal, and the Huskies escaped Charleston with a win. 
"Just another gutsy win by this group, and they're showing a ton of toughness and resiliency," Coen said.
One of the main storylines for the Huskies was their rebounding and three-point defense. They held the Cougars, who have made the most three-pointers in the CAA, to just 31.8% from three. NU also grabbed 41 rebounds compared to Charleston's 35. Walters, freshman forward Jahmyl Telfort and sophomore transfer forward Chris Doherty were the biggest contributors on the glass today, grabbing 11, seven and eight rebounds, respectively. 
Doherty returned to the team last week following an injury that had kept him out since Dec. 22. While he only played three minutes in last week's sweep of Hofstra, he shone in his 17 minutes off the bench today, scoring 11 points to go with his eight rebounds. 
"Shaq [Walters] has done a great job all year long," Coen said. "But I thought Chris Doherty's effort on the glass today was a difference-maker, particularly on the offensive glass. While he struggled a bit from the free throw line, he got us into the bonus really quickly by his activity and his effort on the glass."
NU also was able to control their turnovers, giving up the ball just nine times over the course of the forty minute contest. The Huskies are third in the CAA in turnovers per game, but held onto the ball and took care of it for a majority of the afternoon. 
One note about Coen is that he is currently 247-218 in his 15-year coaching career at NU, which is just three wins away from the school's record for wins by a coach. That record is held by Naismith Memorial Basketball Hall of Fame coach Jim Calhoun, who spent 14 years in Boston and amassed 250 wins. 
Coen, forever humble, said, "We've had a little bit of success. I'm grateful for that, but I wouldn't dare put myself in the same category as Jim Calhoun."
The Huskies have now won five consecutive games and are sitting pretty atop the CAA standings at 5-0. They will be back in action tomorrow at 1 p.m. as they look to sweep Charleston and remain perfect in CAA play.