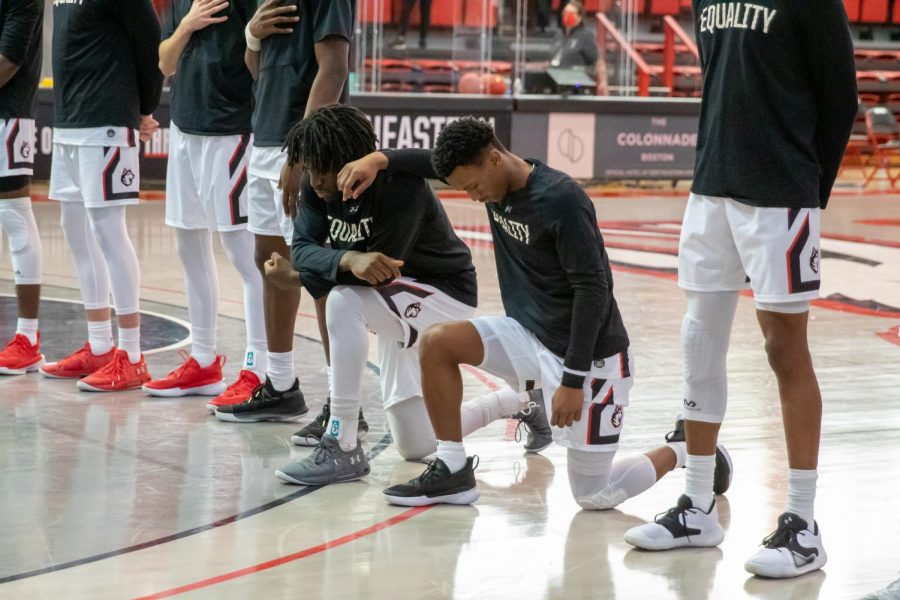 Sarah Olender
Before games, the men's basketball team normally wears long sleeve warm-up jerseys that say "Northeastern Basketball" or a motivational quote. The phrase changes each year, but this year the jerseys say something different.
Now, every player warms up in a black, long-sleeve shirt that says "Equality."
And that's not the only word players wear during games that calls for social justice. Underneath the warm-up jerseys, each player now wears a phrase of their choice expressing their beliefs and giving the athletes an opportunity to have their voice heard.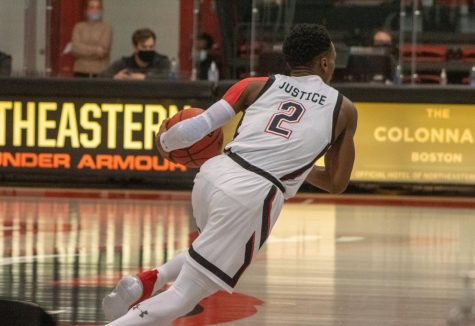 Tyson Walker, the sophomore guard, chose to have the word "Justice" on the back of his jersey. He was inspired to use this phrase because he saw it on the jersey of Utah Jazz player Justin Wright-Foreman. Ever since he saw it, there was no doubt in his mind that this was the phrase he was going to choose to wear on the back of his Northeastern jersey.
"I have 'justice' on the back of my jersey," Walker said. "A lot of people are not being held accountable for their actions, and everyone knows that [we] want equality, but justice is the next step after that."
On the back of redshirt junior forward Jason Strong's jersey, the word "Equality" appears.
"It's a good overall word to use," Strong said. "I think equality is something that's needed, not just in America but in the world."
At first, Strong was choosing between a few different phrases, but ultimately he picked "Equality."
"I always liked the word 'Equality,' but I was choosing between 'Black Lives Matter' as well because it's a trending topic and something that would have been a good message, but I decided to go with 'equality,'" Strong said.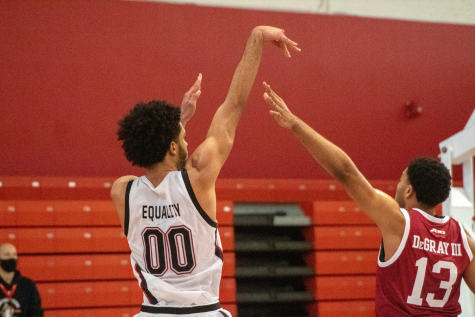 The back of freshman forward Coleman Stucke's jersey looked a little different than the rest of his teammates. He didn't have a written-out phrase, but rather the biblical verse "John 15:12."
"The biblical verse that I had on the back was John 15:12, and it's a verse when Jesus was speaking, and it's 'My command is this: Love each other as I have loved you,'" Stucke said. "The reason why I chose that is because as a follower of Christ, I believe that the solution to all of the world's problems, and I'm including social injustice and racism, I believe the solution is Christ."
Stucke is a dedicated Christian, and he talked a lot about how the base of Christianity is to treat everyone with love. Another teammate, freshman guard Jahmyl Telfort, also has a biblical verse on the back of his jersey. Telfort's jersey reads "Love thy neighbor," and Stucke also almost chose the same phrase, but decided to use John 15:12 instead.
"I also believe if we can reenact [Christ's love] as citizens of the Earth, that would solve our problem," Stucke said. "I believe that kind of love is what's going to solve the problems of the world… Obviously something like racism and social injustice, it all just comes from hate and bigotry and things like that. As a Christian, a big part, like the entire religion is based on love, and I think the only way to fight hate is with love."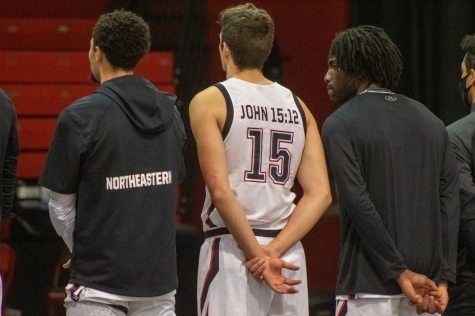 With multiple sports organizations reporting on each game and with the team's recent success, there have been numerous eyes on the Huskies this season despite the lack of physical fans in the stands.
With this attention, some of the players have felt a greater responsibility when it comes to taking a stand against social injustices.
"I think we have a platform that we can use to spread awareness to certain issues and in this case, it's the social justice issues going on," Strong said. "I think that we have a platform that we can use."
Stucke felt the same way.
"I definitely think we have to be the role models to what we want the world to be like because I do think people look up to us, whether we want that or not, people do," Stucke said. "If we're full of love and behaving in the right way, I think we can be an example to the rest of the school and hopefully the rest of the world for changes to occur."
The NU athletics department helped the student-athletes express their voices, all while making sure they feel comfortable and heard. Strong, Walker and Stucke all emphasized that the athletic department has supported their efforts throughout the social justice movement and custom jersey process.
"I think the whole department was thinking about it and us as a team took the initiative to put in action, along with the equipment manager," Strong said.
Ever since the social justice movement started gaining more momentum than ever this past year, the coaching staff has stressed the importance of making sure the student-athletes felt supported. Strong, Walker and Stucke said that there were many conversations in group chats and meetings about the social justice movement and the jerseys.
"The coaches are definitely supportive," Walker said. "We've had many talks, even in the summer before we met everybody face to face, so they've been supportive the whole time."
Stucke had similar thoughts.
"I think the coaches and department did a great job of just having the dialogue and having the conversations about it and enabling players to stand up for what they believe in," Stucke said. "I think it's an awesome thing that we're able to put what we want on the back of our jerseys and stand up for what we believe in and fight for the changes that we want to see. I'm so grateful for that opportunity."
The men's basketball team isn't the only team starting to put social justice messages on their jerseys. The women's basketball team also wears messages of their choice on their backs.
While neither hockey team wears social justice messages on the back of their jerseys, sophomore Jayden Struble, a defenseman on the men's hockey team, released a statement on Twitter calling for change. In his statement Struble called Americans to action and demanded accountability.
This post was well received, as the original tweet received over 1700 likes and 442 retweets.
In response to Struble's post, the men's hockey Twitter quoted head coach Jim Madigan, saying, "Well said, Jayden. We hear you. We stand with you as we commit ourselves to use our voice for change."
This tweet has been pinned on the men's hockey Twitter account since June 2, 2020.
"I definitely think it's something that other teams can look at and hopefully other teams start to do," Strong said. "I think it's an easy way to spread a message because as athletes, we have a lot of people watching us so I think it's just a good chance to spread awareness to certain issues."
Even though there aren't fans physically in the stands, all of the games are being broadcasted so fans can tune in and see the games, as well as the messages players chose to wear. These custom messages calling for social justice are not only found on the jerseys of NU basketball players but can also be found around the country on professional basketball teams.
"It's something that's not just on our team, or college basketball. It's in all sports and different kinds of sports across the country," Strong said. "Even across the world, every team is doing something unique. It's very unifying to see everybody do it, and it just motivates even more."