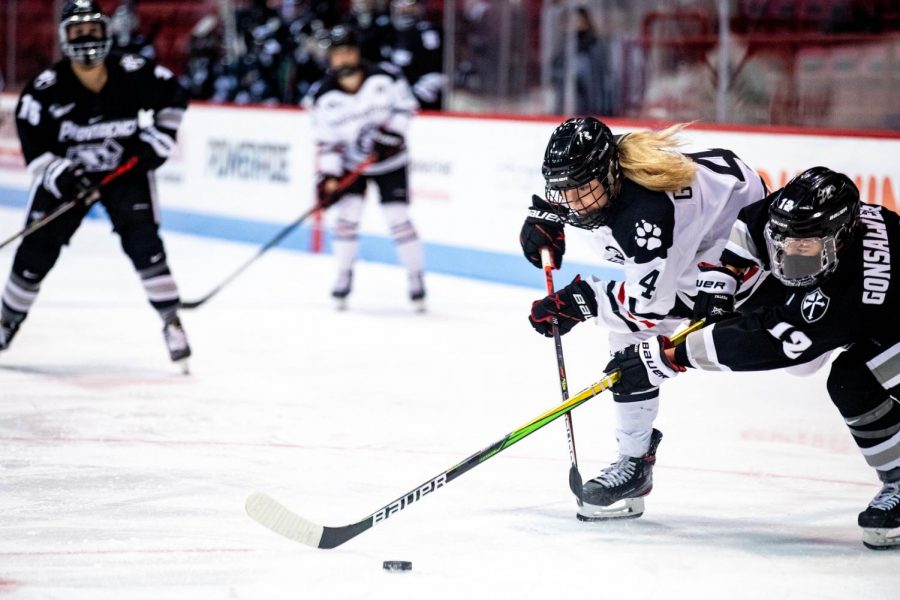 Riley Robinson
The Huskies struggled with slow starts in the opening weeks of their season, when they were facing teams that had much more ice-time together to work out their kinks. Now, Northeastern looks to have more than put their pieces together. They dominated from the first puck drop today to earn a 5-0 win over Providence, no small feat against the No. 7 team in the nation and top team in the Hockey East standings. After their third meeting and third win against the Friars, the goal differential in the season series now sits at 13-1 in NU's favor. 
"I thought that today might have been our most complete game of the year… I thought we matched Providence's intensity and their physical play as well, but also still stuck to what makes us successful as a team," said associate head coach Nick Carpenito. "That's moving the puck quick, getting up [the] ice. We still wanted to play a pretty cycle heavy game today and really attack off the wall as much as we could… Most importantly, I thought that we did a great job getting to the net."
Junior center Alina Mueller, who already had the team-lead for points, secured four more with two goals and two assists to move to 12 points on the season, while junior winger Chloé Aurard starred on Mueller's side with two points of her own on a goal and an assist. The duo was absolutely destructive against Providence (9-4-1, 9-4-1 HEA), playing a role in four of their five goals today. The power play unit, which struggled earlier this season, notched three goals today, silencing any concerns on that front. 
"They're just moving their feet a lot more… We always have to remember that the first couple games we played were in January. We had that first weekend against Boston College, and then we had a pretty significant amount of time off. Pretend like today [is] October basically, it's gonna take every player a few games to kind of get themselves to true midseason form," Carpenito said. "I just think they're moving the puck well, they're communicating well. I think they got their hands back. We're fortunate they're back to old Chloe and Alina."
As usual, senior netminder Aerin Frankel was the defensive backbone for the Huskies (8-1-1, 8-1-1 HEA), hanging up 27 saves to claim her fourth shutout this season, putting her at the top of that category in the country. Frankel entered today's contest with an absurd 0.87 goals against average to go along with a .965 save percentage, both third in the nation.   
"She's always rock solid. I thought she made a couple real big saves, especially in the first period… We did a pretty good job keeping them outside, but she still had to make a few pretty, pretty good saves," Carpenito said. "We always count on her to do that. We know she's more capable of it, so it was no surprise that she was able to do what she did today."
The win pushes NU a bit closer to first place in Hockey East, although they will need to avoid further postponements to keep their momentum going. The Huskies have the best point percentage in the conference at .867, but don't have as many games played as the Friars and No. 8 Boston College. The Friars lead over the Huskies has been trimmed to just one point, while the Huskies find themselves tied with the Eagles for now, but BC still has a game to play today that could net them as many as three points in the standings. 
For the second day in a row, Aurard kicked off the scoring for the Huskies, but this time it took her a couple more minutes to get her team on the board. Six minutes in, Mueller, who assisted Aurard's shorthanded goal yesterday too, stole the puck from Providence freshman defenseman Brooke Becker and found her linemate closing in on the Providence cage with a nice pass from below the goal line. Friar junior netminder Sandra Abstreiter made the initial save on Aurard's shot, but was unable to juggle the puck into her glove, giving Aurard the chance to finish her shot and score her fifth goal of the season. 
It just took a couple minutes for the Huskies to give themselves some insurance, as while on the power play senior blueliner Skylar Fontaine got one past Abstreiter's high glove side after a brief hesitation from the right faceoff circle. The goal represented Fontaine's 100th career point, which she was able to grab in her home state of Rhode Island. Mueller picked up her second assist of the contest on the goal via a beautiful centering pass that traveled about a third of the ice through Mass-pike-esque traffic.
The dam broke once again when NU and Providence entered a stretch of 4-on-4 hockey with two minutes to go before the second intermission. The duo of Mueller and Aurard struck again, and this time, Mueller was the finisher and Aurard was the passer, giving each a well-rounded day on the ice to further cement themselves as the best duo in Hockey East. 
The Huskies refused to take their foot off the pedal, again hitting the four goal mark against the Friars. While on the power play, senior forward Veronika Pettey ripped a shot that Abstreiter managed to save through traffic, but the puck remained live and dropped in front of the net. Senior forward and forechecking specialist Tessa Ward often acts as the net-front presence for the Huskies woman-advantage, and her efforts paid off and gave her a chance to pot the rebound as soon as it hit the ice, giving NU a 4-0 lead with 15 minutes to go in the contest. 
For good measure, Mueller tallied one more Husky goal just over midway through the third to push the score to 5-0, this time on the power play. Mueller closed tight on Abstreiter's right-hand post and faked a shot, baiting the goaltender to lay out with her pads. Mueller then wrapped around the back of the net with efficiency, sending the puck into Abstreiter's twine before the German-born netminder could recover and cross her crease. 
The Huskies don't have another game scheduled yet, as Hockey East will now create their schedule on a week-to-week basis. Regardless of their next Hockey East opponent though, the Huskies should be considered the favorite as they get closer and closer to their ceiling.
"There's still some extra execution aspects that we need to clean up. I don't want to say that we're where we need to be at right now, because I think that this was our first close-to-full 60 minute game of the season. Before I think we're in midseason form, I think we need to string a few more of those together," said Carpenito, who highlighted his team's first win over Providence as the moment they turned a corner. "I think that the biggest thing is we need to just make sure that what we did today, we continue and have a fast start all the way through. I think we're on the right path."