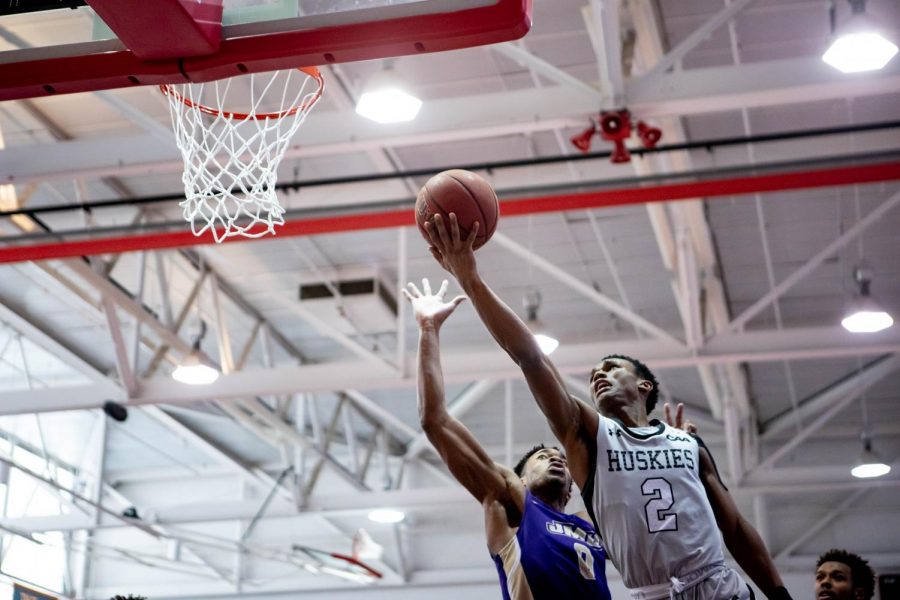 Riley Robinson
As James Madison University exited Solomon Court victorious Saturday afternoon, the cheers and celebrations could be heard throughout the Cabot Center, while the Northeastern Huskies just looked on and watched.
The Dukes celebrated their win over NU, who had won seven straight games as the first-place team in the CAA. JMU (7-5, 2-1 CAA) broke that streak with their 79-72 win over the Huskies (8-6, 7-1 CAA).
"[I told the team] that when people beat us, it's a huge accomplishment," head coach Bill Coen said. "There's a lot of pride in this program and guys that have come before it, and I can understand [JMU] being happy about getting a win over a first-place team. I wanted our guys, our young team to understand the emotional edge that other teams may have when they come to play first-place teams."
There were numerous opportunities for the Huskies to come back Saturday afternoon, but every time they made a run, the Dukes always had an answer, usually in the form of Vado Morse, who finished with 30 points on the day.
"[Morse] had a terrific game, he bounced back from the rough afternoon yesterday, and I really thought that he was the difference on their end," Coen said. "Morse has stepped up and was really going to cause some problems for us; made big shot after big shot when we tried to make a run in the second half."
Besides Morse, the Dukes were on fire in both halves, knocking down their shots at a clip of 50%. They also shot 12-for-25 from three-point range, something that the Huskies could not match, only hitting nine of their 30 attempts.
The start of the game was a closely-contested affair, with both teams finding early buckets via transition offense. Sophomore guard Tyson Walker, who finished with 30 points of his own,  knocked down three triples in the opening minutes and made some flashy passes to give NU a slim 18-15 lead with 11:30 to play in the first half. 
"We got off to a really slow start and that kind of set the tone," Coen said. "We allowed them to get very, very aggressive to start the game."
With 6:43 left in the first, Tyson Walker went to the ground and limped off the court as he was taken out with an apparent injury to his left leg. JMU capitalized and built their own lead off turnovers, good defense and three-point shooting, forcing Walker to come back into the game as the Dukes led 33-27.
JMU extended their lead into the half to 43-29 on the back of stellar play from Morse, who had 15 points in the first. The Huskies had difficulties knocking down the three, only making 25% in the first half, while the Dukes made 51.7% of their threes and also scored 14 fastbreak points.
"[JMU] had a terrific night shooting the ball," Coen said. "We got caught in a couple bad rotations…we got to give them credit, they made big shots and they have a really good three-point shooting team."
Coming out of the break, the Huskies were much more aggressive and cut into the lead, driving to the rim and moving the ball, rather than quickly shooting contested threes. It paid off, as they were able to score 17 points in just under five minutes, cutting the lead to 52-46 with 15:21 to play. 
"We wanted to just not sit back and settle for contested shots," Coen said. "We opened up the half with a play designed to get [redshirt junior guard] Shaq [Walters] in and around the basket, but we wanted to make sure we attack the rim and put some pressure on the defense that way, and I thought that allowed us to climb back into it."
The lead kept increasing for JMU as they applied more and more pressure, but Walker was not done just yet. He made a pretty pass down to freshman forward Jahmyl Telfort for an easy layup, then made two stepback jumpers to bring the Huskies within five points of the Dukes.
Every time Walker and the Huskies crept back into the game, Morse and the Dukes always had an answer. With just under three minutes remaining, JMU was up 72-64.
The Dukes closed out the game with free throws and solid defense, not allowing the Huskies to tie or lead the game at all in the second half.
"Unfortunately, we just didn't get enough stops to get over the hump," Coen said. "But pretty good effort in the second half and we just have to build on that and make sure we play a full forty minutes come next weekend."
Walker, Walters and Telfort were the only three scorers in double digits for the Huskies Saturday afternoon, with Walters scoring 15 points and Telfort adding 10. Walters and redshirt junior forward Greg Eboigbodin also fouled out at the end of the game. 
The Huskies were without redshirt sophomore forward Chris Doherty today, who finished with a double-double yesterday. He did not dress and was on crutches for the game with an ankle sprain. Coen could not specify when his return date would be. 
"He sprained [his ankle] pretty good yesterday, so we'll see how it goes this week," Coen said.
The first-place Huskies will travel to Drexel (7-5, 2-3 CAA) next weekend to take on the Dragons Jan. 30 and Jan. 31 in Philadelphia.