No. 14 Northeastern falls 6-2 to No. 1 Boston College after three-week hiatus
The No. 14 Northeastern men's hockey team (6-4-2, 6-4-2 HEA) returned to the ice Tuesday against the No. 1 ranked Boston College Eagles (10-2-1, 10-2-1 HEA), and while the Huskies got out to a solid start in their first game action in three weeks, the Eagles took home a commanding 6-2 victory. 
"We just need to be better. From our goaltender right through our defensemen to our forwards," Huskies head coach Jim Madigan said. "Everyone has to be better and when you're playing against a good team, as Boston College is with good goaltending, you have to find a way to win. We helped them out by just not managing the game well and they got two at the end to make it 6-2. There were some things I thought we did well. The score, I don't think, is indicative of the game. A loss is a loss, so that's how I'm looking at it. There's things we can do better." 
NU had been dealing with COVID-19 issues and had not played since Jan. 13, when it defeated the University of New Hampshire 7-0 at Matthews Arena. 
"We got back at it a week ago Monday," Madigan said. "We didn't have our full team, but we had guys coming back as the weeks went along. We got our full team back on Sunday, but that's not an excuse. We were ready to go and we had enough practice time under our belt. At this point, the guys just wanted to play games."
The first period began with some back-and-forth action between the Huskies and Eagles. NU's defense was particularly strong, forcing BC junior forward Patrick Giles into taking a boarding penalty at 6:28. The Huskies' power play, which is the most effective in Hockey East, cashed in early with a goal from sophomore forward Riley Hughes at 7:47 for his fifth of the season, giving NU a 1-0 lead. 
Not too long after Hughes' opening goal, the Eagles fought back with the Huskies scrambling in front of their own net. Freshman forward Nikita Nesterenko scored his sixth of the season to tie the game 1-1 at 11:52. Moments later, the Eagles caught NU in a bad change, which allowed Giles to score his second goal of the season, giving BC a 2-1 lead at 12:40. 
The Huskies went to the locker room down 2-1, but began the second period with fire. NU opened up the period with what looked like a solid scoring chance for freshmen forwards Ty and Dylan Jackson, but Ty Jackson was sent to the box for hooking at 1:15, resulting in some solid scoring opportunities for the Eagles on the power play. 
NU kept the Eagles scoreless on the man advantage, using the momentum from the penalty kill to get a scoring opportunity of their own. Sophomore defenseman Michael Kesselring scored his first of the season at 6:10 to tie the game 2-2.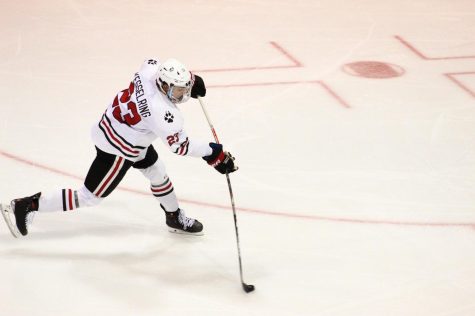 A defensive breakdown moments later led to BC breaking the tie on a goal from junior forward Marc McLaughlin at 6:47. 
The Huskies tried to turn the tide back in their favor but were met with disappointment when BC sophomore defenseman Marshall Warren scored his second of the season at 11:57, giving the Eagles a commanding 4-2 lead. 
"I thought our guys did some good things," Madigan said. "I thought we worked hard to get it to 2-2 in the second and then we gave a goal back to them within 40 seconds. For me, that was a turning point right there and then they got the next goal and we didn't manage the game well the next shift after a goal." 
BC took the two-goal lead into the third period but was met with immense pressure from NU in the final frame. However, the Huskies failed to capitalize on several scoring chances. 
Sophomore goaltender Connor Murphy exited the game during the third period due to cramps and dehydration, Madigan said after the game, allowing redshirt senior Curtis Frye to see his first game action this season. Redshirt senior forward Grant Jozefek also exited the game in the third due to dehydration, while sophomore defenseman Jayden Struble suffered a lower-body injury. 
"I don't know if that was the result of not being on the ice in a while," Madigan said. "But it certainly shortened our bench."
With Frye in the crease, the Eagles notched their fifth goal of the night when senior defenseman Michael Karow scored at 15:20, putting the game well out of reach for NU. Then at 19:11, BC junior forward Jack McBain scored his third of the season, officially putting an end to Tuesday night's contest 6-2.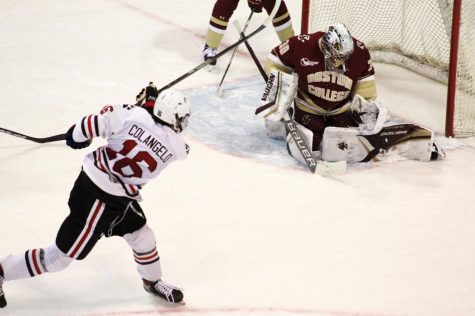 "BC is a quality opponent whenever you play them," Madigan said. "This was a good test for us. They're number one in the country and they're a very good team. They play the game fast. Great goaltending. They're strong in all phases and it gives us a barometer. We've got a ways to go still. I like some of the things we did, but we need to learn how to manage games a lot better and play smarter."
It was a difficult night for the Huskies, but one full of promise as they skated well at their first game in three weeks. NU will host the University of Connecticut Friday as they look to get back on track.