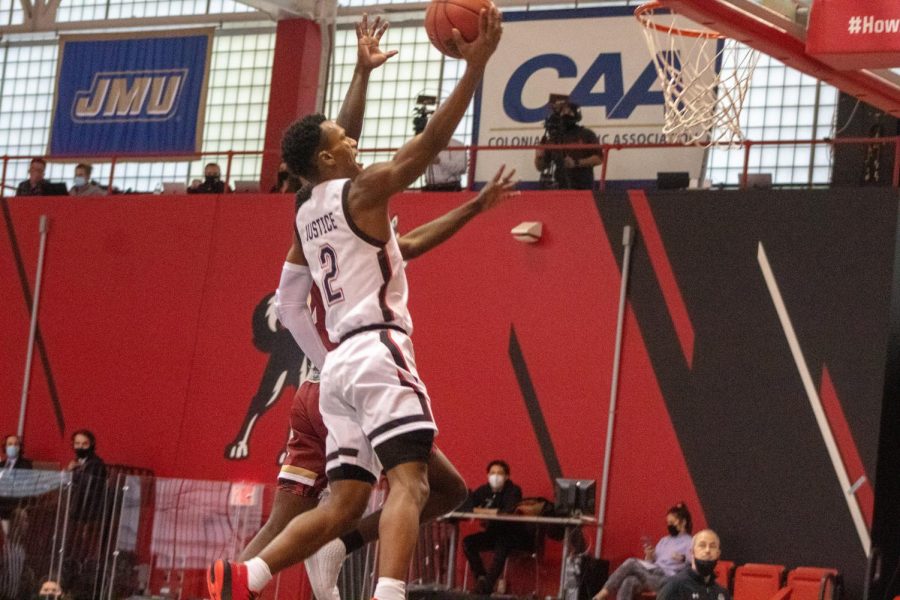 Sarah Olender
Coming off a three-week stretch with no games, the Northeastern Huskies men's basketball team (9-6, 8-1 CAA) had a historic day in their 76-67 win over the Towson Tigers (3-13, 2-9 CAA) at SECU Arena in Towson, Maryland. 
Sophomore guard Tyson Walker scored a career-high 36 points and had his second 30+ point outing in a row after his effort in the Huskies' last game, a loss to James Madison. Head coach Bill Coen also cemented his place in the Husky record books, securing his 250th career win and tying former coach Jim Calhoun for all-time wins at NU.
"What [the record] means is that I'm at an elite academic institution that allows me to recruit internationally and nationally," Coen said. "That number, while it may be next to my name, it's owned by everybody — every player that's come through this program, every assistant coach, every strength and conditioning coach, the academic advisors, our senior leadership and athletic leadership, it's a product of everybody's hard work."
The Huskies started the game with eight quick points from Walker. Towson was quick in transition, however, and kept pace with Walker and NU during the opening minutes. With 14:45 remaining, the Huskies held an early 12-9 lead, but Walker was just getting his afternoon started.
"[Walker] had a terrific basketball game today, just controlled the tempo, made big shot after big shot when we needed it and got us organized," Coen said. "When you have a player like that, it makes it so much easier."
Tyson Walker with 3️⃣6️⃣ ⤵️ points for the #HowlinHuskies pic.twitter.com/BTVnGVI3dU

— Northeastern Men's Basketball (@GoNUmbasketball) February 13, 2021
As the first half wore on, it was clear that both teams would not give up any ground. Walker shone for the Huskies, scoring 18 points off four three-pointers and assisting on four of his teammate's buckets, but Towson continued to claw their way back into the game whenever they found themselves in a hole.
Along with Walker, two forwards, redshirt sophomore Greg Eboigbodin and redshirt junior Jason Strong also had impressive first halves, each scoring eight points for NU. Thanks to their performances, the Huskies brought a slim 39-38 lead into halftime. Towson kept up with the Huskies thanks to their 24 first-half points in the paint and 15-12 rebound advantage.
"We had 39 first-half points, that's plenty of points to win a basketball game, but defensively I thought we weren't aggressive enough," Coen said. "We weren't helping, outside the lane on penetration we weren't really attacking dribblers and let them get a little too comfortable."
After scoring 38 points in the first half, Towson went completely cold in the second, only scoring eight points within the first 10 minutes. This Towson drought brought on by solid defense from the Huskies allowed them to stretch their lead to 59-46 at the 10 minute mark.
Towson never got even with the Huskies after that drought, and even though they scored 18 points in the final 10 minutes, NU put up 14 to secure a victory in the first game of this back-to-back series.
"Our defense had to pick up and luckily in the second half our guys did a much better job," Coen said. 
NU had not played in three weeks due to positive tests within its program, but they were able to fight through the break and come out on top Saturday afternoon. Coen said that the team was unable to hold practices for the first few days of their hiatus, but the team clearly moved past the long pause.
"I was a little nervous, because it was 'rest versus rust,' but I thought all in all it was a good effort by our guys and it took them a minute to get back into the swing of competition, but once they did I thought they played much better in the second half," Coen said.
Besides Walker's 36, Eboigbodin finished with 13 points and five rebounds, tying his career high in points and providing a presence underneath the rim that allowed the Huskies to scrap with Towson's forwards.
"This was [Eboigbodin's] best outing of the season, he's been hampered with a couple of minor injuries," Coen said. "He finally got healthy over the pause and I thought it was evident today, him playing at that level, we needed him against a really tough front line of Towson and their ability to rebound."
Jason Strong was the other double-digit scorer for the Huskies, scoring 12 points and grabbing seven rebounds. On the other side of the court, Towson had three players who finished with more than 10 points, but their effort was not enough to contain NU.
The Huskies will be back in action tomorrow at Towson at 1 p.m. as Coen goes for his 251st win as a Northeastern head coach, which would make him the winningest coach in Husky history.