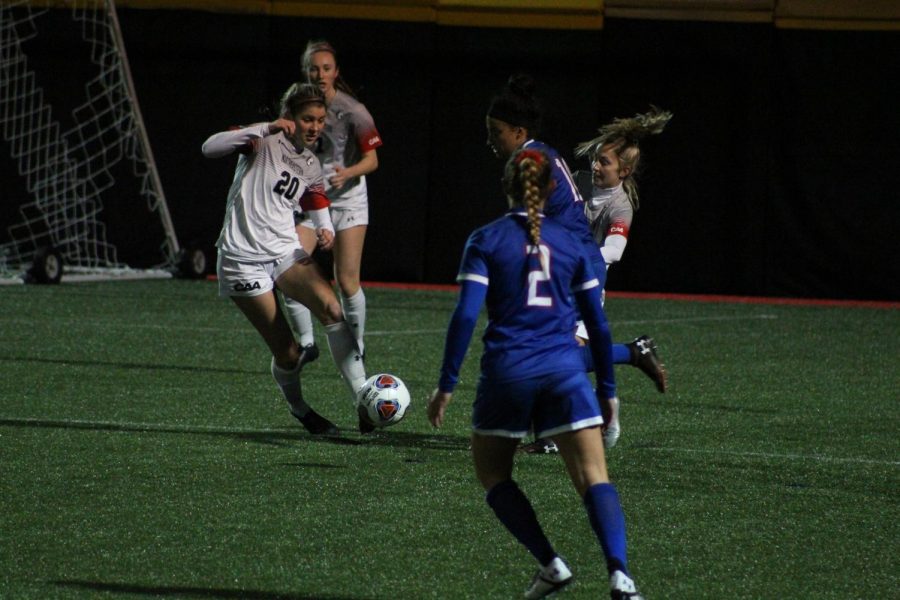 Mike Puzzanghera
The Northeastern women's soccer team (1-1-1) had not scored a goal since their 2-1 loss against Elon University in the CAA quarterfinals Nov. 1, 2019. That burdensome drought ended Thursday night at home in their 2-0 win over the UMass Lowell River Hawks (1-1-0). Both of the Huskies' goals came in the first 30 minutes of game action, with sophomore midfielder Alexis Legowski shattering her team's offensive rust for her first career collegiate goal.
Offensively nobody had a better first half than Legowski. The 5'9" All-CAA freshman first-team member used her size to her advantage to get her team their first goal of the season 15 minutes into the contest.
The majority of the first half of the game belonged to NU as they played fast, counter-attacking soccer to generate corner kicks and make the opposing defense uncomfortable. Senior Mikenna McManus, who usually plays in an attacking role, found herself playing more of a left wing-back position with the loss of senior defender Julianne Ross. The change in position did not affect her ability on the corner, however, as the set-piece specialist swung in a perfectly placed ball to Legowski who used her head to push the ball across the net into the bottom left corner. 
🚨ALEXIS LEGOWSKI GOAL🚨

She gets her first of the season with help from Mikenna McManus!#HowlinHuskies lead 1-0 over UMass. pic.twitter.com/HcFD3cEHLe

— Northeastern Women's Soccer (@GoNUwsoccer) February 25, 2021
For head coach Ashley Phillips, the struggle for Northeastern had been converting those set-piece opportunities.
"We just need to clean it up in and around the 18, we are creating chances, we are creating set-piece opportunities, we just aren't executing," Phillips said in a pregame interview. "We had 12 corner kicks leading into this game and we hadn't scored a goal so I was happy to see us capitalize on a set piece."
A few minutes after the opening goal Legowski challenged again, taking another lob from McManus out of the air and working past her defender to find freshman midfielder Gaby Scarlett in front of the net. Had it not been for an incredible diving stop by Lowell's sophomore goalkeeper Taylor Burgess, Scarlett would have had her first career goal and Legowski would have tacked on another point. 
Luckily for Legowski, the Huskies were not done scoring. A swift turnover and counter left Legowski barreling down the middle of the field with senior forward Chelsea Domond wide open ahead of her. After the through ball from her teammate, Domond took advantage of the open green in front of her with her blinding pace and snuck the ball past Burgess for her first goal of the season.
🚨CHELSEA DOMOND GOAL🚨

Alexa Legowski feeds Chelsea Domond to put the #HowlinHuskies up 2-0!! pic.twitter.com/xYNfdvKWdy

— Northeastern Women's Soccer (@GoNUwsoccer) February 25, 2021
Phillips said in her pregame interview that a key part of this match would be seeing how well her team could learn from their last game and that a home-and-home series presented a special coaching opportunity.
"I thought in the first half the girls played great, they took on what we talked about after last week's game against Lowell and adapted to that," Phillips said. "What stood out is that we saw the girls take on a lot of the coaching points in the attacking third. We talked to them a lot about changing the point and breaking out of pressure and we capitalized on those counters that we got."
Lowell struggled to find an answer to the NU attack on their own end for most of the first period. At times, the River Hawks threatened with crosses into the box and their patient passing but sophomore goalkeeper Angeline Friel was quick to clear the Huskies of any danger. 
In the final 10 minutes of play, it seemed like Lowell began to figure out how to attack their opponents, pushing into the box often and making Friel work to keep her team ahead. 
As the River Hawks continued to pressure and looked poised to break their own scoreless drought, senior forward Kayla McCauley found herself as the only Husky between the ball and the back of the net. McCauley made an incredible save to stamp out Lowell's hope of a comeback before halftime and cleared the ball well out of harm's reach. McCauley wasn't the only NU player to show out in the closing minutes of the half. Sophomore midfielder Halle McCabe threw herself at oncoming attackers on multiple occasions to clear the ball and provide some much-needed relief for the Huskies' defense.
Coming out of the break the River Hawks showed very few signs of slowing down, dominating possession similar to the manner in which they did last Sunday and providing sustained pressure on their opponents' defense who were without their star defender Ross.
The defense however was never a one-player show for NU as the rest of the backline buckled down, with freshman defender Allie Vazquez showing her chops in her first game without Ross. Others pitched in to thwart Lowell as well; freshman midfielder Eleanor Fisher constantly pestered the River Hawks throughout the match and made them work to maintain possession in the midfield.
As the half went on Lowell did not let up. They lived in NU territory for what felt like an eternity, forcing their opponents onto their back paws, making Friel come up with a career-high seven saves while also lacing several shots over the net. Freshman forward Calliste Brookshire was one River Hawk, in particular, who hounded the Huskies with her speed.
"I thought in the second half we lost ourselves a little bit and didn't deal with the pressure well," Phillips said. "Lowell took over with some momentum but credit to the girls who defended hard, especially on set pieces and held onto that two-goal lead."
Following one Brookshire shot, it seemed as though Friel would have to come off after taking a blow to the head. 
ANGELINE FRIEL WITH ANOTHER SAVE!! 🙌

Friel has 7 saves on the night so far, still 2-0 #HowlinHuskies. pic.twitter.com/DEaOCll0as

— Northeastern Women's Soccer (@GoNUwsoccer) February 26, 2021
After a few minutes, however, Friel was good to go. The break seemed to help NU gather themselves as they did a much better job of fending off Lowell in those final 20 minutes, not allowing another shot on target and preserving their 2-0 lead.
The Huskies will be riding this win into their game against their fellow Huskies at the University of Connecticut Sunday at noon.