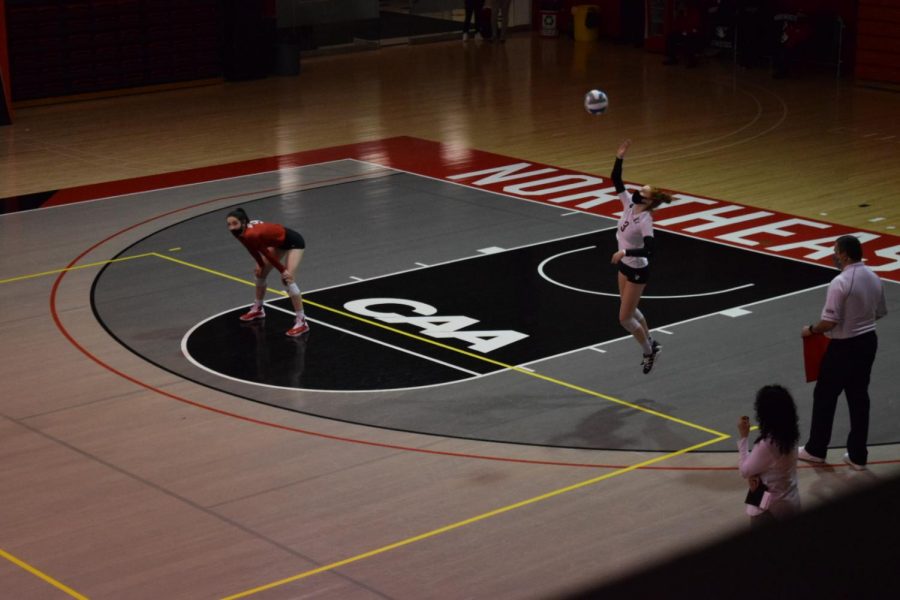 Mihiro Shimano
The Northeastern volleyball team (4-1, 1-0) took home a 3-1 win (25-27, 25-15, 25-18, 25-18) against Hofstra University (3-1, 0-1) in their first matchup of the CAA regular season, extending their win streak by four matches and marking the first win against the Pride since 2017. Sophomore defensive specialist Kayla Martin, who was just named CAA defensive player of the week, and sophomore outside hitter Nailah Jenkins led the Huskies, amassing career-highs with 27 digs and eight blocks respectively. 
"I have to say a part of our success today was the passion and communication that those two young women brought," said head coach Lenika Vazquez. "It was as good as their volleyball performance. Those intangibles took us a long way today. Overall, just us working together gave us a lot of success." 
The first set began rough for the Huskies with several service errors that gave up opportunities for them to capitalize on. Several strong kills were placed in the Pride's court by freshman outside hitter Arliel Defne, sophomore outside hitter Erica Staunton and Jenkins, but they were not unmatched as the fast hits by senior outside hitter Ana Martinovic caught the Huskies off guard several times. 
In a shoulder-to-shoulder battle, the two teams constantly traded points but Hofstra took home the set in the end with two back-to-back kills by sophomore outside hitter Madeline Matheny, 25-27. Despite leading with five kills, Staunton also led the total error leaderboard with five errors, coming from serves that were just too strong for the outside hitter to contain within the court. 
After an unsteady beginning to the match, the Huskies came back with a different energy. A service error by Hofstra turned over the serve to NU who went on a 5-0 run with kills from Staunton, Arliel and Jenkins.
On the defensive side, the front row was not letting any of the Prides' ball through, with a block solo from freshman middle blocker Marika Virthe as well as by Jenkins and sophomore setter Liz Carroll. The Huskies dominated this set with players across the leaderboard, namely Virthe hitting .667% with four blocks, as well as 11 kills from Staunton and 15 digs from Martin. 
From the Hofstra side, some of the tallest CAA players, 6'6" senior middle blocker Luz Divina Nunez Sierra and 6'5" sophomore middle blocker Athine Dimitriadis joined the court during the third set, threatening some of the Huskies attacks. However, this proved no obstacles for NU as they looked for open spaces created, placing them straight into the opponent's court. 
The power-duo in the front row, Jenkins and Carroll, came together for the team's tenth block this match, putting them at 15-9. From there, they continued to rack up points, cementing the 22-13 lead with an attack by junior opposite outside hitter Daphnis Brianna followed by a kill by Virthe. 
After a timeout by Northeastern, things looked up slightly for Hofstra as they took a 4-0 scoring run but it was quickly shut down by an attack error, which followed with a kill from Jenkins and a block by her and Arliel, giving the Huskies the set once more, 25-18. 
It was the fourth set where Martin showed just how skilled she was. Despite the harsh attacks by Martinovic, she constantly dove and succeeded to get the ball back up in the air for the rest of the team. In an intense rally, Martin kept the play alive, getting in four to five digs, winning NU the point after a bad set by Hofstra, putting them at 13-11. That play was followed by a kill by star-hitters Jenkins and Staunton, to which Hofstra had to take a timeout to regain their balance. 
Aggressive attacks by the two continued after the timeout, with an synchronized block by Carroll and Jenkins as well as powerhouse kills by Staunton, racking up the points for the Huskies very quickly. However, Hofstra did not go down without a fight as they quickly put on a few more points, especially with two errors by Staunton.
In the end, a bad set and miscommunication on Hofstra's part gave the Huskies the match point before an ace by Martin completed the afternoon, 25-18. The Huskies took home the win, dominating three of the four sets, 3-1. 
"[Today's game] was very well played on both sides of the net," Vazquez said. "Very competitive, saw a lot of passion out of the Huskies today, which was very nice to see and performed at a very high level, our level." 
The Huskies will play against Hofstra once more this weekend, this time at home on Solomon Court Sunday at 5 p.m.