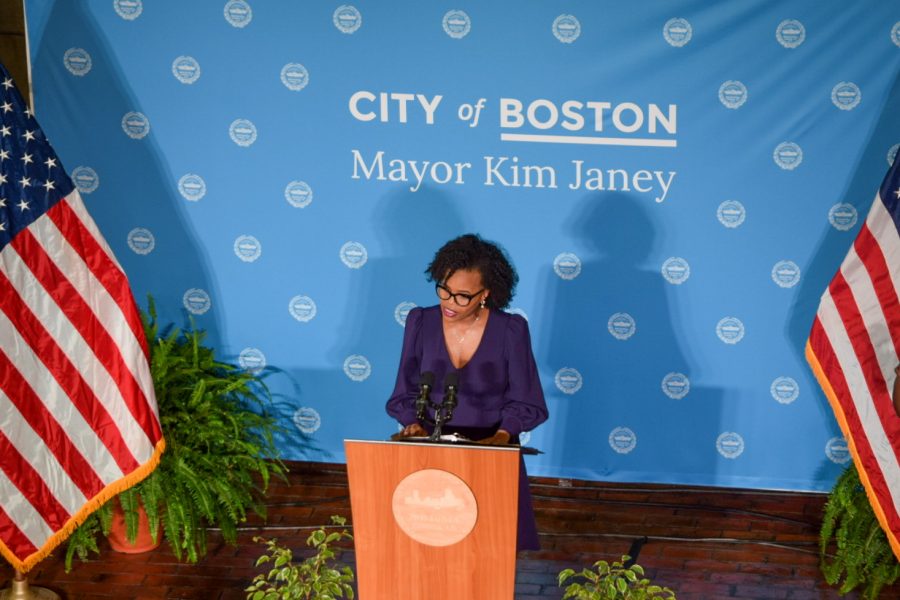 Mihiro Shimano
Kim Janey was sworn in Wednesday, March 24 at Boston City Hall, making history as the first woman and first Black mayor of Boston. She stepped into the role after former Boston Mayor Martin J. Walsh resigned in order to take on the role of labor secretary under the Biden administration.
Janey, who was the former representative for District 7 and president of the Boston City Council, will lead the city as acting mayor until a new mayor is elected in November. Janey has yet to announce whether she will be running.
U.S. Rep. Ayanna Pressley, the first Black woman to represent Massachusetts in Congress, led the swearing-in ceremony, praising Janey for her work and success in office. She also highlighted the significance of the moment for women and communities of color. Janey was sworn in by Chief Justice Kimberly Budd of the Massachusetts Supreme Judicial Court, also the first Black woman to hold her position.
"I stand before you as the first woman and the first Black mayor of Boston, the city that I love," Janey said in her ceremony speech. "I come to this day with a life experience that is different from the men who came before me."
As a sixth-generation Roxbury resident, Janey projects a mayoral image that is vastly different from the white men who have held the position before her. Before her swearing-in, she tweeted about her frequent use of public transportation and her speciality dish, "the best sweet potato pie," displaying her humble roots.
Janey first began her political endeavors volunteering for Mel King's historic run as the first Black person to run for mayor of Boston. She was also involved with Massachusetts Advocates for Children. As a mother to Kimesha Janey and grandmother of three, she looks to successfully and safely reopen schools in the city.
Janey also spoke about her own traumatic experience in the Boston Public School system, where she was bused to a school in Charlestown during the 1970s desegregation efforts. As she takes over as mayor, she looks to address the inequalities and disparities of race in Boston, including dismantling systemic racism through police reform.
"Our nation and our city are built on a promise that achieving your dreams is possible — regardless of race, religion, immigration status, income, gender identity or who you love — but we have so much work to do to make those dreams real for everyone," she said. "We have to start by calling out the challenges facing our city openly, honestly and transparently."