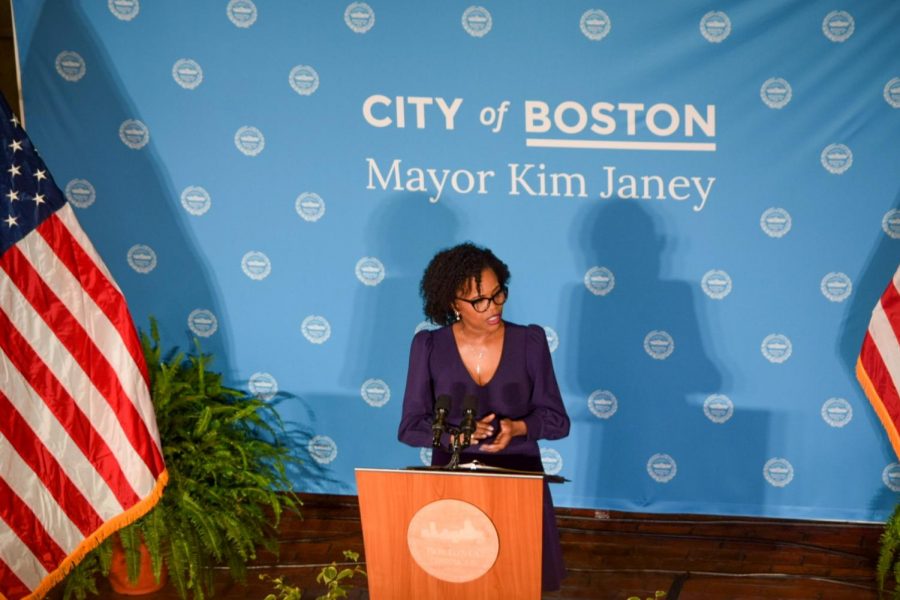 Mihiro Shimano
On Tuesday, Acting Boston Mayor Kim Janey formally announced her candidacy for a full mayoral term starting in the fall.
"The work to address the challenges we face from COVID-19 and the racial inequalities that have been inherited from centuries of structural racism will take longer than a few months to change," Janey said in a statement. "It is going to take fearless leadership, bold action and a commitment to doing the hard work to make Boston the equitable city our residents want, need and deserve. I am 100% committed to leading this change."
Janey, former City Council president, entered the role of acting mayor March 24 after former Mayor Martin J. Walsh left office to join President Joe Biden's cabinet as labor secretary. Janey made history when she became the first woman and the first person of color to lead the city.
Janey's announcement does not come as a surprise. Since taking office, Janey has removed the "acting" part of her title from her press releases and public schedules on occasion and has been pulling in campaign funds since February.
The 55-year-old fourth-generation Bostonian joins an already crowded race, with fellow City Council members Michelle Wu, Andrea Campbell and Annissa Essaibi George, as well as State Rep. Jon Santiago, the city's former Chief of Economic Development John Barros and former hotel manager Dana Depelteu. Janey's current position, however, may give her a leg up on her opponents. In 1993, after Mayor Raymond Flynn accepted an ambassadorship from President Clinton, Thomas Menino was able to leverage his position as acting mayor into a full term, eventually becoming Boston's longest serving mayor.
In her campaign video, titled "Your Mayor," Janey highlighted a number of Black and female politicians and referenced her experience growing up in Boston during the busing era, noting how people would throw rocks at her bus as she traveled from Dorchester to Charleston for school.
"We can't go back. We can only go better," she said in the video. "So let's keep on going together, Boston. Your mayor is asking."