How students are tackling the issue
April 15, 2021
Joshua Sisman, the communications director for Northeastern's chapter of the Young Democratic Socialists of America, or YDSA, co-sponsored a referendum that addresses food insecurity on campus, proposing changes to make meal plans more affordable for students.
The referendum aims to address the higher-than-average price of Northeastern's meal plan. It proposed a plan where Northeastern guarantees three meals a day for students at a rate of at least 24% less than current plans. 
"I regret not writing the referendum to say 'guarantee students a meal plan for free,'" said Sisman, a second-year political science and economics combined major. "When we were talking about drafting the referenda, we were trying to be as bold as possible also considering what was feasible and what we had the most evidence and precedents to base our referendum off of." 
The referendum went before SGA in early 2021 and then was on the ballot for all students to vote on in late March. It passed with 3,988 votes, or 86% of the vote. 
Ioanna Ploumi, who co-sponsored the referendum, said attending Northeastern and living in Boston is already expensive, so cutting costs in places like the meal plan would make Northeastern more accessible.
"The goal, of course, is eliminating food insecurity on campus and again, it's an issue of diversity and inclusion — we want to make sure that the university's as accessible as possible," said Ploumi, a second-year biology and political science combined major. 
While the referendum was being debated in SGA, second-year mechanical engineering and political science double major Sebastian Chavéz expressed his reservations with the referendum. As part of his job as vice president for student services, Chavéz coordinates the Food Advisory Board, a group open to all students that meets monthly with staff members from dining to discuss topics related to dining at Northeastern. 
Chavéz said he feels the Northeastern community needs to address food insecurity, but that the solution proposed by the referendum is not feasible. 
"The difficulty for me comes with knowing that there is such an issue on our campus, and knowing that this issue does exist, and knowing that many faculty members and administration members don't necessarily think it's as big of an issue as it is, but I'm also trying to balance that with the knowledge of how the dining program runs," Chávez said. 
Chavéz said he was originally unsure if the referendum was viable because of how large a change it proposed and the price of maintaining the current system, but after recent conversations with Maureen Timmons, the director of dining services, he thinks it may be possible. The changes would not be immediate but could come further down the road. 
Passing referenda through SGA isn't the only way students are advocating to address food insecurity at Northeastern — Mutual Aid is also doing its part. 
The club's mission statement lays out its goals of "determining the most effective ways mutual aid can serve Northeastern's population" and working with all members of the community to meet others' needs.
A large part of the work Mutual Aid has done this year is hosting weekly food pantries and running a community fridge at 70 Saint Stephen St. 
Garcia, a coordinator for Mutual Aid, has been involved with the food pantries since last fall and helped foster Mutual Aid's relationship with Fair Foods, a local company that collects and distributes food that would otherwise end up in landfills.
"Obviously if we were able to feed the world, that would be great, but obviously we can't, so we're trying to work with Dining Services and YDSA and all these other organizations that correspond to these referenda and are trying to have Northeastern leverage their existing food infrastructure to feed people on campus," Garcia said.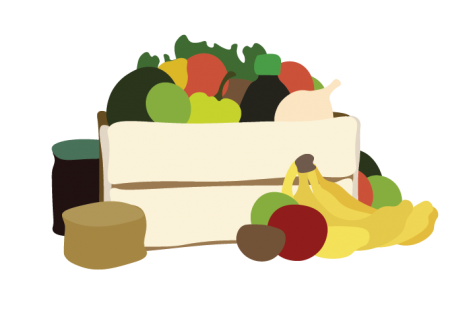 Garcia's work with Fair Foods and Mutual Aid has turned into a self-developed co-op for him. Now, in exchange for his labor, Garcia said Fair Foods provides Mutual Aid with "really good fresh, healthy, sometimes organic produce every week."
"We have received positive remarks from the administration. We've tried working with them and meeting with them and presenting what we do and the results of our work to them. … there are a lot of individuals who want to come together and get a more sustainable kind of food pantry thing going," Garcia said.