Northeastern kicks off semester with Convocation, Fall Fest
Monday marked a return to a relatively normal semester with two landmark events of Welcome Week and the beginning of the semester — the President's Convocation and Fall Fest. 
The two convocation ceremonies were held at 10 a.m. and 2 p.m. in Matthews Arena. Doors opened more than an hour before the ceremony began, and thousands of first years streamed into the arena wearing matching Northeastern shirts and bracelets. 
Students from Northeastern's Rome and London campuses were present via livestream during both ceremonies.
Before the official start of each ceremony, student leaders hosted Northeastern trivia for the first years, complete with a leaderboard of winners.
After the academic procession led by Chief Marshal Jeffery Born, the convocation featured speeches from President Joseph E. Aoun, remarks from every college dean, as well as a message from Casey Buttke, Student Government Association, or SGA, president. 
The Kinematix Dance Troupe, the Nor'easters acapella group and Northeastern's string ensemble all performed during the ceremony.
"The speeches were really good, the student body president made a really good speech," said Libby Denley, a first-year biochemistry major. "The dance and acapella groups were amazing. They were so good. I was like blown away."
The first-years were all wearing bracelets that lit up at key moments in speeches and performances, creating a striking light display across the arena.
Other speakers included Provost and Senior Vice President for Academic Affairs David Madigan and Senior Vice Provost and Senior Vice Chancellor of Northeastern's Global Network Mary Ludden. 
"I liked all the speakers. The deans from each college gave very good advice, and it was welcoming," said Kimberly Nguyen, a first-year business administration major. "It was inspirational."
In his speech, Aoun addressed how COVID-19 has amplified desire for human connection. He also encouraged students to customize their educational journeys and never forget to have fun.
"The first lesson about COVID is that we want the human connection. We want the human experience," Aoun said. "And nowhere could you find it better than at Northeastern, because Northeastern is going to provide you with many ways to connect with people all over the world, in each community. And this community is diverse, this community is beautiful."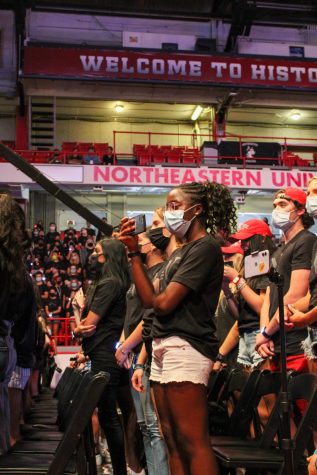 Aoun emphasized the nature of the Northeastern community and the responsibility everyone has to protect each other. 
"Ultimately, it is your success that counts. Success is measured not at the time of graduation only, but throughout your lifetime," Aoun said. "If Northeastern was the palace that allowed you to have a meaningful and impactful life, that's success."
Buttke, a fourth-year political science and criminal justice combined major, encouraged students to make the most of their Northeastern experience by getting involved, speaking up and finding their place. 
"No matter who you are, no matter where you are, you will find your people at Northeastern," Buttke said. "You just have to look for them. And the very best part is that I can honestly say that they're out there looking for you."
She encouraged students to reach out to the SGA if they found things that needed to be changed or addressed on campus, reflected on her experiences at Northeastern and gave the first years advice.
"I do want to acknowledge though that it's also really easy to get overwhelmed by so much change at once, especially after spending a couple years fully online. The transition to college no matter the situation can be incredibly stressful," Buttke said. "The best thing to remember right now, or tonight or next week, is that every single person around you right now is in the same boat."
Buttke said her first-year self would never have dreamed of filling such a public role, but she ran for president of SGA to be a voice for the student body.
"Find the people who challenge you, help you to grow, who will make you laugh, even when you have a mountain of homework to do or you don't feel great about your final results," Buttke said. 
After both convocation ceremonies, the first years were encouraged to attend Fall Fest, a campus-wide fair intended to help students get involved in university organizations. First years and returning students alike made their ways across campus, visiting the more than 350 student-run clubs and organizations that were set up for recruitment. 
"There's so many clubs. I've seen so many different sports and totally different things that I didn't know could be a club," Denley said. 
"
Find the people who challenge you, help you to grow, who will make you laugh, even when you have a mountain of homework to do or you don't feel great about your final results.
— Casey Buttke
Some upperclassmen, like third-year Audrey Shing, were stationed at tables recruiting for specific clubs they are already involved in. Shing, a business administration major, was tabling for Northeastern Debate while also learning more about other clubs herself. 
"It's nice to see everybody out. I was part of the Northeastern Asian Student Union, so it's nice to bump into friends," Shing said. 
First-year chemical engineering major Paul Min said Fall Fest and Welcome Week activities made him feel welcome and included on campus. 
"It's a very big campus. I'm looking for which club would be the best match for me," Min said.
Last year, clubs functioned almost entirely virtually, but this year's COVID-19 precautions and relaxed social distancing rules have allowed for more in-person events. Shing said Northeastern Debate booked the same room it had pre-pandemic, and she is excited to return to in-person meetings. 
"In debate, we have a fresh new crop of what we call novices who are new debaters who are coming in as freshmen or sophomores in some cases," Shing said. "It's always nice to get to meet them and mentor them as they are coming up with new cases that they want to write or just exploring debate in general."
Fourth-year health science major Julia Mei is also excited to get back to in-person events, specifically dance practice for Kinematix Dance Troupe where she is president. 
"[Fall Fest has] actually been great. Virtual sucks," Mei said. "You actually can't see people through a camera, it's so different from being in person and interacting with people. This has been so fun and so great, and I wish we had it last year."
Fall Fest and Convocation aren't the only events Northeastern is hosting to kick off the semester. Welcome Week, which runs Aug. 29 through Sept. 11, features events ranging from comedy shows, to tours around the city, to outdoor workouts. 
"It's been pretty cool how Northeastern set up a bunch of events for us, like they had the Fenway Park tour and like the Duck Tour and the aquarium," Nguyen said. "That was really nice for everyone to get used to the area, especially for people who don't live in the state."
First-year Isabella Bartolomei said she enjoyed how the Welcome Week schedule was easy to follow and clearly organized through the Welcome Week app.
"I was surprised with how many events and opportunities Welcome Week gave the incoming first years. So that was pretty cool," Bartolomei said. 
Welcome Week events continue through Sept. 11 and can be found on the app or online. Nguyen said she loved how it feels like there is at least one club for everyone, and how organized all the events have been so far. 
"I feel Northeastern has been very welcoming," Nguyen said. "I don't feel homesick at all."