Marta Hill
Northeastern University students, faculty and staff gathered Saturday at the Candace Lee Williams memorial to commemorate the lives of those lost in the 9/11 attacks under a clear, blue sky that resembled the day of the tragedy 20 years ago. 
The memorial where the service was held is dedicated to Candace Lee Williams, a 20-year-old student at Northeastern and passenger on American Airlines Flight 11 that departed from Boston Logan International Airport. 
"We come today for two chief reasons: to remember and to rededicate ourselves to the ongoing work of healing and repairing a wounded world," said Alexander Levering Kern, executive director of the Center for Spirituality, Dialogue, and Service, who gave the opening remarks. 
A moment of silence was held as the names of 13 victims who were students and alumni of Northeastern were shared, followed by poems by Toni Morrison and Adam Zagajewski that were written in the aftermath of the tragedy. 
Mary M. Kane, assistant dean for employer and external engagement and senior co-op coordinator of the D'Amore-McKim School of Business who had been a mentor to Williams during her time at Northeastern, shared memories. Kane recalled how Williams shared her love for farming and riding tractors, a story that Kane still remembers two decades later.
"The events of 9/11 were tragic and will always be a cause of extreme sadness and emptiness, and my memories of Candace won't erase that pain. However, for me, it was a gift that I got to know Candace and experience the sheer joy she got out of life," Kane said. 
For Dan Kennedy, a professor of journalism at Northeastern who worked as a journalist at the Boston Phoenix in 2001, the events of 9/11 were marked by a different memory. Kennedy reflected on the article he began writing just after midnight on Sept. 12. 'The end of decadence' expressed the hopes he had for journalism to return to a sense of purpose and seriousness.
Others recalled stories of losing their loved ones to the events of 9/11, long after the plane crashes happened.
Tara Doherty, senior site supervisor at Northeastern's COVID-19 testing center, spoke about her sister, who died in August 2018 from stomach cancer. Her sister, who attended the physician assistant program at Northeastern, was a volunteer member of a Federal Emergency Management Agency disaster medical team that responded to the attack in New York.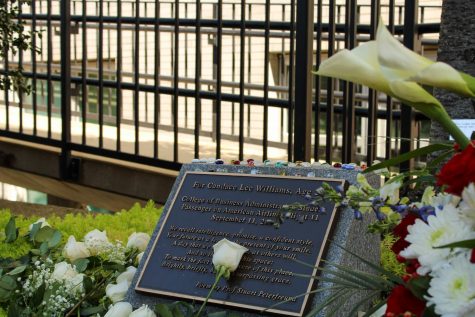 Doherty's sister was not present on the day of her graduation from physician's assistant school, Sept. 11, and was instead at Ground Zero with the team. She developed stomach cancer years later as a result of the long exposure to toxins she experienced during the recovery efforts. 
"Just as I found inspiration in my sister's life, I hope the example she set in her life of selfless service, which was so strongly tied to Northeastern, can inspire others here in Northeastern to both achieve their goals and to serve others," Doherty said. "When you have the opportunity to answer the call at a critical time in our country, you can follow [her] example and just do it." 
Twenty white roses, held throughout the service by those present, were placed by the memorial to commemorate the 20 years that have passed since that tragic day where thousands of lives were lost.
Members of the community were also encouraged to place a small commemorative stone on the memorial and take another to remember the events of Sept. 11. 
"September 11 teaches us many things and leaves us with many choices in our own day," Kern said in his closing remarks. "In the face of crisis, uncertainty, evil and peril — then and now — we human beings are an extraordinary species, hardwired for healing and made to live together in a vast ecology of justice and peace and mutual regard."