Hate does not stop Katherine Marchesseault, Huskies
Freshman defender Katherine Marchesseault has already established herself as a mainstay in the starting XI of Northeastern's women's soccer team. Marchesseault is the only member of her class to start all eight games for the Huskies so far this season, helping them secure four shutouts with her play on both sides of the ball.
On Sunday, Sept. 19, Marchesseault attempted her first career penalty kick in a match against Brown University. She said that the decision to take it was just spur-of-the-moment. She asked senior Mikenna McManus, who generally takes the kick, if she could attempt it. While her request mounted the pressure, Marchesseault never wavered and blew the ball past the keeper for her first career goal.
For all players, a season will have ebbs and flows, the glory and pride of a goal, the agony and fury of a close defeat. For Marchesseault, though, her freshman season presented a challenge that all her years of playing soccer had not prepared her for, one that none of her teammates had ever experienced either.
"
A lot of the team was in shock because we didn't think it could happen and haven't really heard of it happening."
— Grace Moore
On Sept. 5, the women's soccer team was defeated 1-0 in overtime by the University of Massachusetts Lowell. Three days later, Marchesseault, posted publicly on her Instagram account. The series of stories that Marchesseault uploaded all discussed racism. One, in particular, was a video that adamantly condemned the use of racial slurs in the game of soccer. 
In the post's caption that post, Marchesseault said the following:
"The N-word is not free to be used in your home, in your class, or on the field. Soccer is a community. We are supposed to be family. This word was used towards me in a game this past weekend. I share my experience to spread awareness and teach our generation right from wrong. Please help future generations live and love in a safe world."
These posts were followed by a wave of support from her teammates, the majority of whom are white. A common response made by her teammates on social media said, "I will never understand you, but I stand with you."
In an interview with the News, Marchesseault spoke about her experience in the match against the River Hawks, one that was just her fifth official collegiate match and second away from home.
"It was from a player on their team. I went into a tackle with her," Marchesseault said. "My cleat must have hit her leg, and she said the word. I definitely retaliated, and then I was taken out of the game. I stayed quiet about it until the end of the game, but my coaches saw that something was wrong, so I told them what happened. There wasn't much that could be done because it was hearsay, but [head coach Ashley Phillips] went to the other coach after the game to let them know."
The incident, which resulted in a yellow card for Marchesseault, was dealt with within the team for the most part, with everyone around her giving her their support. While many of her teammates and coaches acknowledged that they could not understand what she may be going through, they would help her in any way that they could. 
Marchesseault mentioned that following the incident, all of her coaches and some members of the training staff spoke to her personally.
"My coaches still are always checking in on me, and I've had meetings with a couple of them since then," Marchesseault said.
Grace Moore, a senior on the team and one of Marchesseault's preseason roommates, shared her reaction to the incident as well as her teammates' in an interview with The News.
"A lot of the team was in shock because we didn't think it could happen and haven't really heard of it happening," Moore said. "Of course, there will be trash-talking in any game, but the idea of insulting someone else based on their race is something that I would never even think of. "
Moore said the team held a meeting where the incident was addressed and people were free to let out their emotions. Some at the meeting discussed their struggles with discrimination, including homophobia and anti-LGBTQ+ sentiments. 
"The meeting was good to try and move past it, we just all wanted to comfort Kat any way we could. The coaches were very open and honest with us," Moore said. "At first, we didn't know what happened with Kat, the coaches were initially upset with how Kat reacted because they didn't know. Once they found out though they were very understanding. They said that if anything were to happen like that we will walk away, we will pull you girls off the field and we will walk away."
Prior to their game against Harvard on Sept. 15, the team sported new warmup shirts. The front of the red shirts said the words "equality" in white lettering above the Husky mascot. The back showed the logo of the Northeastern University Black Athlete Caucus, or NUBAC, with, "We stand together" written above it. 
Marchesseault said that initially, the team wanted to wear their "charity game" shirts in support of cancer research, but after the team meeting, they felt it would be better to aim the design towards a stance in support of equality for all.
Grace Michael, a senior defender, discussed how the team is addressing the issue of discrimination while on the field. 
"We wanted to let everyone know that we would not stand for this," Michael said. "We got the new warmups, and we wear patches on our jerseys to try and spread our message. I think that NUBAC is a really great group on campus, and it has done so much to help Black student-athletes at Northeastern."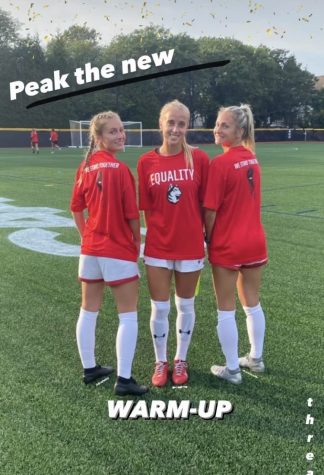 In a previous interview with the News on Sep. 14, NU's Athletic Director Jim Madigan said that when it came to fans interacting with players, there would be a no-tolerance policy for hate speech, but so far it has not been an issue for his department.
"The games that we've been a part of right now for volleyball and men's or women's soccer, I feel like that has not been an issue," Madigan said. "We expect appropriate behavior at all of our home games, both directed at our team and our opponents. We're just not going to tolerate any type of negative behavior. We don't expect it but if we encounter it, we'll deal with it. If it's not appropriate, we'll just remove the people from the game." 
While Marchesseault felt prejudice from one collegiate foe, she said that she wholeheartedly agreed with what Madigan said. She does not believe that something like that would be said from someone involved with NU. 
Moore held the same sentiment as her teammate when it came to the school community.
"I honestly wouldn't ever think that would happen at Northeastern," Moore said. "We have a pretty diverse campus and a very loyal fan base so I feel confident that our fans or students wouldn't do something like that."
The Lowell player involved in the incident was said to be a senior on the team and will not receive a further reaction from NU. However, following the incident coach Phillips told her players that no women's soccer games would be played against UMass Lowell any time in the near future. 
Michael gave her thoughts on the decision to drop Lowell from the schedule.
"We aren't going to play them in the immediate future for good reason, but I think that if we did go up against them again there would be a ton of fire for that game," she said.
While she is glad to not be playing against Lowell any time soon, Marchesseault said that she simply wants to put this incident behind her. She said that she appreciates the ample amount of support she received not just from her coaches and teammates but also from the entire NU community following her social media posts.
"I just wanted to spread some awareness on the topic, and I had a lot of people reach out to me," she said. "The whole school has been super supportive of me and what I am going through."
Editor's note: This story was updated at (12:35), (9/28) to accurately reflect that coach Phillips did not make a formal request to the athletic department about not playing UMass Lowell in the future.