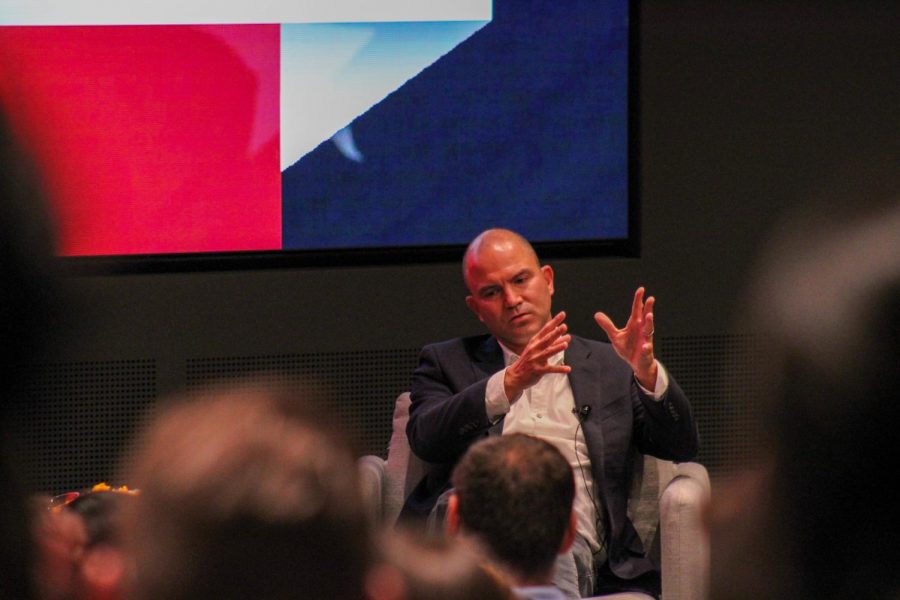 Former Deputy National Security Adviser Ben Rhodes spoke at Northeastern's Interdisciplinary Science & Engineering Complex, or ISEC, auditorium Sept. 20, attracting hundreds of students. In the interview, moderated by the Associate Dean of Faculty Affairs, Diversity and Inclusion and Edward W. Brooke Professor of Political Science & International Affairs Mai'a Cross, Rhodes spoke about his latest book "After the Fall" and his stance on recent foreign policy decisions such as the withdrawal of Afghanistan, the impact of the global financial crisis and the aftermath of 9/11. 
Dan Urman, a professor at Northeastern's School of Law and the College of Social Sciences and Humanities, said he was pleasantly surprised by the turnout.
"[The line] was impressive. It's great to see students so engaged and interested in learning," Urman said.
Northeastern instructor and former U.S. Foreign Service Ambassador Janet Garvey thought the student turnout demonstrated the inquisitive nature of Northeastern students. 
"It's part of what a university is all about, having people like Mr. Rhodes come and speak, and giving students a chance to ask questions is even more important," Garvey said.
Rhodes, who has spoken at a number of colleges, chooses specifically to speak to students and younger generations. 
"Northeastern is a great place to get a sense of the audience I'm trying to reach because ultimately, when I think of an audience, when I sit down and write a book or do a podcast, I'm thinking about young people," he said. "I think that young people have the capacity to change things, and are generally usually thinking about things in more interesting and more innovative ways."
Students were required to obtain tickets in advance, and many were unaware that having a ticket did not guarantee admission. Ultimately, not all ticket holders were able to view the event in person.
First-year political science and international affairs combined major Maya Waldron was one of the first students in line outside the auditorium. Expecting a large turnout, she arrived over two hours early.
"I got here around 3:45-ish to study and do homework, and then I moved over to the line," Waldron said. "I think it's been talked about all around campus. I mentioned it to my friends and they were like, 'Can you send me the email to that?' They made sure to mark it in their calendars and stuff, so I was expecting a lot of people to show up."
Third-year business administration major Dustin Birnbaum did not expect a lot of students to come hear Rhodes speak and was fortunate enough to spot the growing line from his apartment across the street and arrive at ISEC earlier than he initially planned. 
"In my head, I was like, 'There's no way that many people are going to come.' I live [across the street] so I was like, 'Oh, I'll just come half an hour early and see, ​​and then maybe I'll be one of the first people there.' But no, I was [waiting in line] out the door a couple of seconds ago," Birnbaum said.
Students who were in attendance heard stories from Rhodes' experience growing his career. After obtaining a Bachelor of Arts in English from Rice University, he moved to New York City where he got a Master of Fine Arts in creative writing from New York University. In New York,  he also witnessed the 9/11 terrorist attacks and was inspired to get involved in foreign policy.  He worked on a number of political campaigns from Rudy Giuliani's mayoral campaign to Barack Obama's presidential campaign, which, in turn, led to him working in the Obama administration. 
"If I had a plan to end up in the White House, I never would have ended up there," he said of the career events that enabled him to follow Obama throughout his presidency. 
Rhodes' advice for students as they begin their career is to participate in experiences that genuinely interest them, rather than what might look good on a resume. 
"You will be better at what you're doing if you care," Rhodes said. "If you are passionate about a person, or you're working for a cause, or you're working for an issue you're involved with, you will both be more passionate about it, and you'll also be better because you'll be motivated to get up every day and work hard and push yourself."