Review: MFA 'New Light' displays old and new
On the first floor of the Museum of Fine Arts, or MFA, lies the dynamic "New Light: Encounters and Connections" exhibit. Unlike other exhibits, "New Light" combines contemporary art with works previously acquired by the MFA, some of which have never before been on display. This exhibit has been open to the public since June 3 and features 60 pieces of art made by 27 artists, many of them Boston locals. 
By comparing older, recognized pieces with newer works, "New Light" makes a broad statement: Artistic traditions and themes that withstand the test of time can be applied to a rapidly modernizing world. Artists convey this message by intentionally using dated techniques to create contemporary art or pairing ancient messages with more modern methods. 
Two works connect through their uses of ancient Egyptian motifs and techniques. Several of the artworks were created before the time where written records were commonplace, and many are not attributed to an individual. "Relief fragment with the Head of a Princess" by a once known artist is a limestone carving that dates back to the reign of Akhenaten, an ancient Egyptian ruler. It was aptly placed next to "Triangle Pairs with Pharaoh Heads and Nefertiti Recesses" by LaKela Brown, a Black Brooklyn-based artist. The work includes modern trends that are reminiscent of antiquity, such as impressions of doorknocker earrings, shallow reliefs of pharaohs and necklace pendants. She seeks to show the roots of modern hip-hop culture, which is present in many of her other works. 
Stephen Hamilton similarly embraces African culture in "Joseph Lewis as Eze Nri." Nri was a kingdom in present-day Nigeria ruled by a king known as the "Eze Nri". He uses quilting, a rudimentary element of Black art, to portray a high school student as a Nigerian ruler. Joseph Lewis, the piece's subject, has an intense stare that fills the entire room with an eerie feeling. It's hard to believe the piece is a two-dimensional hand-woven quilt of a teenager and not an African king in the flesh.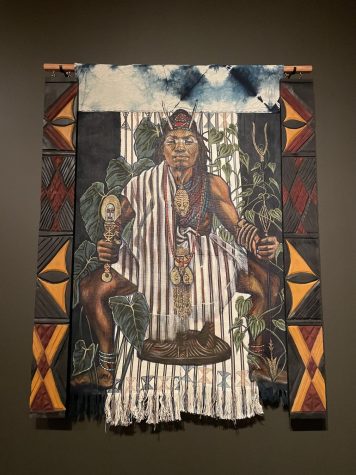 Social issues are central to the works in "New Light," especially American ones that have persisted for years. Zoe Leonard's "I Want a President," the only poem in the gallery, adopts a typewriter format, contrasting its quaint medium with bold, crass language. While repeating the phrase "I want" throughout the poem, the work lists attributes typically associated with underprivileged communities rather than presidential candidates. 
Leonard's simple language and form jump off the page because of her message. "I Want a President" inspires American readers to step back and ponder why there hasn't been a gay, Jewish or female president, and why the first and only Black president came into office just over a decade ago. 
The exhibit juxtaposes Leonard's poem with "George Washington," a piece by a once known artist. It's a small, wooden figure of America's first president contrasting a modern conception of a hero with the historical ideal. These works bring to mind the push-and-pull between America's growing inclusivity in politics and its tradition of white, land-owning men controlling power. 
Several other works also delved into the topic of American oppression. The "Water is Life" series by renowned photographer John Willis documents indigenous peoples' struggle for rights in the United States. It is paired with Juane "Quick-to-See" Smith's "Tribal Map," a reworked map of the U.S. that highlights the locations of indigenous tribes instead of American cities to demonstrate the importance of the groups that often are forgotten.  
Benny Andrews' "Wounded Sergeant" and Dana C. Chandler's "Fred Hampton's Door 2" comment on violence faced by Black Americans: A Vietnam veteran and a Black Panther orchestrator, respectively. These works were created in the '70s, but the plight of Black people in this country still exists today. These works mirror the values of the Black Lives Matter movement, which gained the most traction in spring of 2020. These works do not only mourn 一 they protest.  
The COVID-19 pandemic heavily influenced the subject matter of "New Light." The MFA featured many Boston locals to compensate for artists' losses during the pandemic. Featured artists include Hamilton, the quilter, Eben Haines, who created a virtual gallery for artists to display their work during lockdown and Lavaughan Jenkins, who created "I Want to Learn You." His sculpted figures keep alive antiquated techniques from revered European artists masters, such as layering paint, three-dimensional painting and kneeling subjects. 
"New Light" successfully draws attention to upcoming artists while also giving oldies a modern twist. All it takes to see the exhibit is a Husky Card. To get the full experience of a Northeastern student, take a trip to the MFA and check out this one-of-a-kind exhibit for yourself. 
"New Light" will be on display until Feb. 6, 2022.