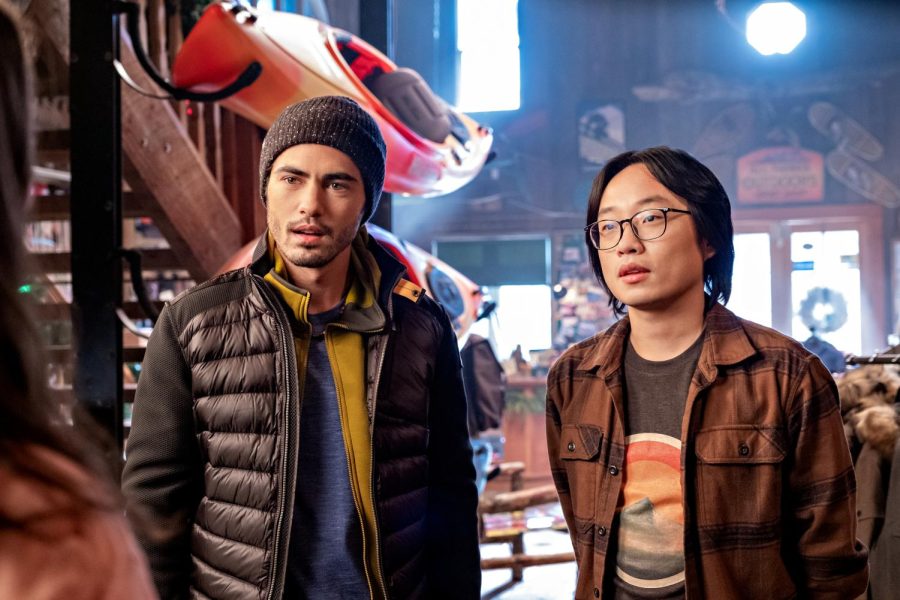 It's December, which means that the weather is getting worse, grocery stores are playing Michael Bublé on a never-ending loop and a fresh onslaught of formulaic Christmas-themed romantic comedies is incoming. Netflix's latest edition to the vault, "Love Hard," tells the story of Natalie Bauer (Nina Dobrev), a Los Angeles-based dating columnist, who flies to upstate New York to surprise a match from an online dating site, Josh Lin (Jimmy O. Yang), for article content, only to find out she has been catfished. With just 50% on Rotten Tomatoes, the film had an obviously flawed and unoriginal premise, and audiences were not fooled; however, the casting choices were even more disturbing and indicated a lack of diversity in the writers' room. Spoilers ahead. 
Making the lead fall in love with her catfish is both uninspired and slightly problematic. A Variety review called catfishing "a despicable deed" and Salon.com referred to the film as "a holiday catfish story masquerading as a romance." Even more troubling than the obvious plot holes is the tone-deaf nature of the film's portrayal of Asian men. 
A study conducted by OKCupid between 2009 and 2014 found that, statistically, Black women and Asian men are the two least swiped-on demographics on dating apps. Asian men have been demasculinized and desexualized for decades in American media, when they are even depicted at all. Yang's character exemplifies one of the many Asian men who has been burned by dating apps, but his identity as an Asian American man is largely ignored. 
In "Love Hard," Josh catfishes Natalie because he is insecure and failed to acquire matches using real pictures of himself on his dating profile. In reality, the experiences of Asian men on dating apps are far more nuanced. Racist stereotypes about the biology and temperament of Asian men pervade our culture, but this film individualizes this systemic issue to only Josh's character. Later on in the film, it's revealed that the reason for the lack of traffic on Josh's profile is due to his awkward photos and so-called inability to "be himself." But can poorly taken pictures really account for the negative experiences of thousands of Asian American men on dating apps?
The character whose photos Josh used for his fake profile, Tag (Darren Barnet), is also Asian, although his 25% Japanese heritage leaves him far more white-passing than Yang. Barnet represents Hollywood's attempts to repent for years of forcing Asian men into the role of the asexual comic relief. Along with Henry Golding of "Crazy Rich Asians," Simu Liu of "Shang-Chi," and Dev Patel of "The Green Knight," Barnet plays a character that embodies a paragon of rugged masculinity, subverting the stereotype of the weak-willed Asian man. 
But Asian men shouldn't have to be meat-loving, Thoreau-reading recreational rock climbers like Tag in order to be desirable. Remaking the Western ideal of a hypermasculinized "man's man" with an Asian actor isn't the solution to ending media stereotyping and racial bias in the dating world. Love Hard perpetuates the idea that only a certain kind of Asian man should succeed on dating apps, and even when Natalie and Josh end up together, she is seen as settling for something imperfect. 
Everything about "Love Hard" seems intentionally colorblind. Other than a few passing jokes about Josh's heritage, the racial dynamics of the characters' relationships with dating apps and with each other are completely ignored. 
"I get it, you never dated a Chinese guy before and you're in shock," Josh jokes to Natalie after she storms out of his house angrily upon discovering she's been catfished. 
"Yes, I have. He was born in Beijing and he was amazing in bed," Natalie shoots back, in a bizarre performance of her proximity to Asian men presumably meant to exempt her from any racist bias Josh might accuse her of. 
The film includes just one other reference to the Lin family's Chinese background, and it does so poorly. In disbelief that Josh could have secured a girlfriend as conventionally attractive as Natalie, Josh's grandmother (Althea Kaye) asks if Natalie is a "geisha," demonstrating the overwhelming whiteness of the writers' room and their inability to distinguish between Asian cultures. 
In fact, the Christmas-obsessed fictional Lin family might as well have been white, which is the problem. The "Love Hard" cast is diverse in appearance only. A deep dive into the complexities of an online interracial romance is obviously a bit ambitious for a goofy Christmas rom-com but ignoring the way that Josh's race plays into his online dating experiences while simultaneously mocking him for his lack of success is patently obtuse. Casting choice changes aren't going to cut it.
In the future, Hollywood needs to put effort into diversifying not only the actors, but the narratives they put out.