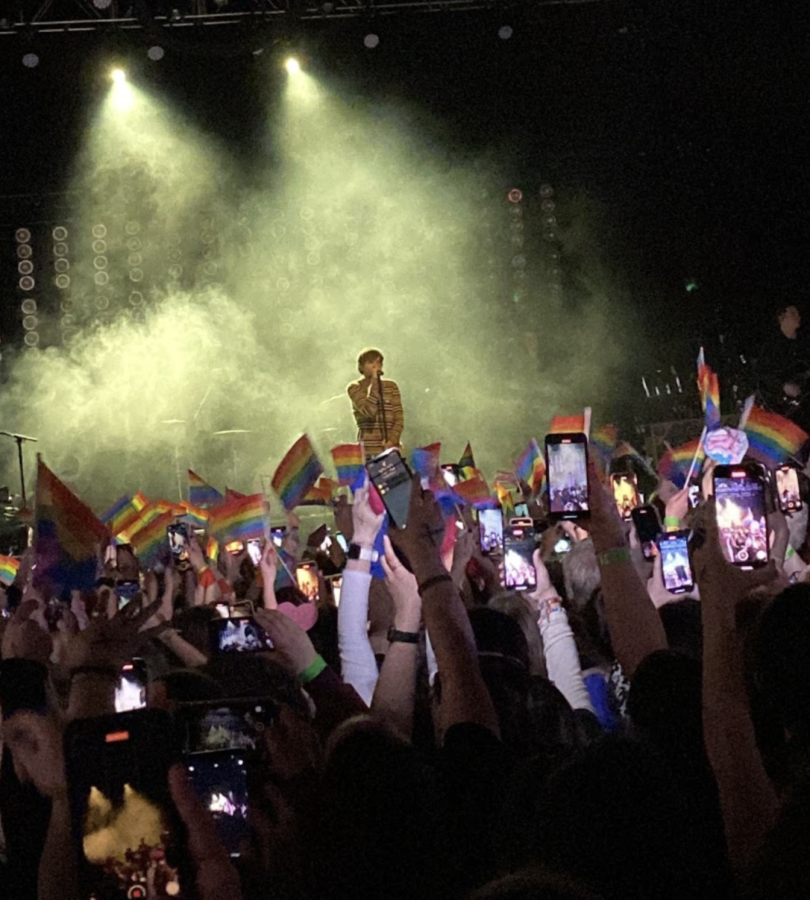 New England concert-goers got a taste of Louis Tomlinson's world tour at the intimate House of Blues venue Feb. 17. Fans witnessed the former One Direction member set himself apart by getting personal through his music. 
In his solo career, Tomlinson diverges from his band's previous genre of pop music to a distinct indie rock and pop rock sound. 
Asli Sahin, a third-year behavioral neuroscience major, said Tomlinson went back to his roots and developed a sound similar to the rock band Oasis, a group that piqued Tomlinson's interest in music. 
"He learned how to play guitar, and I think he wanted to go back to the musicality of stuff," Sahin said. "I would say his genre of music is rock or pop rock. And he just kind of keeps it simple."
Tomlinson first emerged in the music scene while competing on "The X Factor U.K." in 2010, where the judges put him in a band with four other contestants that would together achieve international superstardom. By 2011, the band One Direction, or 1D,  became a household name with dedicated fans from every corner of the globe. 
After five studio albums and four world tours, One Direction took a hiatus in 2015, prompting Tomlinson to take the stage as a solo artist with his first single, "Just Hold On," with Steve Aoki.  Tomlinson has released several singles since then, and in 2020, he released his debut album, Walls.
Aanya Seghal, a second-year behavioral neuroscience major, said while he was in One Direction, Tomlinson's vocals were often placed in the background. His solo career better showcases his individual talent.
"In the first album, he had a little bit [of solos], but based on what I've heard, it made him lose his confidence," Seghal said. 
Tomlinson writes all of his own music, with many songs reflective of his own intimate and personal experiences. For instance, Tomlinson's first single, "Just Hold On," is dedicated to his mother who passed away in 2016 from cancer just three days before the song was released. 
Paige Flint, a first-year undeclared student who describes herself as a longtime fan of Tomlinson, discussed how Tomlinson's musical sound evolved. 
"When his album first came out, it was the first time I'd seen him specifically write about his personal experiences and have it blatantly shown through his music. 'Two of Us' was specifically written about his mom," Flint said. "It's like we get to look into his life without knowing all the details. I feel like he feels more comfortable releasing more intimate details about his life through his music because he knows that his fans will appreciate it." 
In October 2019, Tomlinson announced his first-ever solo tour, "Louis Tomlinson World Tour," to begin in March 2020. Due to COVID-19, Tomlinson's tour was postponed until March 2022. 
Flint, who attended the concert, noted that some super-fans, also called "Louie's," camped outside of the venue in hopes of seeing Tomlinson perform. 
Amber McComb, a second-year industrial engineering major who came to the show, raved about Tomlinson's energy at the concert.
"When [Tomlinson] came out, the set was pretty and everybody was excited," McComb said.  "It wasn't [so] crowded that it was uncomfortable being there, so it was just a nice environment. He had a good presence. … He's a really good live performer." 
Sahin said Tomlinson is known to show gratitude to his fans and communicate with them on social media more than many other artists. This fosters a tight-knit community within his fanbase. Tomlinson often talks to his audience while on stage and points out fan-made posters. 
Seghal said different projects on Twitter brought fans together to show their love and support of Tomlinson at the concert. 
"One of [the projects] was holding pride flags or colors for one of the songs, and then they had one where you cut a little heart and then write what Louis means to you," Seghal said. "So I made two, 'strong' and 'brave.'"
Flint recalled sitting beside two fans that wore Arsenal Jerseys, which Tomlinson noticed while performing and said to them, "I'll try and sign those." Flint also had the opportunity to meet Tomlinson as he exited the venue. 
As Tomlinson carves his identity as a solo artist, his dedicated fan base remains as strong and loyal as ever. 
"In the past, in fan interactions, if you asked him how he's doing, he will almost always respond. So I was like, 'Louis, how are you feeling?'" Flint said. "And he looks at me, and he goes, 'I'm feeling amazing.'"
Tomlinson's world tour will continue throughout the year and end Sept. 29 in Perth, Australia.
Editor's note: The story was updated Wednesday, March 9 at 9:15 a.m. to accurately reflect Tomlinson's tour dates.