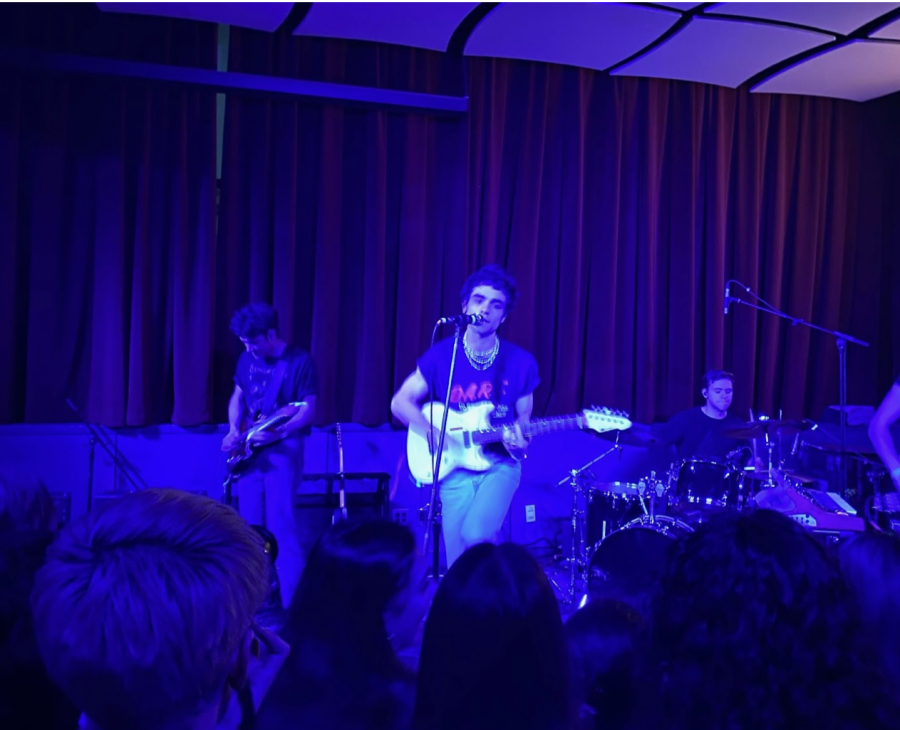 Juliana George
"It's a big night tonight," S. Holden Jaffe, also known as indie pop artist Del Water Gap, said last week. "This is the first ever Del Water Gap show in a Starbucks." 
Del Water Gap headlined at AfterHours March 31. The Northeastern Council for University Programs, or CUP, hosted the concert as a refreshing precursor to the weekend's highly anticipated annual Springfest show. 
"[Because] it's Springfest week, I knew I wanted this show to be a lot of fun, someone that people would be excited about," said Justyna Stukin, a fourth-year behavioral neuroscience major and small concerts chair for CUP. "[Del Water Gap] gives it his all and brings a lot of energy to the stage."
Del Water Gap is a Brooklyn-based artist who recently released his self-titled debut album. He first began making music while at boarding school in upstate New York, and since devoting himself to music full-time he has gained 1.6 million monthly listeners on Spotify and signed to independent record label Mom + Pop Music. 
Berklee College of Music student Zoe Sparks, who Stukin discovered at a Noise Complaint Productions debut concert in December 2021, opened the show. Noise Complaint Productions books student artists in the Boston area for monthly shows and collaborates with the Northeastern Live Music Association, Berklee Music Business Club and Boston University Music Business Club. 
"She was so amazing," Stukin said of Sparks' 2021 performance. "She had opened for other shows in Boston, so I was immediately like, she is fantastic and I want to see her again." 
In true Berklee fashion, Sparks was joined onstage by a guitarist, keyboardist, trumpeter and alto saxophonist. Sparks and her band played a jazzy, zealous set with impressive vocal riffs and solos on each instrument, punctuated by admiring whistles from the crowd. 
Del Water Gap took the stage to cacophonous cheers from the audience, made a crack about the venue's unusual offering of iced lattes and prepackaged pastries and played an electric set that made his more acoustic studio recordings come alive. 
"I don't listen to a lot of upbeat music, but [Del Water Gap] is a nice break from the slower tempo that I usually [listen to]," said Sophia Haydon-Khan, a first-year student in the Explore program. "I love some good live music, especially in AfterHours. It's a very intimate location." 
The smaller venue seemed to suit the band. Jaffe was chatty between sets, relaying an anecdote about the last show he played in Boston, which was immediately followed by January's record-breaking Nor'easter. 
"I'd love to play in Boston again," said Jaffe. "I just hope it's not during a cyclone next time."  
Most of the concert's attendees learned of Del Water Gap through his association with indie pop artist Maggie Rogers, who played in an early iteration of the band while both musicians attended New York University. Fans of Rogers soon offered Del Water Gap his own share of praise.
"I know they made music with Maggie Rogers, that's when I first heard of them," said fourth-year journalism major Riana Buchman. "The first word that comes to mind [when I think of Del Water Gap's music] is bittersweet, but also very relaxing, chill rock."
Buchman said that Del Water Gap's hits "Better Than I Know Myself" and "Ode to a Conversation Stuck in Your Throat" were her favorites from the artist. If the adoring cheers and shouted-along lyrics from the audience during "Ode to a Conversation" were any indication, she was not alone in her taste. 
The Del Water Gap show was part of Northeastern's annual week-long celebration of Springfest. Due to the pandemic, the festivities have not included in-person events since 2019. 
"It's been a little different in the past couple of years because of COVID," Stukin said. "We were still running virtual programming, but obviously being back in person feels so much more special." 
The Del Water Gap concert was the last concert to precede Springfest's main event: a concert in Matthews Arena featuring Quinn XCII, Remi Wolf, Peach Tree Rascals and DJ Rilla Force. The show's smaller, more intimate atmosphere provided a lively school spirit boost before the week's exciting conclusion. 
Del Water Gap was hot on the heels of his North American tour, which began in January and ended with a show in Boulder, Colorado, just 24 hours prior to their AfterHours appearance. Del Water Gap will appear at the 2022 Governors Ball Music Festival in New York City before touring the UK and Europe with girl in red for her Make it Go Quiet Tour. 
"Thank you so much, Northeastern," Jaffe said before the final song of the set. "Now we're probably going to go home and sleep for three days straight."