Rock in Centennial Common painted in support of Ukraine covered with symbol believed to be synonymous with support for Russia
On Tuesday, a rock in Centennial Common that had been spray painted blue and yellow in support of Ukraine was defaced with a symbol that members of the Ukrainian Culture Club believed to be a 'Z' that is used by civilians to show support for Russia's military action in Ukraine. 
The rock in question is frequently spray painted by students to bring attention to notable events, and was recently painted blue and yellow to resemble the Ukrainian flag. The symbol appears to have been painted over the flag April 5. 
"This is a disgusting action and shakes me to the core that someone at Northeastern had the audacity to leave this terrorist symbol on a campus where I have previously felt safe," wrote Deanna Zawadiwsky, president of the Ukrainan Culture Club, in an email that was sent to Northeastern administration and later posted on the club's Instagram.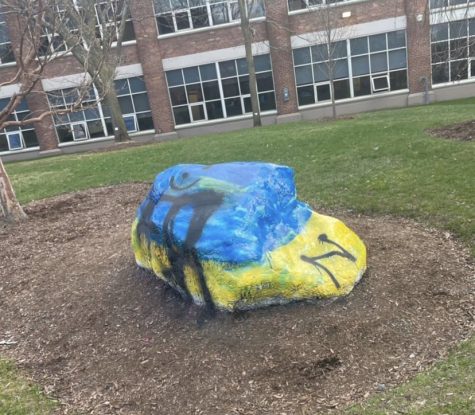 In an email sent to all students Wednesday evening, Chancellor and Senior Vice President for Learning Ken Henderson wrote that the university had determined the incident to be a misunderstanding.
"We have now confirmed that all of the markings painted on the rock were from a Northeastern fraternity, and there was no intent to show disrespect or make a political statement," Henderson wrote. "We appreciate the distress that even the resemblance of hate can trigger for members of our community."
The email did not clarify which fraternity had painted over the colors of the Ukrainian flag. 
"I understand that many fraternities and sororities take part in spray painting this rock, but no Greek Life chapter refers to themselves as 'Z.' It would be ignorant to believe anything else," Zawadiwsky wrote in the email to the administration.
Ukrainian students at Northeastern previously told The News they felt the administration should provide more substantial support while they cope with the mental, emotional and financial toll of the war in their home country. 
In a March 4 email, President Joseph E. Aoun expressed solidarity with Ukraine and assured the student body that Northeastern was ready to help all those affected by Russia's invasion.
"The university is working to support those in need. We are in communication with all students who have citizenship or permanent residency in Ukraine and Russia, and we have moved to ensure their well-being and the continuity of their learning," Aoun wrote. 
Despite promises of aid from the university, some Ukrainian students feel that campus is not a safe place for them. 
"It makes me feel unsafe to know that there are students at this school that would not only support the war but would also publicly display their morally unjust opinions defacing a previously wholesome act of support," Zawadiwsky wrote in the April 5 Instagram post. "I feel like I have a target on my back." 
Following the discovery of the defacement, facilities crews repainted the Ukrainian flag on the rock and surrounded it with pop-up tents. 
The Ukrainian Cultural Club will host a vigil in solidarity with Ukraine 6:00 p.m. tomorrow on Krentzman Quad.
Editor's Note: This article was updated April 13 at 11:29 p.m. to reflect Northeastern's findings about the vandalism on the rock.