Active Minds looks to the future regarding students' mental health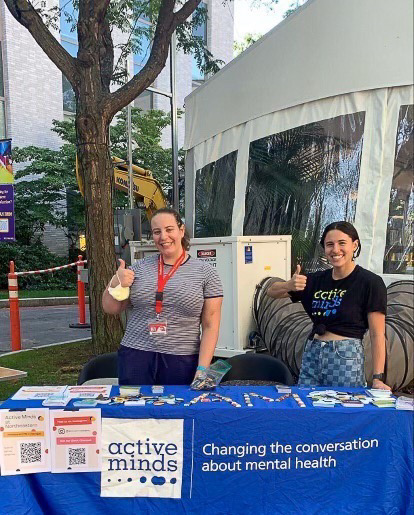 Mental health is a recurring subject of dialogue at Northeastern, and students recently had the opportunity to share their concerns directly with the university through a new survey, created by the student organization Active Minds. 
Though the white tents placed around campus are being taken down, the mask mandates are being lifted and the long testing lines are dwindling as COVID-19 testing becomes voluntary, one thing that will remain is student sentiments regarding mental health activism during the pandemic. Active Minds is one student-led organization at Northeastern that aims to respond to these concerns about mental health resources. 
The Active Minds chapter at Northeastern has been working to destigmatize the conversation around mental health and provide resources for students to improve their mental health. To show the University that change is needed, Active Minds released a survey on March 21 seeking concrete data on how the students feel about Northeastern's mental health resources. 
"Our biggest focus this semester has been advocating for different changes around campus and within the university to improve mental health for students," said Sophie Horton, a fourth-year criminology and psychology combined major and president of Active Minds. "We also do education around different topics in mental health which includes things such as the discussion of different mental illnesses and current relevant topics such as the use of psychedelics or marijuana in treatment for mental illness."
Recently, the club organized "Break the Silence," a story-sharing event in AfterHours March 30. "Break the Silence" is an event held each semester where attendees talk about their or a loved one's experience with mental health and mental illness. 
"It's a very emotional and powerful event in that people are revealing these parts of themselves that they might feel they have to keep hidden on a daily basis — it's like a cathartic relief and it is super impactful to hear different people's stories," Horton said.
Aside from the club's events, Active Minds has done advocacy work this semester. Student leaders have met with representatives from University Health and Counseling, or UHCS, various Deans' offices, the Vice Provost's Office and with Senior Vice Chancellor Madeleine Estabrook, among others. 
Active Minds coordinated with members of the Student Government Association and the Boston Intercollegiate Government to meet with administrators, including Estabrook and Dean of Students Chong Kim Wong, March 3 to discuss adding wellness days to the academic calendar. 
"We want to implement a system where wellness days are more flexible and have more availability and freedom to be used at student discretion so that they are more of a tool for students to use rather than just a random day assigned in the middle of the semester," Horton said.
This meeting was just one of many held by Active Minds members in an attempt to encourage transparency from administration and improve the mental health resources offered by the university. 
"In our meeting with the Deans' offices, we wanted to focus heavily on learning what they're doing amongst the faculty to help support student mental health. One of the big things we've been trying to emphasize is mental health first aid and faculty being taught mental health first aid," Horton said.
In several of these meetings, Northeastern representatives requested data from the student body in order to gather concrete numbers to back up the claims that students desired an improvement in services. 
"One thing we kept hearing over and over again in these meetings with administration was that this is a funding issue, this is a higher administration issue and what you need for that is numbers and hard data," said Rhyia Bibby, a fourth-year journalism major and the advocacy chair for Active Minds.
To meet this request, Active Minds compiled questions relating to UHCS, the DRC, and the general campus climate to ask students. 
"They [Administration] had asked us to collect data on student mental health and student satisfaction with different health services in Northeastern as a way to provide evidence for what we were saying in our meetings," Horton said. "With the survey itself, we decided to hammer home on what it is that students are struggling with, if anything, as well as how the major outlets we have on campus such as UHCS, the DRC and Find@Northeastern, have been utilized by the students. Are they actually beneficial to students?"
One of the issues Active Minds and other student organizations have noticed through their work with UHCS is that the lack of funding prevents the counseling services from implementing broader solutions.
"What we are hearing from UHCS is that they are aware that they don't have the bandwidth to support such a large student population, and they can do little things here and there but they can't address the root problem [of their understaffing] without more funding," Bibby said. 
One solution to the understaffing is for Active Minds to help UHCS seek accreditation. That process would entail having an organization, such as the International Accreditation of Counseling Services or the Jed Foundation, specializing in college campus mental health care evaluate UHCS and see what they can improve on. In order to become accredited, UHCS would have to hit the benchmarks set by the organization which would include meeting the standard ratio of mental health clinicians to students set by the organization.
"The idea of accreditation was actually something that was brought to us by UHCS. They initially suggested that as one of their goals in the future. As a chapter, we looked into it and it's something we've really been pushing for. But again, it's something that requires administrative funding," Bibby said. 
The survey is a way for Active Minds to continue the push for stronger mental health support at Northeastern, even with funding limitations, by demonstrating the student need for mental health services. 
"It came as a disappointment to us that they needed proof after the events of the fall semester, but we knew it'd be easy to prove there was a need for improved mental health resources. The survey is the best way we could collect data on this," said Alexandra Norce, a second-year behavioral neuroscience major and the director of social media at Active Minds. 
Because the club members are already entrenched in the mental health struggles of students at Northeastern, those who spoke with The News said they feel the survey will provide evidence of the problems they have already seen in their personal lives and through their work in the club.
"The thing is, we didn't do this survey to see for ourselves what mental health is like at Northeastern, because we already know," Bibby said. "Our whole purpose is to talk to students and support them. In that regard, nothing about the data has really surprised us."
Active Minds has, however, observed that certain groups are less represented in the data, and are actively trying to remedy this issue. 
"For obvious reasons, there is a lot more representation in female voices as opposed to male voices, so we've been reaching out to fraternities and trying to round out the data more," Bibby said.
The survey mostly focuses on quantifying the mental health issues experienced by Northeastern students and gauging their familiarity with the mental health resources currently available on campus. Many questions also focus on changes that students would like to see. Although the survey is ongoing, the results look promising to Active Minds members so far.
"We also have a question about which of our advocacy campaigns students would want to see on campus, and there is overall support for many of them," Norce said.
The survey closed April 15, and they have received over 750 responses. Active Minds plans to return to the administration and present the data gathered to back up what the club is advocating for.