'Welcome to Northeastern': President's Convocation kicks off fall semester
School is officially back in session for Northeastern University, and incoming students were welcomed to campus by a whole host of administration, students and faculty at the 2022 President's Convocation Sept. 6. 
The ceremony highlighted the diverse community that Northeastern prides itself on, bringing together nine global campuses and welcoming more than 1,300 incoming and transfer students.  
While the Boston ceremony was held at 11 a.m. in Matthews Arena, a live-streamed version aired across the Atlantic at Northeastern's London, Berlin and Rome campuses. The event was also recorded for students attending programs at Mills at Northeastern and N.U.in Greece, and in Ireland, Scotland and Spain. In videos displayed at the Boston event, students from these global communities lit torches across the world as they began their simultaneous Northeastern journeys. 
Appearing via video from Oakland, CA, Mary Ludden, Northeastern's senior vice president for global network and strategic initiatives, welcomed a new generation of Huskies. 
"You come to Northeastern from more than 130 countries," Ludden said. "You have many voices and experiences and many dreams, but wherever you are in this world, from this day forward, you are all Huskies and Northeastern is your home."
Leading up to the ceremony, the student emcees engaged the crowd with Northeastern trivia games and a "NUReal" group photo. A performance from Northeastern's Bhangra group had students applauding and cheering. 
Northeastern continued to showcase its multi-talented student body throughout the event with appearances by the Nor'easters, the string ensemble and the Kinematix Dance Troupe. After the ceremony, students got the chance to meet these groups as well as the more than 500 clubs Northeastern has to offer at Fall Fest.
Student involvement in Convocation didn't end with returning students' performances, as the class of 2026 got a chance to contribute in their own way. Students in both Boston and London were encouraged to download the Human Video Board app to transform their phones into beacons in multicolored light shows illuminating Matthews Arena and the London Bridge Theatre. 
Northeastern leaders delivered words of wisdom, encouragement and inspiration to the incoming students.
Chancellor and Senior Vice President for Learning Kenneth Henderson discussed the recent incident in London where Northeastern students and faculty traveling to the London campus took over control of their bus when the driver unexpectedly died, preventing further injury from occurring. He connected this action from the Northeastern community to Northeastern's core idea of experiential learning. 
"At Northeastern we talk a lot about experience," Henderson said. "Experience is what makes us tick. It's woven into education, co-op, service and research, but it's also about building resilience. … We recognize the courage, quick-thinking and resilience of our Northeastern students and staff."
Students also heard from the deans of each college, Provost and Senior Vice President for Academic Affairs David Madigan, a variety of student speakers and, finally, President Joseph E. Aoun. 
President of the Student Government Association Angelica Jorio and Executive Vice President Sebastian Chávez shared their experiences at Northeastern and challenged the incoming class to embrace their diverse community and test their boundaries. 
"So, my advice? Go out of your comfort zone," Jorio said. "Join that class, take that chance and you'll never know where it will take you. The possibilities at Northeastern are endless."
Jorio, a third-year political science and economics combined major, originally from Italy, lit the Northeastern torch. A montage of torches being lit around the world at Northeastern's campuses played simultaneously, emphasizing international unity within the university community.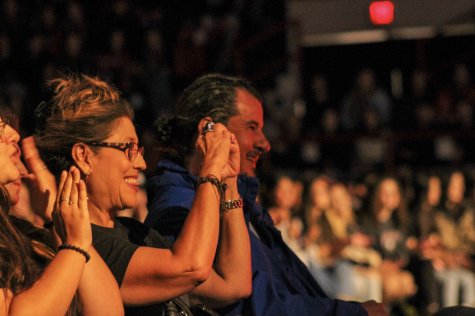 Tuesday was more than just the start of the 2022-23 school year for Chávez, it was also a special day for his family. The fourth-year industrial engineering and political science double major's parents and sister were in attendance to celebrate Chávez and his mom's birthdays, as well as Chávez's parents' anniversary. Chávez shared how his mother first came here from Venezuela and, not knowing English very well, sat in on professors' lectures and crafted her own sort of experiential learning. 
"She took a step outside of her own academic path. She cultivated her own experience," Chávez said. "I'm just insanely proud of her." 
Northeastern students, faculty and staff across the globe collectively wished the family "happy birthday" and "happy anniversary."
Just before the final light show and student performances, Aoun took the stage. First, however, he took to the video screens. Ever the champion of experiential learning, this year's convocation featured a video of Aoun joining in on a variety of Northeastern sports with his tagline, "lifelong learning."
"While today you begin your undergrad journey, education is truly a lifelong endeavor," Madigan said in his introduction to Aoun's video. "[Aoun] is one of the strongest advocates for lifelong learning that I've ever met."
When the real-life Aoun walked out on stage he encouraged the first-year class to explore new opportunities and to not be afraid to change majors, noting that students at Northeastern change majors three times on average. 
"This journey that you are starting today is going to be different for each one of you," Aoun said. "We believe in personalized education. You're going to chart your own paths. You're not going to follow a script."
He also urged students to look beyond the Boston setting for learning opportunities, suggesting that they should see campus as a starting point rather than a final destination. 
"Welcome to Northeastern," Aoun said, "now get out."