Jamaica Pond parkrun fosters local, global communities
Minutes before 9 a.m., over 150 runners waited at the starting line of the weekly Jamaica Pond parkrun Oct. 15. James Smith, this week's run director, addressed the eager crowd.
"Any first timers? Any parkrun birthdays?" Smith said, each time prompting a few responses. "Any parkrun tourists?"
On the hour, participants are off. Some raced through the course in 20 minutes or less, while others jogged or walked, ambling through Jamaica Pond's fall foliage and winding paths. 
"We actually aren't even allowed to call it a race, because if we do we get in trouble with HQ," said Dan Forward, co-director of the parkrun, who lives in Jamaica Plain. "We really try to encourage people to walk, or go at their own pace."
The Jamaica Pond parkrun is a part of a global network of parkruns — free, timed 5Ks every Saturday morning. Since its start in 2012, parkrun has expanded to 20 countries, with 57 locations in the United States. The most recent Jamaica Plain run hailed participants from as far as Australia to the United Kingdom and as close as a few blocks away.
The Jamaica Pond course earned the official parkrun designation in March 2018. It was founded by two British runners who were familiar with parkruns in the United Kingdom, Forward said. 
"The ethos of parkrun is that it's a community wellness event," Forward said. "It's very gratifying that you can see these relationships being forged over time. It's for everyone who wants to get out, enjoy a nice morning on their Saturdays."
Eighteen minutes after they left, the first few runners sprinted across the finish line. Forward congratulated most of them by name.
"Every single person so far has been a regular," he said.
Once the clock approached 30 minutes from the start time, more participants trickled by, and clusters of people gathered past the finish. Runners and volunteers alike conversed excitedly —  once everyone finishes each week, many meet for post-run coffee down the street at Espresso Yourself. Those who have met milestones, like 50 or 100 runs, don celebratory neon t-shirts, boasting their accomplishment.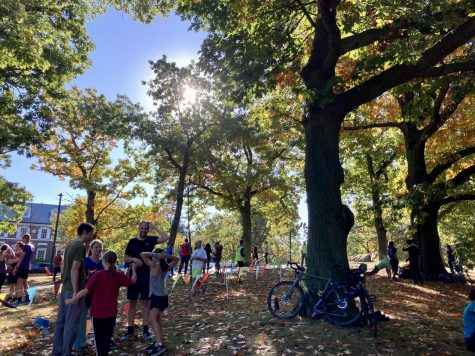 Just past the finish line, Bob Steeves sat under an oak tree as he caught his breath. Steeves, who has lived in Westwood for over 60 years, clocked in a time of just over 27 minutes.
"It was tough," said Steeves, a self-employed electrician. "I would never have ran that fast without Rehna."
Rehna Khan stood beside him. Steeves and Khan have known each other for over a year, and now pace each other on their runs. Afterwards, they often catch up at the café until noon.
"The people here are very special," Steeves said. "These are some of the best friends I've ever met."
Khan, a healthcare professional, first started running the Jamaica Plain parkrun to cheer on her 10-year-old daughter, but now participates herself. She said that Steeves, who provides equipment for the parkrun, including flags, signs and vests, is often the first to come and the last to leave. 
"Bob is the heart and soul of this run," Khan said. "It's more than just a race, it's a community." 
Forward fondly recalls moments that evoke the same sense of community. For the weekend of the Boston Marathon in April, he said, hundreds of runners come to the parkrun as a shake out, or a precursor jog before the bigger race. When there weren't enough volunteers at the parkrun, some of the marathoners stepped in to help. Another time, a couple flew in from Australia to celebrate their 30th wedding anniversary, and prioritized participating in the run. 
"This is such a huge global initiative," said long-time volunteer Kent Hirshberg. "Some folks planned their trips around this parkrun."
Because of Jamaica Pond's unique placement in the alphabet, beginning with the letter J, many international participants especially are motivated to participate.
"It's this tradition, people try to do a parkrun starting with every letter of the alphabet," Forward said. "I don't think there's an 'X' yet, but there are very few 'J's. So people do come from all over to collect their 'J.'"
Coincidentally, another runner that morning also happened to be from Australia. Craig Barker of Perth was in Boston for business. He said he has done 16 other parkruns in his home country and prioritized this one despite "running on three hours of sleep."
"I run with a group of runners at home," Barker said. "I told them I was coming to Boston, and they said you have to do the parkrun in Jamaica Plain."
The mostly-flat course traces the bank of the pond, weaving through sweeping oak trees, yellowing with the change of seasons. This early on a weekend, runners have the path mostly all to themselves to enjoy the view.
Afterwards, a new runner approached Forward, asking him if the parkrun goes all winter.
"Unfortunately," Forward said in response, laughing. "We have to break out the handwarmers."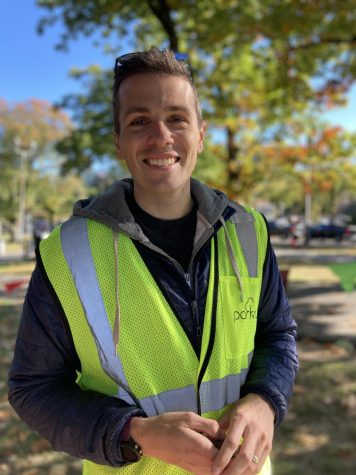 The Jamaica Plain parkrun has only been canceled three times this past year, each time due to unplowed snow, ice and extreme cold. Otherwise, Forward and a team of volunteers are at the pond every weekend ready to lead the run.
Forward said volunteering for the parkrun is his way to give back to the running community. A long-time runner, Forward ran the Boston Marathon in 2018. But for now, he wants to provide an environment which breaks away from the competitive Boston running scene. 
"I'm a lawyer — I negotiate contracts for a tech company," Forward said. "I mean, that's fine, but sometimes I wish this were my career, because it's so much fun."