Geoff Diehl promises supporters a new kind of freedom
In the mid 18th century, patriots wrought with simmering grievances toward a tyrannical British monarchy met in Faneuil Hall to plan their revolution. In 1870, thousands marched into the same gallery following the abolition of slavery. From 1977 to 1996, hundreds of Boston's LGBTQ+ community members gathered amid the array of Corinthian columns to advocate for their civil liberties. On Oct. 25, Republican candidate for governor, Geoff Diehl, stood in the same place and promised to fight for the same thing: freedom. 
For the past two months, Diehl and his running mate, Leah Allen, have been trying to close the almost 25-point gap between their ticket and Democratic candidates for governor and lieutenant governor, Maura Healey and Kim Driscoll. From Oct. 22 to 25, Diehl's campaign hosted a three-day "Take Back Freedom Tour" across Massachusetts, ending in Faneuil Hall. 
The climax of the tour was a rally with patriotic songs, alt-right speakers, shouts denouncing Massachusetts Attorney General Maura Healey and President Joe Biden and assertions that Diehl would win come Nov. 8. Headlining the event were four speakers, Diehl, Allen, Chairman of the Massachusetts Republican Party Jim Lyons and far-right radio talk show host Jeff Kuhner. 
"On Nov. 8, and you can hold me to this, unless there is rampant voter fraud, unless there is election theft like we have never seen in the history of our country, you're going to witness one of the greatest midterm defeats for an administration in 100 years," Kuhner said as he introduced Diehl. "It is going to be a red tsunami. … Michigan will fall, Oregon will fall, Washington will fall, blue state after blue state will fall, and the question now in Massachusetts, the question now for our country, is will Massachusetts fall?"
For many Diehl and Allen voters, the answer is a definitive yes. Despite the wide gap in the polls, many supporters are holding onto the belief that either Diehl will win the governorship or the gubernatorial election was fraudulent. While claims like these are unfounded, they resemble Diehl's baseless claims of election fraud following Trump's defeat in the 2020 presidential election. 
The campaign's advertised policies, from opposing vaccine mandates to backing school choice, speak to an alienated base who find comfort in a candidate they feel understands them.
"[I like] everything about him. It just makes common sense," said Tom Baird, a 66-year-old retired letter carrier from Hyde Park. "He has common sense … the abortion issue … illegal aliens, giving them drivers' license, all of this stuff. Come on, the average person doesn't know what that is or what it's all about."
Following speeches from Lyons, Allen and Kunher, Diehl took the stage to thunderous applause. In a historically Democratic state like Massachusetts, Diehl, a former state legislator for Plymouth's 7th district, stood out as one of the most conservative members of the state House of Representatives. Standing for gun rights and tax cuts and against abortion rights and worker benefits, Diehl and his supporters see a need for a conservative counterweight in deeply blue state government.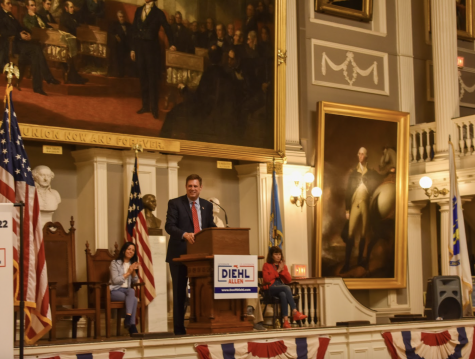 "For the last 12 years, we have been fighting and trying to make this day happen," Diehl said. "To actually get a conservative governor who'll put you and your voices up on Beacon Hill for a change, not special interests, not Maura Healey. It's not about Democrat or Republican, this is about 'We the People' versus big government."
During his speech, Diehl echoed many of the issues that his supporters care deeply about. He took jabs at Healey, discussed his successful "Tank the Gas Tax" campaign and, most significantly, maligned Massachusetts' vaccine mandate that caused almost 1,000 workers to lose their jobs. 
"I support Geoff Diehl, first of all, because he's against the vaccine mandates and [supports] bringing the people who got fired from their jobs back," said Kenny Ebrecht, a 28-year-old construction worker from Melrose. "I for one didn't get the jab, I work in schools all the time, and I am sick and tired of wearing a stupid muzzle."
The freedom to decide whether to get the COVID-19 vaccine is an issue that led many to support Diehl's campaign. For workers who have lost their jobs and residents of Massachusetts who feel their civil liberties have been violated, a candidate like Diehl is likely more than appealing. 
"I've spent most of my adult life either in the United States Marine Corps working in private business and then I spent 17 years as a trooper in public service, and I have never done anything dishonorable in my life," said Phil McLaine, a 54-year-old state trooper who was dishonorably discharged for refusing to receive the COVID-19 vaccine. 
For several voters, like McLaine, Diehl's policies as well as his ability to get things done is why they will vote for him Nov. 8.
"I think he's a better deal for the state. His ideas for the state are better, he's got good ideas for our infrastructure on the subways … merging them with Massport, it makes a lot of sense," McLaine said. "His use of the cannabis funds for infrastructure, things like that. And these are things that everyone just glossed over and didn't even listen to. He's got better ideas, or at least ideas that are novel."
Outside of a few bullet points and videos, Diehl's campaign has provided little insight into how these ideas will be carried out. However, for some, the policy isn't what matters; it's the promise of freedom and the man guaranteeing it. 
"I really don't know the ins and outs of the government and taxes, but [Diehl has] decency," said Susan Gallagher, a retiree and advocate for patients in assisted living homes. "He's everything. I would like to say we need a governor … who's a daddy or a parent because the parents aren't doing their jobs. Sometimes you need a government, like a Trump guy who will tell you what to do."