Riley Hughes is the unsung hero of men's hockey
For Riley Hughes, ice skating is a habit as natural as breathing.
"I don't remember exactly how old I was when I started playing organized hockey or the exact age when I started skating," said Riley, a senior forward and alternate captain on the men's ice hockey team. "I was probably like three years old."
When he put on his hockey skates for the first time, he felt right at home. Riley grew up in Westwood, Massachusetts, just half an hour outside of Boston, in a family full of hockey players. His father Kent Hughes, former professional ice hockey player and current general manager of the Montreal Canadiens, was his first and favorite coach.
"He coached me from when I was 10 to 17 years old," Riley  said. "He taught me everything I know to this point. My coaches in high school, and then in [junior hockey], and then Jerry Keefe, have taught me a lot in their own respective manners, but the baseline of everything I know and my general knowledge of the game all came from my dad."
After developing an early love for the sport, Riley started playing for the Junior Eagles, a local hockey club, at the age of eight. He developed strong friendships with his teammates, many of whom were also his classmates at St. Sebastian's, an all boys preparatory high school in Needham, Massachusetts he attended from 2015 to 2018. 
"Obviously we got some new players and some players got cut or whatever, but we had a pretty similar core group and then five or six of those guys went to [St. Sebastian's] with me," Riley said. "So we played together all the way from when we were like eight years old to when we were 17. The high school team — I knew all those kids from growing up. So we were a very tight knit group. Maybe the tightest group of a team that I've ever played for."
Jack Hughes, a sophomore forward on Northeastern's hockey team and Riley's younger brother, can attest to the fact that his brother was always an incredibly hardworking and talented player, even in his early hockey days. 
"Being older — he's always forced me to do things even if I didn't want to do it when I was younger — things that I should've been doing, things that I had to do," Jack Hughes said. "We had a little shooting room in our basement at home, and every time I saw him go down there, I'd want to go down there too. He just showed me the work ethic that I need to have and need to continue to have."
After being drafted as a seventh round pick for the New York Rangers in 2018, Riley left the United States for a year and played junior hockey in Victoria, British Columbia, for the Victoria Grizzlies. After a great season — he earned 58 points in 53 games — he returned to Boston for his freshman year at Northeastern, finding a similarly close-knit community and a triumphant victory at the 2020 Beanpot. For a Massachusetts local, winning the Beanpot was a childhood dream come true.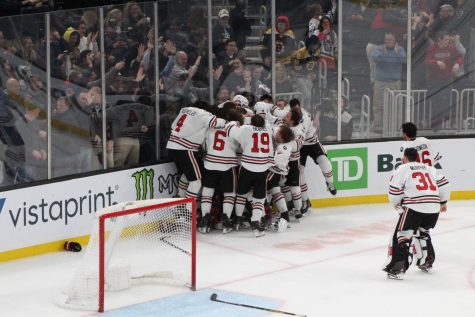 "I grew up watching that tournament my whole life and always dreamed of having a chance to play in it. Then getting to win it my first year was unbelievable" Riley said. "And then, obviously, the night that followed was one of the best nights of my life, so it was really cool. It's amazing how much this city cares about the tournament. If you're from around here, you know who wins the Beanpot."
This year, the team is going in for the win again, with an exceptional group of players and several senior members who are determined to leave the team on a high note.
"I think this is our year. We have an unbelievable team," Riley said. "We haven't quite strung it together yet, but we have the potential, and we have the character, too, so I know that we're gonna pull it together." 
Riley recently reached a huge milestone in his college career.  He played his 100th career game Nov. 19 and didn't even know until after the fact.
"I had no idea," Riley said. "The next day, my grandma texted me saying, 'Congrats on your 100th game!' It wasn't a milestone that I went into college thinking, like, 'I want to get my 100 games,' but looking back at it, it's pretty cool because I've always dreamt of playing college hockey as a young kid. If you told me when I was 10 years old that I would play over 100 college hockey games for a Beanpot Hockey East team, I would be fired up, for sure."
As a senior member of the team and an alternate captain, Riley has demonstrated leadership to his team, and his talent and character do not go unrecognized. At last season's end-of-season awards banquet, Riley was given the team's Unsung Hero award. 
Assistant coach Jason Guerriero noted  Riley's strengths lie in his speed, defensive play and penalty kills.
"I think he takes a lot of pride in that. He's really good at it, and sometimes the penalty kill gets overlooked," Guerriero said. "Obviously you want to be on the power play and score goals, but the penalty kill does help win or lose you games, and he plays a big part in that."
Riley is a forward, but his skill isn't just on the offense. As a strong defensive player, his talent often goes unrecognized by spectators. He prides himself on details and responsible defense while also helping his team contribute offensively. With his contributions all across the ice, Riley has established himself as a reliable player for the team.
"Obviously, there [are] guys on our team who score a ton of goals and that's really big for us, but he's just one of those guys who isn't necessarily gonna score every night or put up a ton of points, but he makes a massive impact on the game and on the season," Jack Hughes said. "So he's not gonna necessarily win awards or do this or do that, but he's overall impacting the game and helping us win. So I think [the Unsung Hero award is] one of the cooler awards to win. Just to know that even when you're not scoring or not playing your best, you're still having a huge impact on the game and on the team."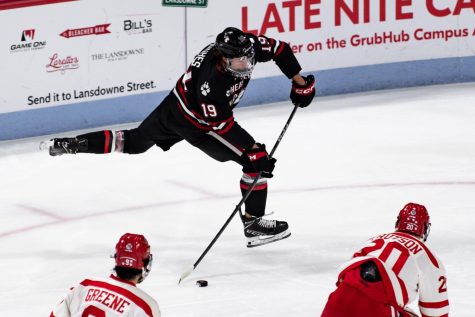 From his first game to his 100th, he has consistently given it his all, but his work is not done yet. This Unsung Hero certainly has a big season ahead of him, and he is working toward his last Beanpot tournament in February 2023.
Whether he's out on the ice carrying out the penalty kill or watching movies in West Village, Riley demonstrates the same strong leadership, mentorship and friendship to his teammates. 
"It's nice to have someone like that, to have someone who cares that much about you as a person and as a hockey player," Jack Hughes said.