Ula Café in Jamaica Plain emphasizes community, sustainability
Jamaica Plain's Ula Café, an all-in-one spot for coffee, pastries and sandwiches, has continued to thrive under new owners post-pandemic and evolve with new initiatives and community outreach programs. 
Founded in 2007 by Korinn Koslofsky and Kate Bancroft, Ula Café has become a staple in the neighborhood, known for its cozy atmosphere, locally-sourced ingredients and commitment to social responsibility. In 2021, Beth Santos and Marvin Matheliar bought the business along with Kelly Fernandes, who now has moved on to pursue other interests. 
"We were just customers of Ula and just loved that in-person community," Santos said. "When Ula went for sale during the pandemic, we didn't want to lose our second home."
The cozy cafe is adorned with vintage-inspired décor, colorful murals and large windows that let in plenty of natural light. Together, Santos and Matheliar have big plans for Ula Café and are dedicated to creating a space that fosters connection, creativity and compassion, they said, which applies to staff, too. 
"Beth and Marvin have created a really supportive and caring work environment, and I feel like I'm part of a community here," barista Mimi Silverstein said.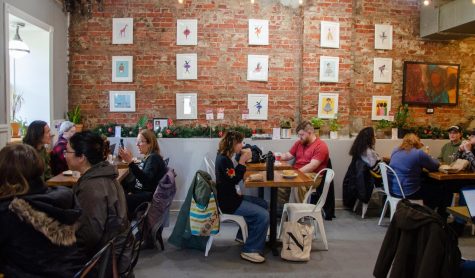 From the beginning, Santos said she has been committed to sourcing ingredients locally and supporting other small businesses in the community. The cafe's menu features a range of locally sourced ingredients such as coffee, produce, juices and more. Ula Café also offers vegan and gluten-free options, ensuring everyone can enjoy a meal. 
The cafe also launched several eco-friendly initiatives like introducing compostable cups and utensils. Their efforts have not gone unnoticed. Ula Café received recognition for its outreach program and sustainability initiatives from several local organizations. The cafe was also named one of the best coffee shops in Boston by The Boston Phoenix, a hyperlocal newspaper.
In 2022, Santos and Matheliar launched a "pay-it-forward" program, which allows customers to purchase a voucher for someone in need to enjoy a free coffee, pastry or meal. 
"The response from the community has been incredible. People really want to help each other, and the pay-it-forward program has given them an easy way to do that," Santos said. 
The idea for the pay-it-forward initiative came from Santos, who said she wanted to find a way to give back to the community during the pandemic.
"Ula Café is like your mother's home. We feed you with your favorite food and drinks and we ask you to clean up," Santos said. 
Matheliar and Santos are both active in the Boston community outside of the business. In addition to Ula Café, Santos is the founder of Wanderful, a global community of women who love to travel. Matheliar is involved with several organizations that focus on social impact and sustainability.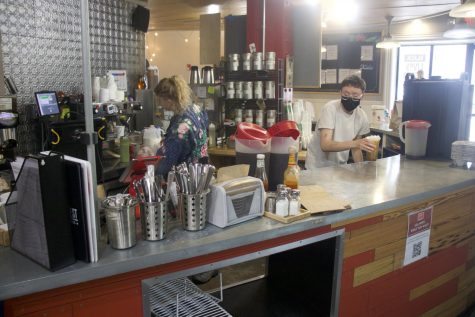 "At Ula Café, we believe that small actions can make a big difference," Santos said. "Whether it's buying someone a coffee or providing a free meal, we want to do our part in supporting the community. We are grateful for the support we've received from our customers, and we look forward to continuing to make a positive impact in Boston and beyond." 
Ula Café also launched a program to support local artists and musicians. The cafe started showcasing local artists' work on its walls and hosting live music performances for the community. The cafe hosts open mic nights, art shows and other gatherings that bring people together and celebrate local talent.
One factor contributing to this sense of community is the strong relationship between the cafe's owners and their staff. They place a high value on their employees and their well-being, and strive to create a supportive work environment, they said.
"We believe that our staff are the heart and soul of Ula Café," Santos said. "Without them, we wouldn't be able to create the warm and welcoming atmosphere that our customers love." 
One way that Santos and Matheliar foster a positive work environment is by offering their staff competitive wages and benefits, they said. They also provide opportunities for professional development and growth, and encourage their staff to share their ideas and feedback.
"We want our team to feel like they have a stake in the success of the cafe," Santos said. "We're always open to hearing their ideas and suggestions, and we're constantly looking for ways to improve and grow together." 
The staff at Ula Café also feel supported by Santos and Matheliar on a personal level. 
"I've been working at Ula Café for one and a half years now, and this feels like home to me," said Sophie Gemeinhardt, the supervisor at Ula Cafe. 
As Ula Café continues to grow and evolve, Santos remains committed to creating a space that is welcoming, inclusive and socially responsible.