Markey, Pressley, Wu renew push for free-transit legislation amid success of Boston fare-free bus program
Boston Mayor Michelle Wu joined U.S. Senator Ed Markey and Congresswoman Ayanna Pressley Monday afternoon for a press conference in Ruggles Station, providing updates on the city's fare-free transportation program and announcing the reintroduction of federal legislation to make more public transit free. 
Boston's fare-free bus pilot program allows people to travel along bus routes 23, 28 and 29 for free. These three routes serve as key connectors for many Boston residents, including those who live in Mattapan, Roxbury and Dorchester.
"We want to make this program a platform to connect people to their dreams as opposed to a barrier," Wu said. 
A proponent of the legislation dubbed the Freedom to Move Act, Wu emphasized how it aims to help people travel efficiently and on time.
"We want everyone to reach every opportunity they deserve, and for all these pieces to work — getting home, going to your job, getting to school and everything in between — you need to be able to get around to where you need to go," Wu said. 
Markey is among the lawmakers sponsoring the act, which would provide $5 billion in grants each year for increased free transit across the nation. The senator echoed Wu's statements, underscoring how accessibility, above all, is of critical importance for riders. 
"Our country's public transit must be made accessible and affordable so that everyone can get to work, school, the grocery store and other critical services in their day-to-day lives," Markey said.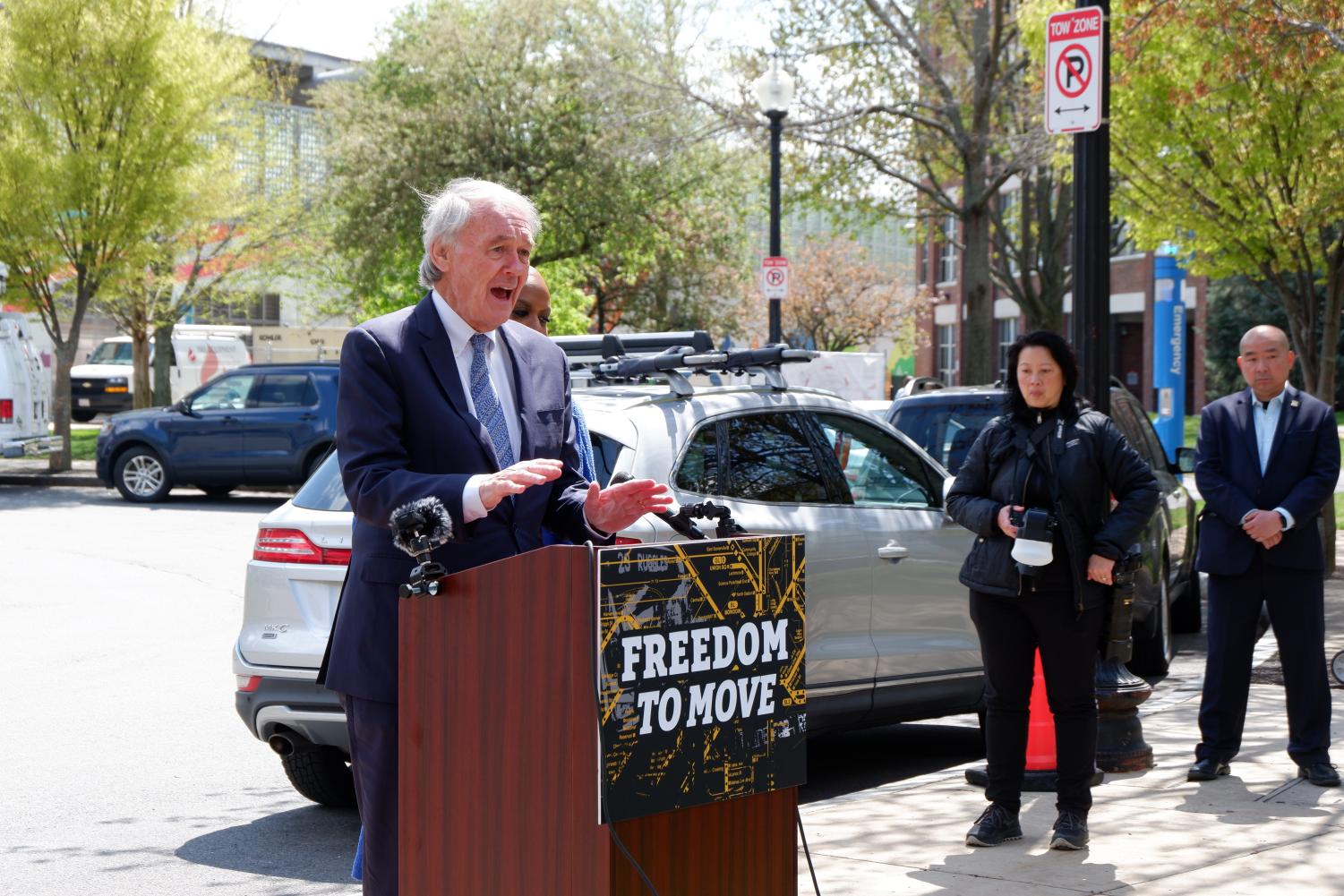 Markey also touched on the benefits of the fair-free program in Boston, noting how it will specifically help those in the community who are disadvantaged or live in historically lower-income neighborhoods. 
"When we support state and local efforts to embed economic and climate justice into our transit system with fare-free service, we ensure that low-income workers and families, people of color, seniors and people with disabilities have the freedom to move and fully participate in their communities," Markey said.
Pressley further substantiated this renewed effort toward free transit, citing its considerable success in Boston. 
"Fare-free has allowed students to get to and from school and has connected people to jobs, to goods and to essential services like education and health care," Pressley said. "It has helped address the racial and economic disparities in our city. The data and the benefits are clear. When we lower barriers for residents to ride public transit, they will use it." 
Amid the safety and reliability concerns regarding the MBTA bus system, Pressley stressed that safety and service are not an either-or but something that must go hand in hand. 
"Riders should never have to choose between safety and service. Our public transit systems are meant to provide communities with mobility and the freedom to access critical services," Pressley said. 
According to a study released by the city, ridership on the 23, 28 and 29 bus routes has nearly returned to the pre-pandemic level. Systemwide ridership has increased from 71% of its pre-pandemic levels to 78% since the program was introduced, the Boston Globe reported. 
"This is literally about the freedom to move," Pressley said. "That is so basic and essential and should be an inherent right for everyone."