Yoga and wellness studio in Dorchester transitions to new virtual era
For six years, 4 Corners Yoga + Wellness has provided affordable services to the Dorchester community. But now, the studio is shifting to virtual space after letting go of its lease. 
The studio was founded by Christine Rose and Karuna O'Donnell, but Rose took the lead during the COVID-19 pandemic when O'Donnell left to spend time with her children. For the past few years, Rose has continued serving her community alongside her staff of yoga instructors. 
"Although we're a Black-owned yoga studio, our hashtag has always been 'yoga for everyBODY.' So it doesn't matter your size, shape, color, you come here and we meet you where you are on the mat. No judgment," Rose said. 
4 Corners Yoga + Wellness caters to its community's needs, meeting community members where they are, both in their wellness journey and financially. 
The studio provides discounted and even free services to those who are unable to afford full-priced classes. And clients can fund memberships for others in need. 
This aspect of community is a key value of 4 Corners Yoga + Wellness, Rose said. 
"We pride ourselves on trying to build a team … people want to be a part of the family and they have ideas and things to help build that community," she said. 
Marlene Boyette from Jamaica Plain began her journey teaching yoga as part of 4 Corners Yoga + Wellness's first cohort of trainees. 
"I live full-time off of yoga, and I live very well. I attribute that to what I learned at the studio," Boyette said. 
Boyette taught the final in-person class the studio offered, which was a restorative yoga class that included journaling, a tea ceremony and sound baths. 
As the studio's lease ended, Rose chose not to renew it, deciding that her time in charge of 4 Corners Yoga + Wellness was coming to a close.
Lead yoga instructor Lisa Leung-Tat stepped up to continue the studio in a virtual format following its last in-studio day April 15. 
"Folks feel really connected to the energy of the studio. And my hope is that even though it is virtual, that we can still somehow replicate that energy online so that folks continue to come to this space to practice," Leung-Tat said.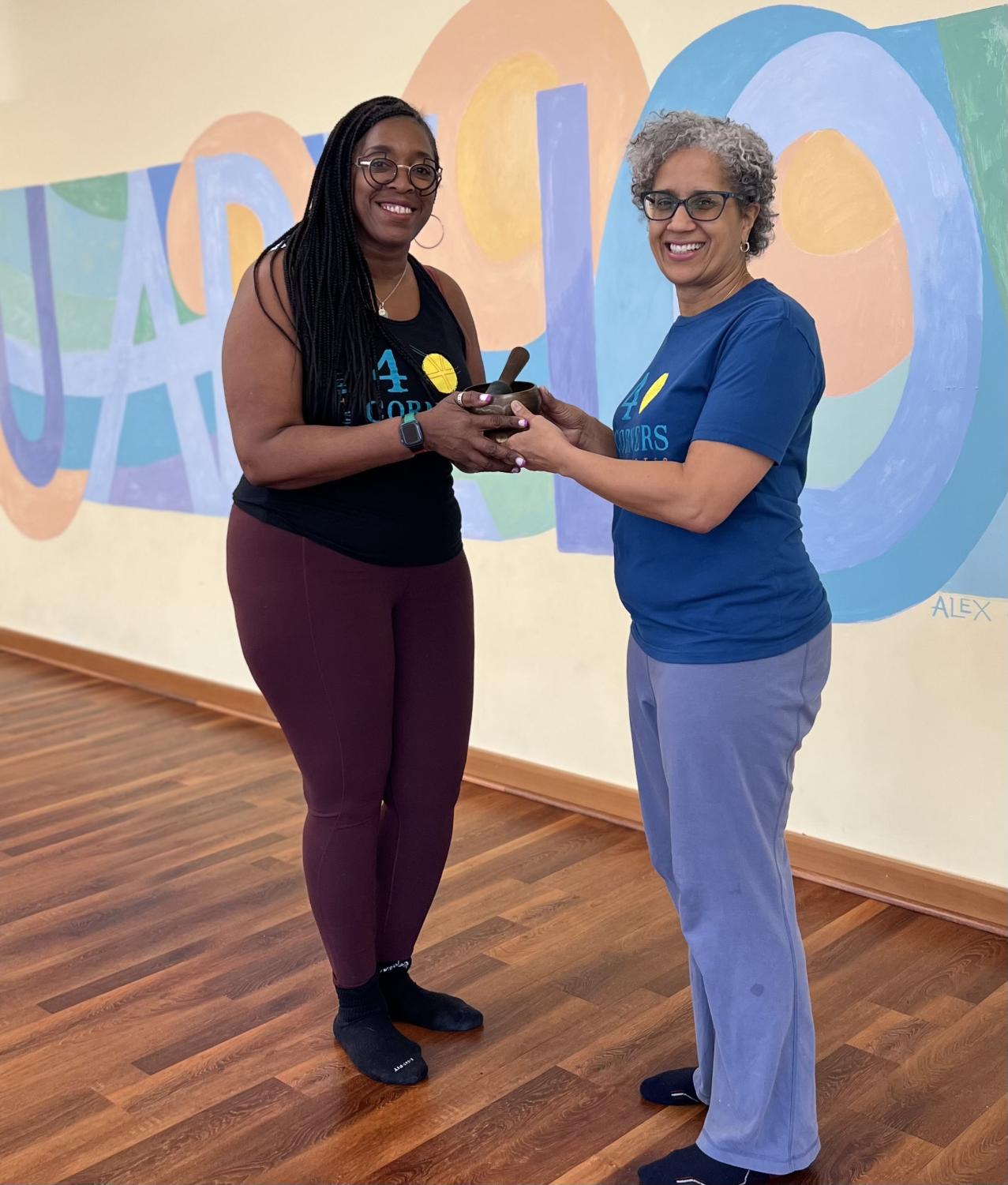 Leung-Tat tells her trainees yoga is not just the movement on the mat.
"The word yoga is really a Sanskrit word meaning to unite. And in order to be able to unite the community, it means that we have to do a little more than just move on the mat," Leung-Tat said. "We have to explore the things that affect us off the mat and really come to sometimes uncomfortable and honest conversations about how each of us exists in the space outside the mat." 
One way that Leung-Tat brings these conversations to 4 Corners Yoga + Wellness is through an anti-racist book club, involving the studio in anti-racist work through yoga. 
The studio hopes to bring yoga and wellness practices to the corporate world and is still navigating what this venture will look like. 
As 4 Corners Yoga + Wellness pivots from an in-person studio to a virtual space and corporate, wellness-focused future, the studio will continue to hold the same values from when it opened its doors in 2017 and include various instructors with low priced classes.
"Breath, integrity, spirit, community, these are all morals and values we encompass," Rose said.