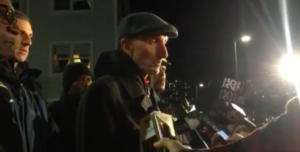 January 16, 2018

Filed under Multimedia, Videos
Three people were shot at the intersection of Tremont and Parker streets on Dec. 6, killing one person, leaving one in critical condition and one in serious condition, Boston Police Commissioner William B. Evans said at a press briefing at the scene. Read the story here....
April 16, 2017

Filed under Multimedia, Videos
https://huntnewsnu.com/wp-content/uploads/2017/04/16173747_235491446899562_325709837029605376_n.mp4 Video by Mayeesha Galiba On Jan. 21, 2017, hundreds of thousands of people gathered in Washington D.C. for the Women's March on Washington. The march was meant, in part, to protest the ina...