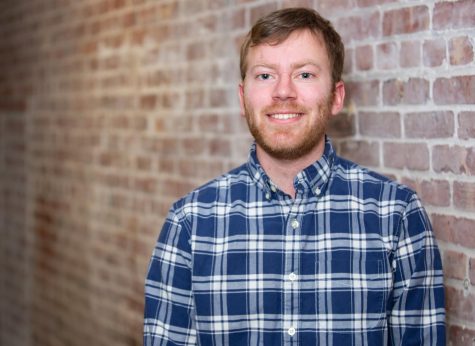 Charlie Wolfson is a third-year journalism major from Pittsburgh. He was a co-op on the sports desk at the Boston Globe in fall 2018, and was a News staff writer and editor before that, writing for the city, campus and sports sections.
In his spare time, he reads and watches hockey and baseball. He is also an avid reader of political journalism and an avid doer of the New York Times Crossword. He can be reached at
[email protected]
. Follow him on Twitter at @charliewolf23.
Charlie Wolfson, Editor-in-Chief
Jan 20, 2019

After three years, the face of the Women's March has changed — but not entirely

(Media)

Jan 20, 2019

Neurala COO shares insight on gender equity in STEM with NU students

(Story/Media)

Jan 19, 2019

Tyler Madden in OT gives NU a win over top-ranked UMass

(Story)

Jan 17, 2019

Series preview: No. 1 UMass and No. 8 Northeastern to do battle

(Story)

Jan 17, 2019

Game preview: Charleston comes to Matthews for a CAA showdown

(Story)

Apr 18, 2018

Rising student population impacts Boston religious centers

(Story)

Apr 05, 2018

Political clubs debate immigration

(Story)

Mar 24, 2018

Thousands converge in Boston for 'March for Our Lives'

(Story)

Mar 02, 2018

Boston high schoolers want change following Parkland

(Story)

Mar 01, 2018

Huskies strive toward their next goal: a CAA Tournament win

(Story)

Feb 23, 2018

Northeastern wraps up CAA two-seed on 'Begley Night'

(Story)

Feb 21, 2018

Bolden Brace becomes a leader off the bench

(Story)

Feb 21, 2018

NU students help plan Boston March for Our Lives

(Story)

Feb 21, 2018

Meet Ashley Demirali, the DogHouse's most devoted member

(Story)

Feb 17, 2018

Pusica beats buzzer, gives NU crucial CAA win

(Story)

Feb 15, 2018

NU keeps pace in CAA with win over Drexel

(Story)

Feb 13, 2018

Brief: Pressley responds to Capuano's border wall comments

(Story)

Feb 13, 2018

Madigan, players savor victory 30 years in the making

(Story)

Feb 12, 2018

Northeastern wins first Beanpot since 1988

(Story)

Feb 11, 2018

BU stands between Northeastern and ending Beanpot drought

(Story)

Feb 05, 2018

Primeau adds to impressive first season with Beanpot shutout

(Story)

Feb 05, 2018

Northeastern shuts out BC in Beanpot semi, will try to end title drought

(Story)

Feb 03, 2018

Northeastern outlasts UNCW, 107-100, in overtime

(Story)

Feb 02, 2018

Charleston wins thrilling game at Matthews to pass NU for top CAA spot

(Story)

Jan 31, 2018

Study suggests police-worn body cameras are effective

(Story)

Jan 27, 2018

Northeastern battles back to tie Providence, ties BC atop Hockey East

(Story)

Jan 21, 2018

From all walks of life, 10,000 take part in Women's March

(Story)

Jan 16, 2018

Video: One killed, two injured after triple shooting in Roxbury Crossing

(Story)

Jan 16, 2018

Column: A trade, a franchise in ruins and what it all means

(Story)

Jan 11, 2018

Environmentalists applaud plastic bag ban, retailers oppose

(Story)

Dec 07, 2017

[UPDATED] Walsh, Council, students take climate action

(Story)

Dec 07, 2017

One killed, two hospitalized after triple shooting in Roxbury Crossing

(Story)

Dec 06, 2017

Column: The sports gifts we want this holiday season

(Story)

Dec 06, 2017

J.J. Barea, Claudia Ortiz lead the charge in Puerto Rico relief effort

(Story)

Dec 05, 2017

Third game of homestand brings third straight win for men's hoops

(Story)

Dec 02, 2017

Gresham leads NU men's basketball to second straight win

(Story)

Nov 28, 2017

Men's basketball endures tough PK80 Invitational

(Story)

Nov 16, 2017

Ambassadors express disappointment with Trump's foreign policy

(Story)

Nov 13, 2017

Men's basketball starts season 2-0 thanks to balanced offense

(Story)

Oct 19, 2017

Northeastern researcher creates innovative surgical glue

(Story)

Oct 05, 2017

SGA passes resolutions to support strike, rename Columbus Day

(Story)

Oct 05, 2017

Chafee rehashes political career

(Story)

Sep 13, 2017

Column: Wild Card game has no place in baseball

(Story)

Sep 09, 2017

Jack Grinold remembered for lifetime of service to Northeastern

(Story)

Apr 13, 2017

Northeastern students organize walk for suicide prevention

(Story)

Apr 06, 2017

Column: Fenway opener a clear exhibit of MLB's biggest problem

(Story)

Mar 30, 2017

Column: Why so serious, MLB?

(Story)

Mar 17, 2017

Women's hoops ends season with quick tourney exit

(Story)

Mar 02, 2017

Women's hoops honors seniors Sally, Schnare

(Story)

Mar 02, 2017

Column: MLB should walk back rule change

(Story)

Mar 02, 2017

Hackathon inspires creative solutions for aviation company operations

(Story)